Sports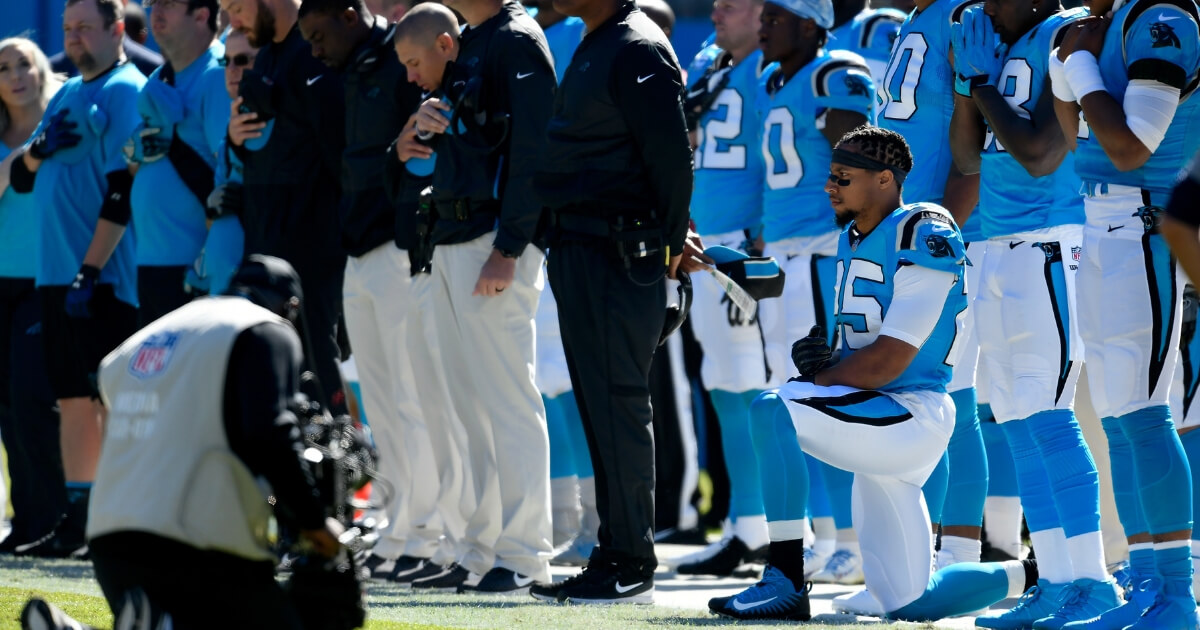 Brazen NFL Anthem Protester: Coach 'Doesn't Have A Choice' But To Support Protests
It's one thing for an NFL player to exercise his fundamentally American right to peaceably protest.
Regardless of one's feelings toward protests during the national anthem, players are well within their rights to protest. By the same token, it's well within the rights of everyday Americans who find the anthem protests disrespectful to the flag, the military and the police to vehemently disagree with those actions.
That all being said, it's another thing entirely for an NFL player to protest the anthem with the level of hubris and flippancy that Carolina Panthers safety Eric Reid has.
Advertisement - story continues below
Reid was the first player to kneel for the national anthem alongside then-San Francisco 49ers teammate Colin Kaepernick, and he has resumed protesting after finding a job with the Panthers this year.
Even though he left the Niners, who are dealing with their own anthem protest issues at the moment, Reid's attitude has mostly remained unchanged.
Well, that's not entirely true. His attitude has changed somewhat: Reid has gone from someone calling for unity to a person so enamored with his own beliefs that he looks down upon anyone with a different viewpoint.
"Unity is great. I'm all for it. Let's be UNITED in ending systematic oppression of black and brown ppl.," Reid wrote on Twitter in 2017.
Advertisement - story continues below
Unity is great. I'm all for it. Let's be UNITED in ending systematic oppression of black and brown ppl.

— Eric Reid (@E_Reid35) September 29, 2017
Even if you disagree with his premise and use of racial identity politics, at least unity is something on which most of us can agree.
Do you agree with Eric Reid?
In 2018? Reid has gone from calling for unity to openly ripping other anthem protesters and daring his coaches to do something about his kneeling.
Even if you liked Reid and supported the purposes of his protests, it's hard to justify his recent behavior.
He recently explained to ESPN why he's unafraid to kneel for the anthem despite Panthers coach Ron Rivera being a proud military supporter with strong military roots.
Advertisement - story continues below
"Very respectfully, he doesn't have a choice," Reid said about Rivera. "He's entitled to his opinion, but I know what my rights are."
Reid was echoing Kaepernick's "Know Your Rights" campaign with his sentiments. He then tried to justify his defiant behavior.
"(Rivera's) family was a military family, much like many of my people were in the military," he said. "My cousin just got back from Afghanistan. My mom was in the armed services. My uncle was enlisted. The list goes on."
It didn't take long for Reid to fall back on commonly used identity politics.
Advertisement - story continues below
"But when they get home they're still black in America," he said. "They're going to fight the same wars when they get home and still face the same things I'm talking about. So I get encouragement from my family that served in the armed forces because they agree with what I'm saying."
At the end of the day, Reid is wrong when he says Rivera doesn't have a choice. While the coach doesn't have final say about personnel, a task that typically befalls the general manager, he certainly has some say in who gets cut.
But even if Reid were 100 percent correct in his assessment, his arrogant attitude about it all really leaves a sour taste — and that does far more harm than good to whatever causes Reid is peddling.
Conversation