Sports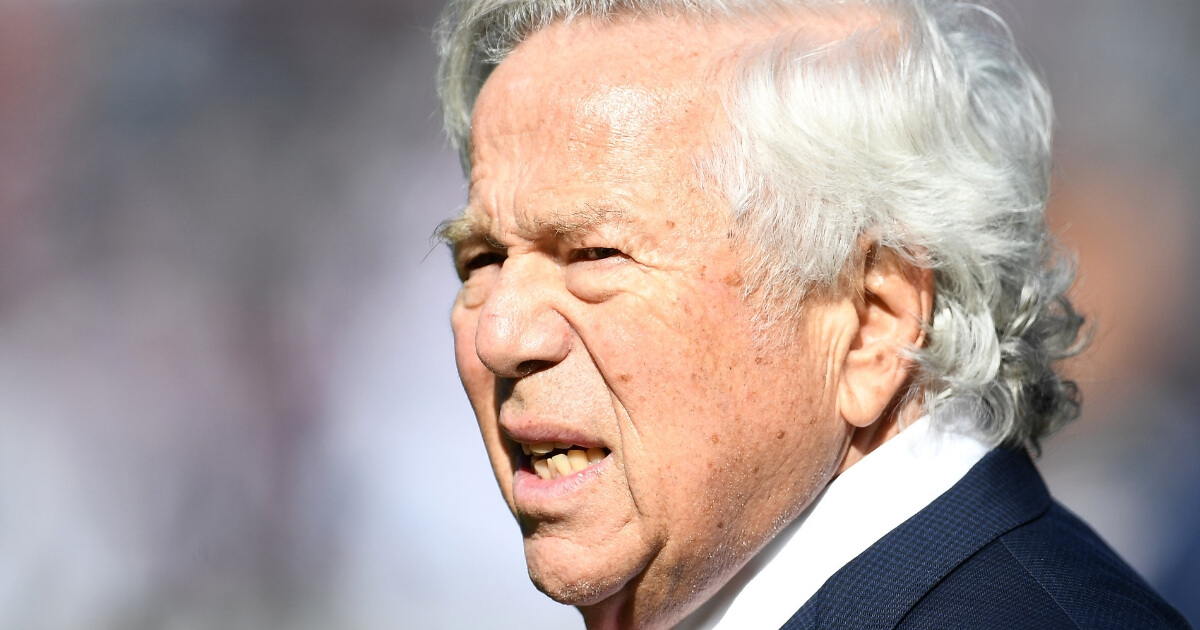 Disturbing Details from Robert Kraft Accusations Just Released in Arrest Warrant
New details of the scandal involving New England Patriots owner Robert Kraft and his alleged patronage of a strip-mall massage parlor that served as a prostitution front have emerged.
Those with a squeamish temperament are advised that the following contains material that some may find offensive.
Prosecutors held a news conference Tuesday during which they revealed the results of an investigation into the Orchids of Asia Day Spa in Jupiter, Florida, and with those revelations came new details of the arrest warrant against Kraft.
Advertisement - story continues below
Jupiter police, alongside the Department of Homeland Security, IRS, Indian River County Sheriff's Office and other law enforcement agencies, obtained a warrant to put a covert surveillance camera into the day spa's massage rooms, where they allegedly caught at least 25 men receiving sex acts in exchange for money. Kraft has been named as one of those men.
What's more, police say the ringleaders of the prostitution operation engaged in human trafficking in which they brought in women from Asian countries — mainly China — and forced them into sexual slavery.
The victims, in addition to being forced into prostitution, lived in squalid conditions on the massage parlor property, sleeping and cooking meals in the back rooms of the business.
The investigation spanned eight months before findings were released and arrest warrants began getting issued.
Advertisement - story continues below
A Kraft representative denied any illegal activity.
Statement from a spokesperson for Patriots owner Robert Kraft: "We categorically deny that Mr. Kraft engaged in any illegal activity. Because it is a judicial matter, we will not be commenting further."

— Jill Martin (@ByJillMartin) February 22, 2019
Should Robert Kraft be forced to sell the Patriots over this scandal?
"We categorically deny that Mr. Kraft engaged in any illegal activity. Because it is a judicial matter, we will not be commenting further," the representative said.
Police say the surveillance videos show Kraft involved in two incidents — one on Jan. 19 of this year and the other on Jan. 20 — committing the acts that are the basis for the criminal charges.
Advertisement - story continues below
Those dates are significant because the Patriots played in Kansas City, defeating the Chiefs in the AFC Championship Game on Jan. 20.
In the first incident, Kraft allegedly paid two women to engage in a threesome in which both women "manipulated his genitals" and when Kraft was done, the women cleaned him up and he handed each of them a $100 bill.
The second incident, featured just one woman.
Per the police report, "(employee) escorted Kraft to a room identified as JPPD Cam 2. There, the two hugged each other and Kraft took off all his clothing, laid face up on the massage table and (employee) hugged him again. At approximately 1102hrs. (Employee) began manipulating Kraft's penis and testicles and then put her head down by his penis. This went on several minutes."
Advertisement - story continues below
"After a few minutes, (employee) wiped Kraft in the area of his genitals with a white towel, helped him get dressed and hugged him again. Kraft gave (employee) one $100 bill plus at least one other unidentifiable bill."
Kraft was in the day spa for a total of just 14 minutes before exiting to a waiting blue Bentley, according to police.
Palm Beach State Attorney Dave Aronberg says Kraft faces a minimum sentence of up to one year in jail based on sentences for the first-degree misdemeanor of "soliciting another to commit prostitution."
Advertisement - story continues below
The maximum sentence on such crimes is a year in jail, 100 hours of community service, and a mandatory class on the dangers of prostitution and human trafficking.
The NFL has yet to officially issue a statement regarding these new revelations in the case, but if Kraft's role in human trafficking went beyond simply being a "john," it will put commissioner Roger Goodell and the other 31 NFL owners in an even more difficult situation than they're in now.
What's more, the court of public opinion carries extra weight for football these days, roiled as it has been by declining ratings and a perception of being a league indifferent to the treatment of women.
As this scandal grows, calls may come for Kraft to face significant punishments, including being forced to sell the team.
Conversation