Sports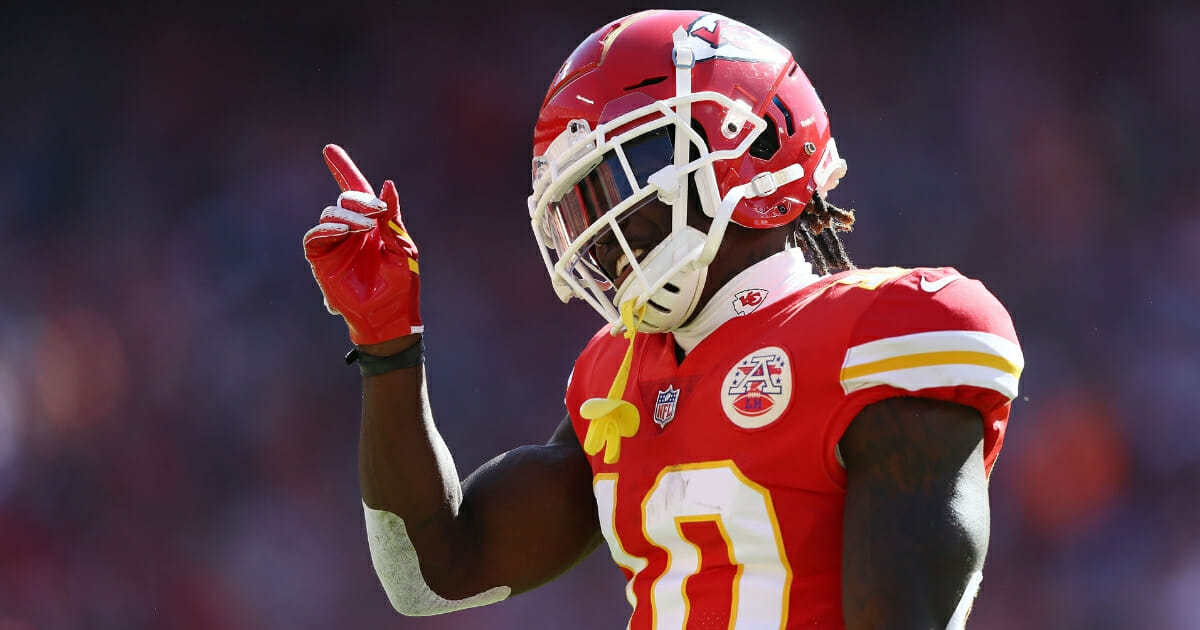 NFL Stuns by Announcing Tyreek Hill Will Receive No Punishment
The line between discipline and child abuse has been a subject of debate over the past few decades in America, but one thing people generally agree on is that acts of outright violence are absolutely unacceptable, especially when done against very young children.
In that light, most people expected the NFL to bring the hammer down on Kansas City Chiefs wide receiver Tyreek Hill, whose 3-year-old son suffered a broken arm in an incident in March and whose disturbing actions were discussed in an audio recording made by his fiancee.
So naturally, the NFL announced Friday that Hill would be suspended for … not even so much as one down of football.
Advertisement - story continues below
Hill wasn't charged in the March incident, but prosecutors believe the boy's injury was the result of a crime. They said they just don't have conclusive evidence as to whether it was Hill and or the boy's mother, Crystal Espinal, who was responsible.
"We are deeply troubled by this situation and are concerned about the health and welfare of the child in question. We believe that a crime has occurred," Johnson County District Attorney Steve Howe said in April, according to KMBC-TV. "However, the evidence in this case does not conclusively establish who committed this crime."
Soon after Howe made that remark, an audio recording emerged of a conversation between Hill and Espinal in which she said their son told her, "Daddy did it," when asked about the injury.
"He says Daddy does a lot of things," Hill said.
Advertisement - story continues below
"A 3-year-old is not going to lie about what happened to his arm," Espinal responded.
KCTV5 NEWS EXCLUSIVE: Tyreek Hill & Crystal Espinal can be heard on recordings obtained by Investigator @AngieRicono talking about their son and what they did & did not tell police. https://t.co/Q0SM56HjeN pic.twitter.com/8HlBE7ovZA

— KCTV5 News (@KCTV5) April 25, 2019
When she told Hill the boy "is terrified of you, he responded, "You need to be terrified of me too, dumb b—-."
Espinal also said Hill punished the boy by making him open his arms and then punching him in the chest, a charge he didn't deny in the recording.
Given all of that, the league's statement is a doozy even by NFL standards.
Advertisement - story continues below
"Over the past four months, we have conducted a comprehensive investigation of allegations regarding Kansas City Chiefs wide receiver Tyreek Hill," it said. "Throughout this investigation, the NFL's primary concern has been the well-being of the child. Our understanding is that the child is safe and that the child's ongoing care is being directed and monitored by the Johnson County District Court and the Johnson County Department for Children and Families.
"In conducting our investigation, we have taken great care to ensure that we do not interfere with the county's proceedings or compromise the privacy or welfare of the child in any way. The information developed in the court proceeding is confidential and has not been shared with us, and the court has sealed all law enforcement records. Local law enforcement authorities have publicly advised that the available evidence does not permit them to determine who caused the child's injuries.
Do you think Tyreek Hill should have been suspended?
"Similarly, based on the evidence presently available, the NFL cannot conclude that Mr. Hill violated the Personal Conduct Policy. Accordingly, he may attend Kansas City's training camp and participate in all club activities. He has been and will continue to be subject to conditions set forth by the District Court, Commissioner Goodell, and the Chiefs, which include clinical evaluation and therapeutic intervention.
Advertisement - story continues below
"If further information becomes available through law enforcement, the pending court proceeding, or other sources, we will promptly consider it and take all appropriate steps at that time."
Hill issued a statement of his own Friday.
"The last few months have been very difficult for me, especially as a father," he said. "The false allegations originally reported in March were highly publicized and involved the care of my son. I am grateful for so many thing and grateful for so many people who have supported me during this challenging time. I fully respect and accept the NFL's decision.
The wide receiver thanked the Chiefs organization for "giving me a home when everyone doubted me. Thank you from the bottom of my heart. I love you all. I can assure you that I will continue to work to be the person, player, and teammate that you envisioned me to be."
Advertisement - story continues below
Hill concluded by saying, "To my children, my beautiful children: I love you all dearly and I promise you all that I will continue to strive to be the best father, the best friend, the best role model, and the best mentor that I can be. I love you all."
Love you guys !!!✌? pic.twitter.com/QWKA7ia37i

— Ty Hill (@cheetah) July 19, 2019
The Chiefs welcomed him back.
Advertisement - story continues below
"We have been informed of the decision by the National Football League that, based on the available evidence, the league has not found that Tyreek Hill violated the NFL's Personal Conduct Policy," the team said in a statement. "Based on the information provided to us by the league, we have decided it is appropriate for Tyreek to return to the team at the start of training camp."
This wasn't Hill's first run-in with the law involving family violence. He pleaded guilty to domestic battery in 2015 for an incident in 2014 involving Espinal, who was pregnant with his child.
Conversation