Commentary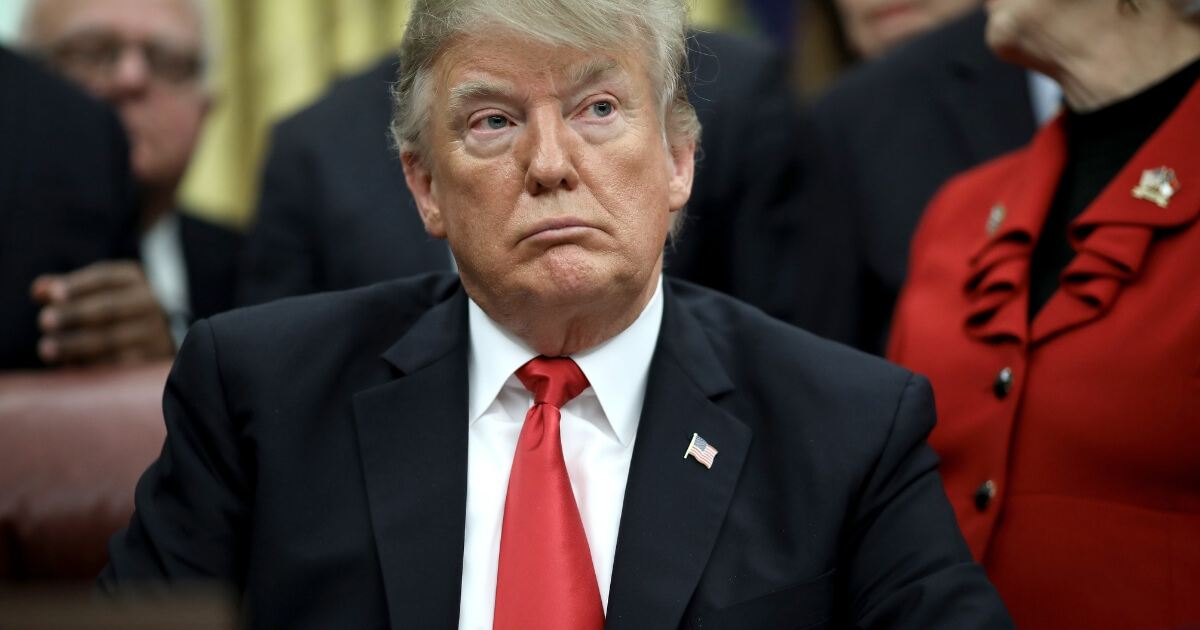 Don't Let the Media Hysteria over Looming Government Shutdown Fool You
With a midnight Friday deadline fast approaching, and with Congress still locked in a spending bill battle, it is looking increasingly likely that there will be a partial government shutdown, and the liberal media is doing their worst to portray it as the veritable end of the world … and that it is all President Donald Trump's fault.
At the heart of the current impasse is a request from Trump for about $5 billion in funding for border wall construction, a request Democrats have flatly refused to even consider.
For a little perspective, consider that while Trump has asked for $5 billion, the Democrats had previously offered up to $1.6 billion, meaning they have refused to budge over a mere additional $3.4 billion … literally the change between couch cushions in comparison to the multi-trillion dollar annual budget.
Advertisement - story continues below
As stated, the liberal media has done what they always do when a potential government shutdown is at play — blame Republicans and fearmonger the general public over how terribly disastrous a shutdown would be, as if the entire nation would come screeching to a halt during the shutdown and irrevocable damage would be done.
But a rather level-headed article from The Hill has revealed just how over the top and absurd the media hysteria over a government shutdown truly is, as it laid out which agencies and departments would be impacted and which would not, which federal employees would be furloughed and which would have to work without pay.
As it turns out, the fight in Congress over the relatively minuscule request for border wall funding is holding up a vote on 7 of the 12 annual appropriations bills. Five other appropriations bills have already been passed to fund significant portions of the government through the next fiscal year, meaning those parts of the government will be completely unaffected by a shutdown.
Those unaffected portions of the government include: the Defense Department, including military construction and Veterans Affairs; Energy and Water; the Education Department; Health and Human Services; the Labor Department; and, of course, the Legislative Branch, meaning Congress and their staffs will all be paid and continue working with no worries.
Advertisement - story continues below
The parts of the government that would be unfunded if a shutdown occurs include: the Department of Agriculture; Commerce Department; Justice Department; the Interior Department and Environmental Protection Agency; Financial Services and general government services; Department of Homeland Security (where the battle over border wall funding should have been confined); the State Department and related Foreign Operations; and the Transportation Department and Housing and Urban Development agency, among a few others.
Should the seven outstanding appropriations bills remain not passed prior to the deadline and a shutdown ensues, then the unfunded departments and agencies would enter a partial shutdown phase in which non-essential workers — roughly 380,000 — are "furloughed" for the duration while federal employees who are deemed "essential" — about 420,000 — would continue to work through the shutdown, albeit technically without pay.
Will you support Trump during a government shutdown over border security funding?
For all of the fury and gusto about federal employees not being paid during shutdowns, it is inevitable that Congress will end up granting back pay to those employees as part of a deal to re-open the government, as has happened with virtually ever other government shutdown in the past.
In the meantime, the parts of the government that deal with law enforcement — such as the Justice Department, the FBI and Homeland Security, to name a few — would continue to operate as "essential" functions of the government, again, though, technically without pay.
Speaking of pay for federal employees, not a single one will miss their scheduled paycheck on Dec. 22, meaning they will be paid as normal just before Christmas. However, should the shutdown extend all the way past Jan. 5, employees would miss a paycheck … at least until Congress did what it always does and work out a deal to cover the back pay for those employees.
Advertisement - story continues below
Furthermore, a shutdown would have zero affect on military pay or payments for Social Security, Medicaid, Medicare and a host of anti-poverty welfare programs
As previously stated, five appropriations bills have already been passed and signed into law to fund major portions of the government — some estimates suggest nearly 70 percent has already been funded — meaning the partially impacted unfunded portion of the government is even smaller than has been portrayed by the liberal-aligned media.
Yes, some government employees may experience a bit of a hiccup in their normal pay schedule — depending upon how long the shutdown lasts — and while that could certainly prove unpleasant or create difficult circumstances for some, Congress will inevitably make it right for those employees in due time, as they have always done in previous shutdowns.
President Trump is set on fulfilling his primary campaign process and building a border wall, and is prepared to stand toe-to-toe with the intransigent Democrats who refuse to accede to his request.
Advertisement - story continues below
This is a fight that Trump can and should win, and while there may be momentary pain for some in the midst of a shutdown, those folks will be few and far between, they will eventually be made whole and the end result of necessary funding for border security will have made it all worthwhile in the long run.
Conversation