Premium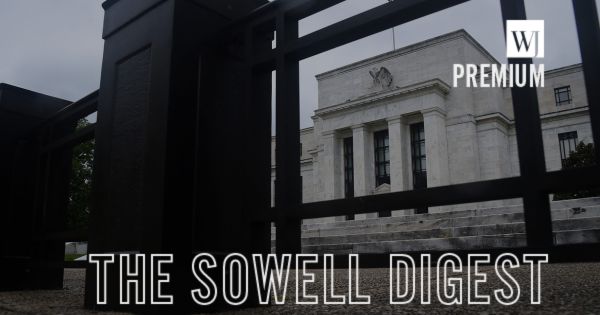 Premium
Federal Reserve Experts Predict US Will Avoid Recession: Here's Why Sowell Said You Can Never Trust Them
Few figures in conservativism are more revered than Thomas Sowell. A free-market economist, social theorist and philosopher, Sowell's work has spanned decades and influenced generations.
Sowell wrote a nationally syndicated column, authored dozens of books and dazzled television audiences time and time again with his common sense, anti-intellectual approach to political and cultural issues.
The following story is part of The Western Journal's exclusive series, "The Sowell Digest." Each issue will break down and summarize one of Sowell's many influential works.
Advertisement - story continues below
The Federal Reserve has revised its economic forecast and now no longer expects a severe recession in the near future.
Alas, according to Thomas Sowell, the Fed — in more ways than one — does not have history on its side.
In fact, Sowell does not think the Fed should exist at all.
Last month, Reuters reported that Fed staffers had abandoned their 2022 economic pessimism. In December 2022, for instance, those staffers regarded a 2023 recession as "plausible." And they "continued to assume" an imminent recession as late as May and June.
Advertisement - story continues below
The minutes of the July 25-26 Fed meeting, however, painted a different picture. By then, forecasters did not expect an economic downturn of any kind.
"The staff no longer judged that the economy would enter a mild recession toward the end of the year," the minutes read.
Do you trust the Federal Reserve?
At this point, a simple question might occur to the lay reader: If Fed staffers' pessimistic forecast proved wrong, then why should we care about their more optimistic outlook? Have they not already demonstrated the limits of their oracular powers?
As usual, Thomas Sowell has given us a common-sense critique of the Fed.
On December 23, 1913, Congress created the Federal Reserve to function as the nation's central banking system. Above all, the Fed determines U.S. monetary policy. This involves, among other things, setting interest rates and regulating banks.
Advertisement - story continues below
In two different interviews with Peter M. Robinson of the Hoover Institution, Sowell used history to expose the Fed as both unnecessary and a failure.
"The first time the federal government intervened in the economy to get us out of a downturn was in 1930, which means that for more than 150 years the federal government just stood by and twiddled their thumbs while the economy recovered on its own," Sowell said during the first interview.
In other words, the U.S. economy has a lengthy history of thriving without federal intervention of any kind.
Furthermore, the Fed simply has not performed as expected.
Advertisement - story continues below
"The Federal Reserve was created in order to, one, cut back on bank failures, reduce inflation and prevent deflation. All of those things reached historical highs, never seen before, under the Federal Reserve. So the idea was wonderful. It's only the reality that didn't cooperate," Sowell added.
Readers can view a short clip from this first interview here:
In the second interview, conducted in 2022, Robinson asked if Sowell, given power to do so, would abolish the Fed.
Advertisement - story continues below
"Yes," Sowell said.
Again, the legendary economist cited the Fed's past failure to achieve its primary purposes.
"What was it supposed to do? It was supposed to not only prevent bank failures. It was supposed to prevent huge changes in the money supply, in particular great deflations. The greatest deflation in American history occurred under the Federal Reserve system," Sowell said.
Sowell then explained that in 1907, the great financier J.P. Morgan helped rescue the financial system from collapse. Morgan's intervention worked, but the fact that one man wielded that much influence rankled the era's progressives. Thus, early 20th-century reformers established the Fed primarily because they wanted that kind of power centralized in government.
Advertisement - story continues below
The experiment has failed, according to Sowell, though this has not stopped the modern Fed from repeating mistakes.
"There's no evidence that I can see over the vast period of time that the Federal Reserve has existed that things on the whole have been better," Sowell said. "The great post-World War Two inflation was fed by the Federal Reserve doing exactly what they're planning to do now, namely, buying up the bonds issued by the Treasury."
That particular Fed practice — buying up Treasury bonds — encourages the worst fiscal habits.
Robinson then asked Sowell what should replace the Fed.
Advertisement - story continues below
"We could replace it with what existed when it was created," Sowell replied.
At this, Robinson pressed the issue and asked if Sowell would support a return to the gold standard. Sowell thought it possible, but also beside the point.
"Well, maybe the gold standard, but maybe not," Sowell replied, adding that he finds questions about replacing the Fed bothersome.
"When someone removes a cancer, what do you replace it with?"
Advertisement - story continues below
Readers can view a three-and-a-half minute clip from the second interview here:
As always, a few minutes of Sowell's commentary provide vast insights, four of which merit special notice:
First, Sowell cited the 1930 as the federal government's earliest major intervention into the U.S. economy. That date, of course, coincides with the onset of the Great Depression.
Advertisement - story continues below
What ought to strike us about that intervention is that by 1930, the Fed had existed for nearly two decades. Still, that central banking system could not prevent the worst economic collapse in U.S. history.
Second, Sowell noted that the Fed purchased Treasury bonds. This, of course, helped elected officials continue to expand the national debt. The Congress of 1913 unquestionably could not have anticipated such an unhealthy development.
Third, Sowell bristled at the question of how one might replace the Fed, comparing it to a cancer. Federal programs and agencies take on such an air of permanence that the mere suggestion of dismantling them immediately raises the question of replacement.
Instead, Sowell offered the appealing alternative of simply eliminating that part of the federal government. Sound thought, indeed.
Advertisement - story continues below
Finally, the entire notion of Fed staffers predicting the future reflects unfortunate changes in how we think about economics.
In the 19th century, Americans described economic hard times as "panics." They endured the Panic of 1819, the Panic of 1837 and so forth. During the Panic of 1893, the unemployment rate hit at least 18 percent, so we know that by "panic" they meant something serious.
Nowadays, we refer to a "recession" or once, a "Great Depression."
There are good reasons for preferring the 19th century's nomenclature. After all, economic statistics measure human activity, and that activity often depends on how people feel. A "panic" conveys fear and uncertainty. It does not respond to a social scientist's equations.
Advertisement - story continues below
A "recession," on the other hand, implies something experts can manage. Plot guns and butter on a graph, and prosperity ensues.
Sowell has argued that U.S. monetary policy could benefit from fewer experts and less centralization. Indeed, the Fed's revised (see: failed) predictions give evidence of his wisdom.
Conversation