Op-Ed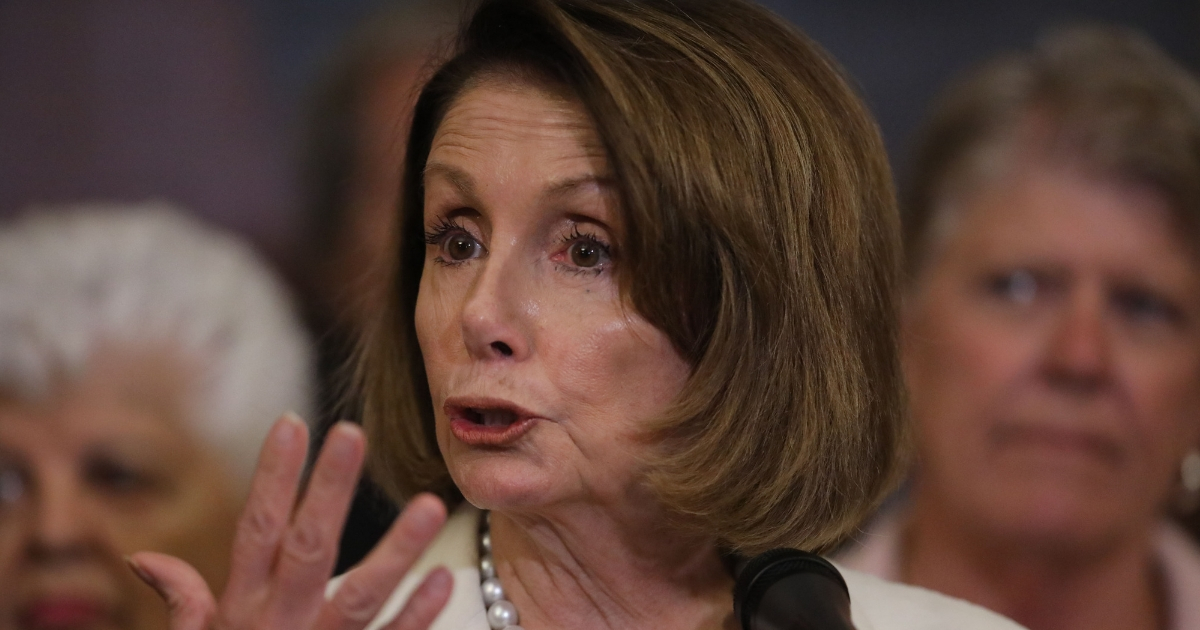 For House Majority, Democrats Need To Defy History, Not Republicans
Since President Donald Trump's upset victory over Democrat Hillary Clinton in 2016, his opponents and the liberal media have focused relentlessly on historical data showing the president's party losing an average of 30 seats in the U.S. House in midterm elections. A shift this big in the current House would give Democrats a seven-seat majority.
The re-ascension of Rep. Nancy Pelosi to the speakership, the consequence of a midterm "blue wave," is more than a de rigueur notion to many Beltway insiders. It is gospel truth. Republicans, they insist, must "defy history" to keep a House majority. They even have Republican leaders using that exact same phrase.
But while there is a definite cause for concern among House GOP strategists in the current midterm, it is Democrats who face clear statistical trends that point toward trouble in their own ability to turn out votes in House elections next week.
Advertisement - story continues below
A review of Republican and Democratic vote totals — excluding third parties — in the previous 10 presidential and midterm elections show that Republicans have won seven House turnout battles and majorities. In 2012, riding the coattails of President Barack Obama's reelection, Democrats actually won a narrow House turnout victory but failed to win the House majority.
Sifting through election results since the 1990s one is struck by Obama's impact on his party's performance — for good and ill. His win in the 2008 presidential election helped Democrats turn out a stunning 12.9 million-vote margin-of-victory in House races that year, a metric more typically in the 1-2 million range.
The impact of Obama's 2008 win also gave Democrats a barely noticeable one-tenth of 1 percent margin of victory in the total number of votes in House races cast since 1998. Out of a total 930,000,000 votes for the major parties in the House, 468 million went to Democrats and 467 million to the Republicans. Without the 2008 Obama blowout (i.e. factoring out all 117 million House votes that year), Republicans would claim a nearly 12-million-person margin of victory in the other nine House cycles.
Now, let us consider the increasing trend of Democrats not showing back up for midterm elections two years after a presidential election. First, the drop-off for all midterm voters after a presidential contest has been widening the previous several midterms. In 2002, after President Bush's win in 2000, overall House turnout dropped 30 percent. Three midterms later in 2014, the most recent midterm, total House turnout had dropped more than 40 percent. And not only did proportionally fewer voters show up in 2014, but there was also a decline of 8.2 million major party voters overall from the previous 2010 midterm.
Advertisement - story continues below
Democrat House turnout, in absolute numbers, has declined each of the three previous midterms (42 million in 2006; 39 million in 2010; and 35.4 million in 2014), making the midterm voter drop-off trend noticeably more acute for Democrats.
The drop-off for Democrats in the previous five midterms has averaged 37 percent, versus 29 percent for Republicans. For the five presidential/midterm election cycles dating back to 1996, the Democrats average numeric drop-off is 22 million votes from the previous presidential run. The GOP drop-off is only 16.4 million, a difference of almost 6 million votes in favor of the GOP.
More alarming for Democrats is the 45 percent average drop-off in the previous two midterm elections. Republican drop-off is almost half that number at 27 percent. This year Democrats have created the expectation of a House majority without explaining who in their coalition is going to surge their turnout to stem a growing no-show trend.
Three previous midterm House majority flips were preceded by the announcement by insurgent minority parties of well-researched and poll tested policy agendas explaining what they would do with majority status. These plans included the Contract with America in 1994, the Democrats' Six for '06 plan in 2006, and the 2010 Pledge to America. These documents were publicized through coordinated media strategies to appeal to core and swing voters.
In 2006, Democrats actually pulled off a House turnout victory margin of 6.4 million votes over the GOP, the largest ever in a midterm flip of the majority. Basic media engagement which centered on their 30-page "A New Direction for America" document ultimately helped them capitalize when GOP House leaders were roiled by the Mark Foley-page scandal.
Advertisement - story continues below
But in 2018, House Democrats have announced exactly zero in terms of a coherent caucus agenda. And not only is there no plan, they are squabbling over possession of the Speaker's gavel with members of the powerful Congressional Black Caucus openly urging Rep. Jim Clyburn to step up a bid for the gavel.
While Democrats are quick to note that Hillary Clinton won the popular vote over Donald Trump in 2016 by more than 3,000,000 votes, it should also be noted that Republicans won the House turnout battle (retaining a majority) by more than 1.4 million votes that same year.
Hillary also outperformed House Democrats, winning 205 congressional districts. House Democrats not only lost another turnout battle, they won 11 fewer seats than Hillary.
Without a plan, without unified leadership, without an Obama or a Hillary heading a ticket, it is difficult to see how Democrats will win a House majority given recent midterm turnout trends. In order to get the 23 or so seats to get a House majority, data more than strongly suggest that it is Democrats who need to defy history, not only to restore to historic turnout rates, but also to surge their way past more reliable GOP midterm performances.
The views expressed in this opinion article are those of their author and are not necessarily either shared or endorsed by the owners of this website. If you are interested in contributing an Op-Ed to The Western Journal, you can learn about our submission guidelines and process here.
Conversation