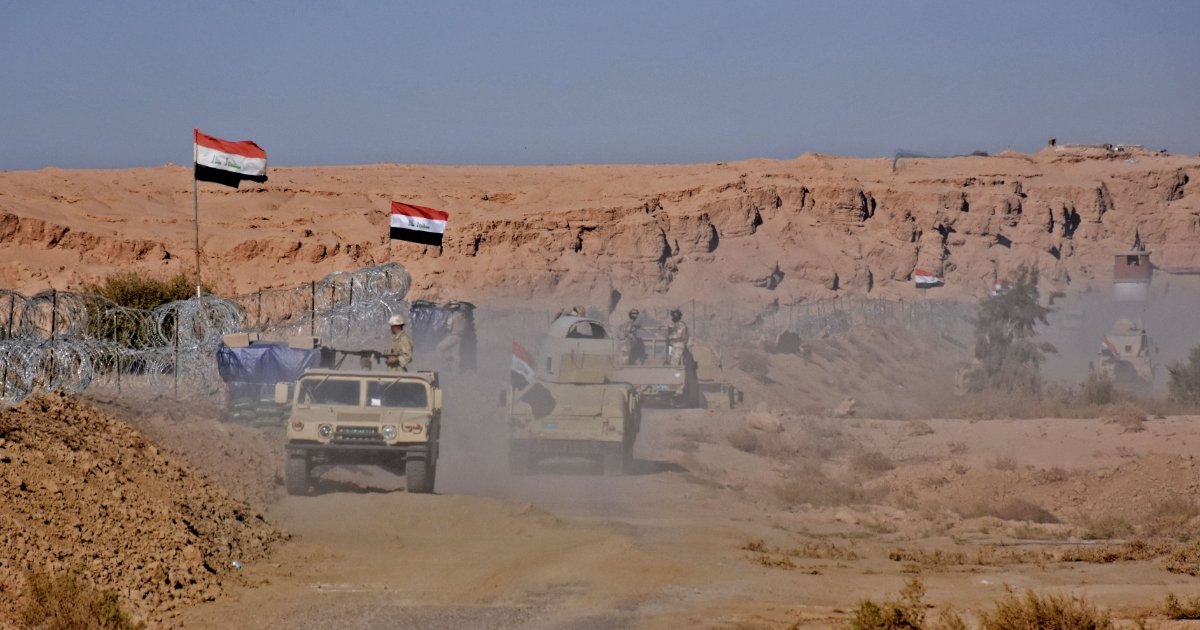 ISIS Working To Bolster 'Sleeper Cells' in Former Territory, Watchdog Says
The Islamic State may only control a tiny sliver of its once-formidable caliphate in Iraq and Syria, but the militant group remains capable of waging a clandestine insurgency via "sleeper cells" scattered across the region, according to a government watchdog report released Monday.
In its latest quarterly report to Congress, the Office of Inspector General for Operation Inherent Resolve cited Defense Department assessments that ISIS has "lost control of all the territory it once controlled in Iraq, and remains in control only of an estimated 1 percent of territory it once held in Syria."
But the group has responded to territorial losses by transitioning from a conventional force to an insurgency that can inflict damage on civilian targets and melt into ungoverned areas, according to the OIG.
Advertisement - story continues below
In Syria, ISIS "continued to function as a 'hybrid conventional fighting force' — operating both as soldiers and insurgents — in areas of Syria that remain under its control," the report stated, citing a U.S. military assessment. Meanwhile, in Iraq, ISIS fighters are operating as "geographically dispersed criminal gangs that clandestinely seek to return to insurgent operations."
The OIG report tracks with United Nations estimates that between 20,000 and 30,000 ISIS militants are dispersed across both countries. The Pentagon has downplayed the significance of the total number of ISIS members, preferring instead to measure the group's effectiveness in terms of its capability to carry out attacks on population centers.
While those assessments are classified, the OIG report indicates that ISIS cells are able to conduct attacks in rural areas with relative impunity.
In Iraq, ISIS attacks were particularly common in a crescent spanning from Anbar province in the west to mountainous Kurdish-dominated areas in the northeast, according to the report. That crescent roughly mirrors the swath of northern Iraq that ISIS overran and occupied at the height of its power in 2014.
Advertisement - story continues below
"ISIS fighters have attacked security forces, civilians, village and tribal leaders, and infrastructure," the OIG report stated. "According to media reports, the group has assassinated three or four tribal leaders and village elders per week for the last six months. According to the [Defense Department], this quarter ISIS also stepped up attacks on electricity and power transmission stations."
Combined with Iraq's difficult terrain, these deficiencies allow ISIS militants ample room to avoid capture, according to the Inherent Resolve inspectors.
Do you think ISIS is still a major threat in the Middle East?
The "mountainous and desert terrain in these provinces, coupled with a lack of a persistent security presence in rural and under-governed areas, provides ISIS a safe haven," the OIG report stated. "Moreover, according to outside analysts, most ISIS fighters remaining in Iraq are Iraqis — not foreign fighters — who know the area and speak the language, which hampers efforts to counter them."
In Syria, the state of play among competing factions in the country's civil war has also created conditions for an ISIS resurgence. The campaign against ISIS suffered a serious setback over the summer, when Turkish forces launched attacks against Kurdish militia in northeastern Syria.
The attacks forced elements of the U.S.-backed Syrian Democratic Forces to join the fight against Turkish army, which hampered efforts to drive ISIS out of its strongholds in eastern Syria's Euphrates River Valley.
Advertisement - story continues below
A version of this article appeared on The Daily Caller News Foundation website.
Conversation