Sports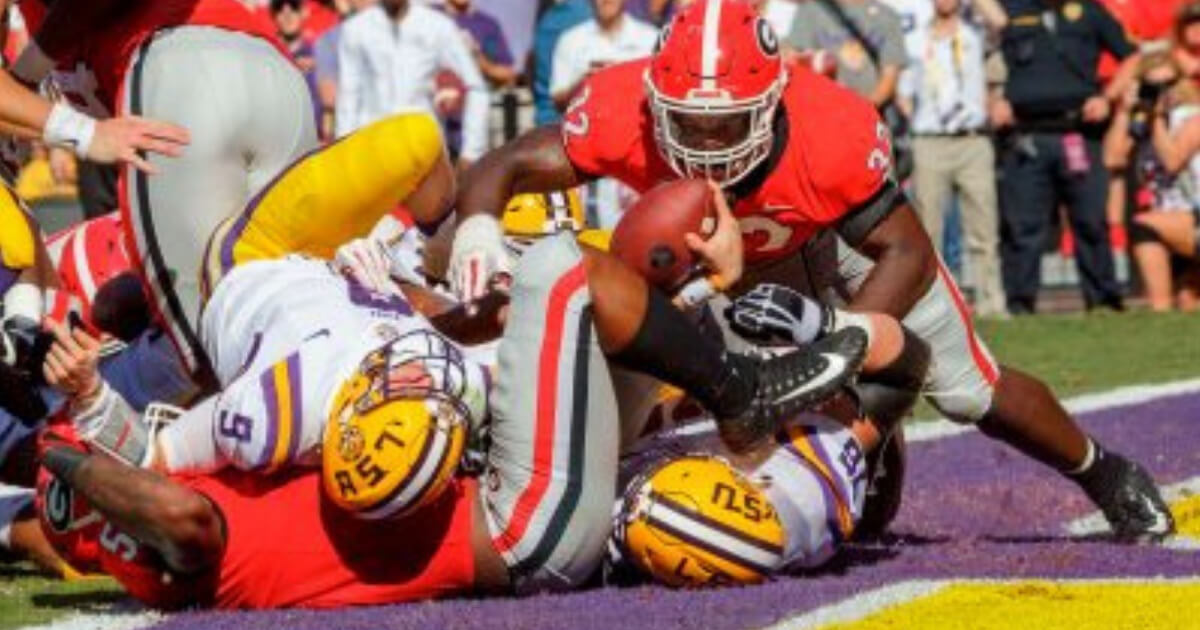 LSU Routs No. 2 Georgia in Signature Win for Coach Orgeron
As a jubilant sort of mayhem engulfed LSU coach Ed Orgeron, with fans rushing onto the field, the Cajun coach who grew up loving the Tigers calmly looked around and let the spectacle sink in, then hugged wife Kelly.
Joe Burrow passed for 200 yards and had two short touchdown runs, LSU's defense staggered Georgia's normally prolific offense, and the 13th-ranked Tigers beat the No. 2 Bulldogs 36-16 on Saturday to give Orgeron a signature victory.
Five fourth-down decisions by Orgeron influenced the result. LSU converted all four times it ran an offensive play on fourth-and-short, sustaining three drives that produced a total of 13 points.
Advertisement - story continues below
"We were going to be as aggressive as we can. We were going to take shots and go for it and play to win the game the whole time," the burly Orgeron said in his trademark raspy voice. "We were going for it as hard as we can today. We were throwing out the kitchen sink, man. We were giving them everything we had and we did it."
So when is Ed Orgeron gonna get the respect he deserves? LSU has three Top 10 wins this season – no one else has more than one. LSU's three wins against ranked teams are the same as Bama/Clemson/OSU combined. Keep making the jokes. Coach O is a DAMN good coach

— Aaron Torres (@Aaron_Torres) October 13, 2018
In another instance, Orgeron called timeout and elected to punt on fourth-and-2 after the offense initially remained on the field. That decision pinned Georgia at its 4, and Kristian Fulton's interception of Jake Fromm's pass shortly afterward set up another of Cole Tracy's five field goals.
"He knows what he's doing. People just, they hear his accent and they just think, 'Oh, this guys is just all rah-rah,'" LSU senior tight end Foster Moreau said of Orgeron. "He made all the right decisions tonight."
Advertisement - story continues below
Clyde Edwards-Helaire rushed for 133 yards for LSU (6-1, 3-1 Southeastern Conference), and Justin Jefferson caught six passes for 108 yards, including a 41-yard snag of a pass rifled over the middle and between converging defenders. That catch set up Burrow's second TD in the fourth quarter.
Nick Brossette added a short touchdown in the final minutes after Burrow's 59-yard scamper. As the game ended, fans rushed the field, ignoring pleas not to do so from the public address announcer.
Hey, college football world: Let's accept the fact that LSU is a Playoff contender https://t.co/b7OQrTpYei

— Saturday Down South (@SDS) October 14, 2018
Orgeron, now in his second full season after taking over for Les Miles in 2016, largely deflected credited when asked about his role in the upset over Georgia (6-1, 4-1). But his players made it clear how they felt about him.
"The best way we can defend our head coach, who we love, is by winning football games," Moreau said.
Advertisement - story continues below
Fromm had by far his worst game this season, completing 16 of 34 passes for 209 yards, one touchdown and two interceptions.
He said after the game that LSU's defense presented him with pre-snap formations he had not seen when he studied this season's LSU games.
"They did a good job with some third-down crazy stuff, some one-hit-wonder stuff. But we kind of got ourselves in a mess with the third-and-longs," Fromm said. "I don't know. We made some plays. I think they made more plays. We just really couldn't string them all together."
LSU's defense registered three sacks and the combination of pressure and coverage seemed to get Georgia's offense out of synch, with a number of passes sailing to no one.
Advertisement - story continues below
"We're just a different group of DBs," Fulton said. "That's our game plan, to be physical with them at the line. … You could tell their timing was off."
Conversation