Commentary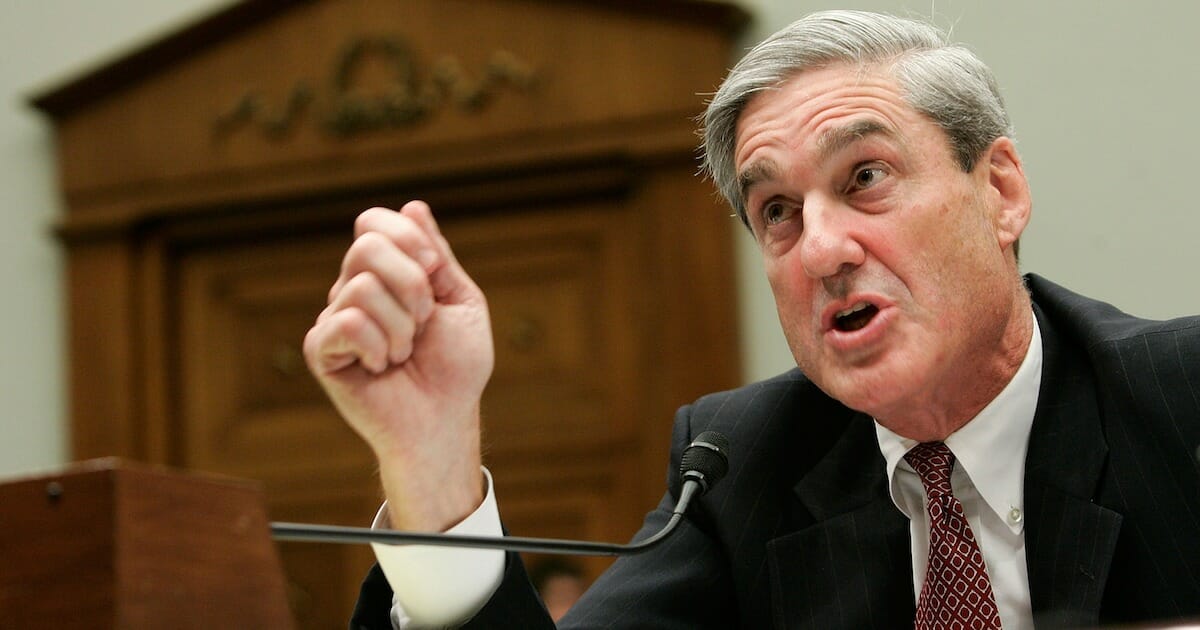 Mueller Disappointed the Dems -- Just Like Every Other Witness that Was Supposed to Take Down Trump
I could have written these headlines before Robert Mueller even took the stand on Wednesday.
The Hill: "Democrats express private disappointment with Mueller testimony." The New York Times: "The Blockbuster That Wasn't: Mueller Disappoints the Democrats." Politico: "Mueller disappoints Trump critics, again."
"Remember, I spent months trying to tell people that there will be no headlines out of this," Rep. Jim Himes, a Connecticut Democrat who sits on the House Intelligence Committee, told The Hill. "Quite frankly, I think it was both the Democrats and the media that sort of created this narrative that there was going to be some bombshell from Bob Mueller, there is going to be a bombshell from his deputies — there is not going to be a bombshell from him."
Advertisement - story continues below
Another prominent Democrat blamed the media, which is a bit cheeky given the circumstances.
"I think that the media hyped the hearing to a point where it was very hard to meet the expectation," Intelligence Committee member Rep. Jackie Speier of California said. "I remember getting ready yesterday morning listening to the coverage and thinking, 'My gosh, they're making this into Watergate II.'"
Funny you should mention that Watergate II thing, Rep. Speier. If you feel so strongly that this shouldn't have been covered this way, perhaps your party ought to have tamped down expectations from the beginning.
Yes, Mueller's testimony was a special kind of anticlimax. I mean, it was almost like he was explicating a report that had already reached conclusions not necessarily amenable to the cause of getting President Donald Trump removed from office.
Advertisement - story continues below
Add the fact that Mueller appeared to be doddering and unclear on the results of his own investigation and you had a recipe for disappointment — particularly since, as Politico's Josh Gerstein aptly pointed out, "many Democrats have regarded Mueller as a Messiah figure who will deliver them from the plague of the Trump presidency through something akin to divine intervention."
However, this isn't the first time that testimony which was supposed to be a gift from on high to the Democrats ended up being a dud.
Do you think Donald Trump will be impeached?
If you want to see the genesis of this phenomenon, I take you back to James Comey's appearance before the Senate Intelligence Committee, which was supposed to be the summer blockbuster of 2017.
Here's how Reuters covered the event as it happened: "Crowds packed U.S. bars on Thursday to watch former FBI chief James Comey testify to Congress, with some patrons dismissing the hearing as hype and others cheering his comments as they downed mixed drinks with names like 'impeachmint' and 'bad hombre.'
"From Capitol Hill to San Francisco's Castro district, television 'watch parties' beckoned politics buffs to taverns, restaurants and living rooms to view an event some likened to the 'Super Bowl of Washington.'"
Advertisement - story continues below
Well, if it was, it was something like this past Super Bowl, mostly unwatchable and anticlimactic. Comey didn't produce anything close to a smoking gun, in case you'd forgotten.
One Brooklyn teacher who took time out to watch those proceedings probably had the most telling quote when they talked to CNN: "What makes me come to watch this is seeing Trump under pressure and it's satisfying," Robin Hornb said. But: "I don't think he's gonna be impeached, things need to be more severe than this."
Satisfying, yes. Impeachable, hardly. That's not exactly a winner.
Then came former Trump lawyer Michael Cohen's testimony this February. Cohen, frequently referred to as Trump's "fixer," had more explosive testimony against the president — assuming, of course, you believed what he said. Republicans saw a convicted felon desperate to get in the good graces of whatever Democrats he could. Democrats saw someone they could use against Trump — but not necessarily someone who gave them the kind of ammunition they needed for impeachment.
Advertisement - story continues below
"The one thing I did see widely reported was that the witness said that other issues, that he was aware of, were under consideration by the [prosecutors in the] Southern District of New York. So let's see what that is," House Speaker Nancy Pelosi said after Cohen's testimony. "But, again, impeachment is a divisive issue in our country. And let us see what the facts are, what the law is, and what the behavior is of the president."
Pelosi hasn't become any more amenable to impeachment in the interim, to absolutely no one's surprise.
Meanwhile, just before Cohen was about to surrender to authorities to go to prison, his lawyer announced that "Mr. Cohen has recently obtained a hard drive with 14 million files from his computers and phones over the past 10 years, which we believe has significant value to the various congressional oversight and investigation committees" and urged politicians to keep his client free so that he could help them sift through this information.
That Cohen even made this desperate plea for freedom — and that congressional Democrats more or less gave him the shrug emoji in return — should probably tell you just how credible of a witness Cohen was. Chalk up another disappointment.
Advertisement - story continues below
Then came Wednesday and Robert Mueller. The former special counsel didn't give any new details that would move forward an obstruction of justice investigation. He ended the collusion narrative. He seemed completely disconnected from his own investigation; how a man like Mueller could have drawn a blank on Fusion GPS when the opposition research firm played such a massive role in the investigation of the Trump campaign was a telling sign.
But, in case you didn't notice, Mueller isn't the end. Like every Marvel Cinematic Universe movie, the Mueller hearing sowed the seeds for its sequel: the Don McGahn hearing.
McGahn, Trump's former White House counsel, was allegedly the one that Trump tasked with firing Mueller back in 2017. McGahn apparently refused and offered his resignation, according to the Mueller report. Congress wants to talk to him, although they've thus far been stymied.
Even if he does testify, what will be the point? It'll be another disappointment for the left, just like every one of these hearings thus far. Democrats are desperate to fit the facts into their narrative box of massive collusion with Russia on the part of the Trump campaign followed by a massive attempt to obstruct justice. But the facts stubbornly refuse to be squished in there, no matter how many people they call before Congress.
Advertisement - story continues below
And no matter how many people they call, there still hasn't been a Watergate II moment yet. You get the feeling the Democrats believe this moment is just around the corner, that the next guy they drag before some committee is going to be the John Dean or Alexander Butterfield that really gets this ball rolling.
Well, good luck with that. Nobody's going to call the next big hearing — be it McGahn or somebody else — the "Super Bowl of Politics." Heck, it's not even going to be the "WNBA Finals of Politics." Most of America has wised up to the general quality of these hearings. For a select group of Democrats immune to disappointment's sting, the McGahn hearing, if and when it happens, will the one that really gets him! I can guarantee you, however, there will be even fewer of their compatriots slugging down "impeachmints" and watching the testimony with them at the bar.
Conversation