Sports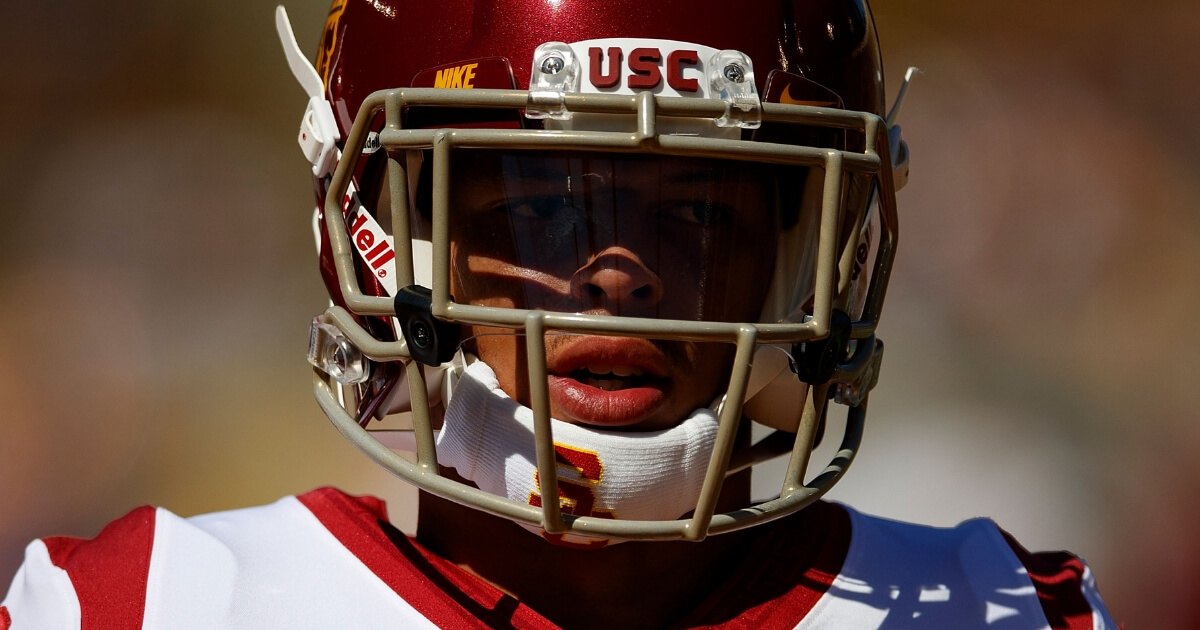 NCAA Star Reveals He Was Slapped with 28-Month Suspension
The former starting safety for the USC Trojans is leaving the school after being suspended stemming from allegations of misconduct at an off-campus party back in February.
Bubba Bolden, a 19-year-old sophomore, was projected to be a starting strong safety this year, but he never got on the field this year because he received a 28-month suspension for his actions at that party back.
Bolden explained his departure from USC in an Instagram post Monday, saying he wrote it with "a heavy heart."
Advertisement - story continues below
https://www.instagram.com/p/Bor-35ygSRM/?hl=en&taken-by=b._.bold
"The University's Student Judicial Affairs and Community Standards (SJACS) believes that I am responsible for violating the student code of conduct pertaining to underage drinking at an off-campus party back in February 2018 wherein I participated in mutual trash-talking with fellow partygoers. As the vibe at the party turned unfriendly, I left with several friends. Approximately nine days afterward, the party hosts reported feeling threatened by me that night, which sparked a USC SJACS investigation," he wrote.
Bolden said that USC's chief threat assessment officer did not find him to be a threat and USC's Title IX Office declined to open an investigation, yet he was still suspended.
"I was not charged with any criminal activity and several party-goers refuted the allegations. SJACS sanctioned me with a 28-month suspension based on the projected graduation date of the party hosts," he wrote.
However, Bolden did apologize for his behavior.
"My behavior at the party was not reflective of my character which my family, friends, teammates and many more admire, and for this I am truly sorry," he wrote. "At this point, I'm 100 percent committed to ensuring that the lessons I've learned on and off the field will carry me to the next level."
Bolden thanked USC football for the "opportunity of a lifetime," but added that he will be leaving the university over this situation. He said it had been a "lifelong dream" of his to be a Trojan.
"Although I certainly did not expect to leave USC under these circumstances, I depart with my integrity intact and stronger than ever as I face a bright horizon," Bolden said. "Passion, hard work, and accountability will always be at the beginning, middle, and end of whatever I set out to accomplish. …
"I want nothing more than to make myself, my family, and my community proud."
Bubba Bolden to Ohio State is very realistic and would be perfect for both parties. He should've been there in the first place. #GoBucks

— The Sloopy Report (@tOSUFb) October 9, 2018
Bolden, who attended Bishop Gorman High School in Las Vegas, was the 59th-ranked prospect in the high school class of 2017, according to 247 Sports. He was the third-ranked safety in the class.
USC coach Clay Helton refused to discuss the matter, reported the Los Angeles Times.
USC is 3-2 overall and 2-1 in the Pac-12. Next week is a huge game as the Trojans host 19th-ranked Colorado (5-0, 2-0) in a game that could vault them ahead of the Buffaloes in the conference if they win.
Conversation