Sports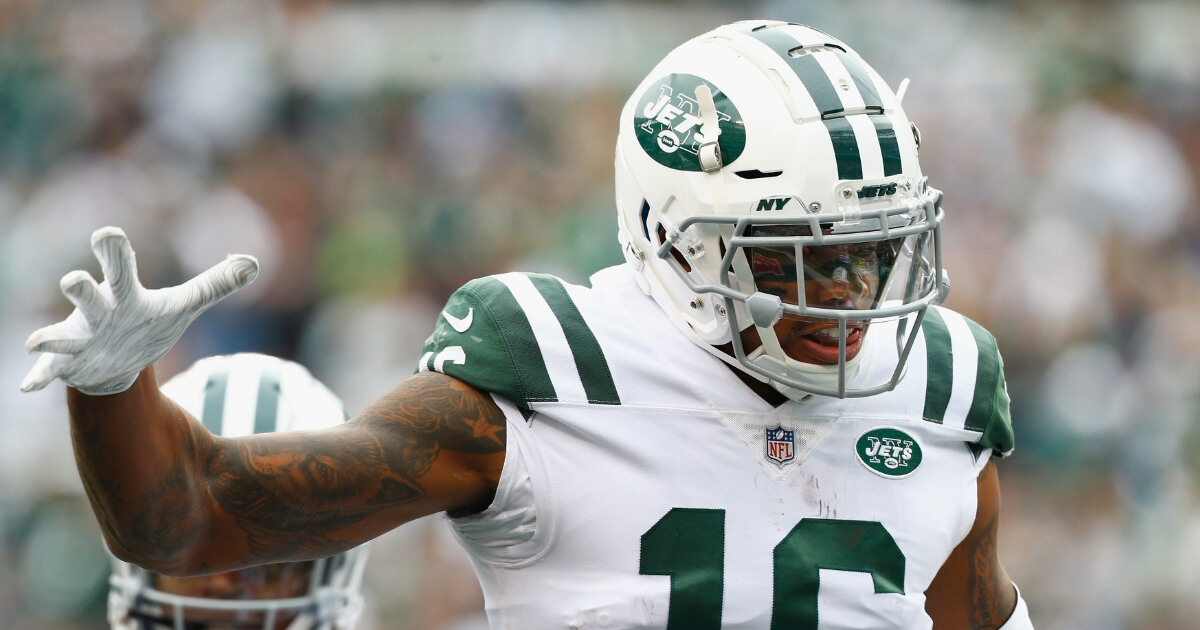 New York Jets Cut Offensive Weapon
The New York Jets' passing game has been an up-and-down affair this season for rookie Sam Darnold.
Now he is going to be missing a key member of his receiving corps.
ESPN's Adam Schefter reported Saturday that New York was set to release Terrelle Pryor, just as he got ruled out of the next two games with a groin injury.
Advertisement - story continues below
The Jets soon made it official, replacing him with Deontay Burnett from the practice squad.
We've activated WR Deontay Burnett and released WR Terrelle Pryor.

? https://t.co/42Vkk7Y85z pic.twitter.com/08l1DWdq3S

— New York Jets (@nyjets) October 20, 2018
While the possibility exists that Pryor, when he is once again healthy, might rejoin the Jets, he will be a free agent and other teams in need of receiver depth will be competing for his services as well.
Advertisement - story continues below
Jets are releasing WR Terrelle Pryor today, per league source. Pryor has a tear in his groin and is expected to be out about two weeks. Jets interested in bringing him back when healthy, but other teams also likely to be interested.

— Adam Schefter (@AdamSchefter) October 20, 2018
Schefter went on to say that although the move was unexpected, with the Jets in desperate need of any roster help they can get at the position, holding a spot open even for two weeks for an injured player was a luxury they simply could not afford.
Jets releasing Terrelle Pryor qualifies as a surprise considering he has been productive the last two weeks and they need WRs. But Jets need healthy bodies at WR and couldn't wait. Tough deal for both sides.

— Adam Schefter (@AdamSchefter) October 20, 2018
This is where the potential for Pryor to re-sign comes in, and where the potential terms of the new contract open themselves up to wild speculation.
Advertisement - story continues below
After all, there aren't many teams in the league that wouldn't want a healthy Pryor on their roster.
At his best, with Cleveland in 2016, Pryor caught 77 balls for 1,007 yards and four scores.
With the Jets this year, he's already hauled in 14 catches for 235 yards and a pair of touchdowns.
And the idea that long-term damage would come from a fairly minor groin injury set to sideline Pryor for only two weeks seems a bit far-fetched.
Advertisement - story continues below
Especially for a team on a bye week this week or next, what harm would come from having Pryor on the bench for one of those games if you've got him for the rest of your season and possibly the playoffs?
Might the Jets have made a handshake deal with Pryor for the next two weeks, one of those "don't sign with anyone else and we'll bring you back on terms that give you enough money to make it worth your while" kinds of deals? It's speculation, but it's not implausible.
Meanwhile, Darnold will have Robby Anderson and Jermaine Kearse as his primary targets.
Will the Jets finish with a winning record this season?
Advertisement - story continues below
Quincy Enunwa, the team's leading receiver with 22 catches for 287 yards, might end up missing the next four weeks with an injury of his own — a high ankle sprain.
The Jets have been cobbling together a respectable season out of smoke, mirrors and improvisation so far this year.
They're 3-3, with a two-game winning streak in progress after wins over the Broncos and Colts.
Darnold, despite getting dinged up himself with an elbow injury, hasn't been a complete disaster. His 9-7 touchdown-interception ratio isn't great and his 45.4 QBR is nothing special, but he's won half his games as a rookie starter — and it's not like the Jets' offensive line has given him much time to make the kinds of reads that are already like playing an old videotape on fast forward compared to college.
Advertisement - story continues below
The Jets are 11th in points scored per game and 13th in points allowed, and the defense has taken 10 picks from the other teams' quarterbacks against the seven that Darnold has thrown.
One thing we do know, however, is that the Jets are getting real close to just pulling the first fan who can catch a football out of the bleachers and suiting him up if they needed to release a guy just to open up a roster spot for a warm body.
Conversation