Op-Ed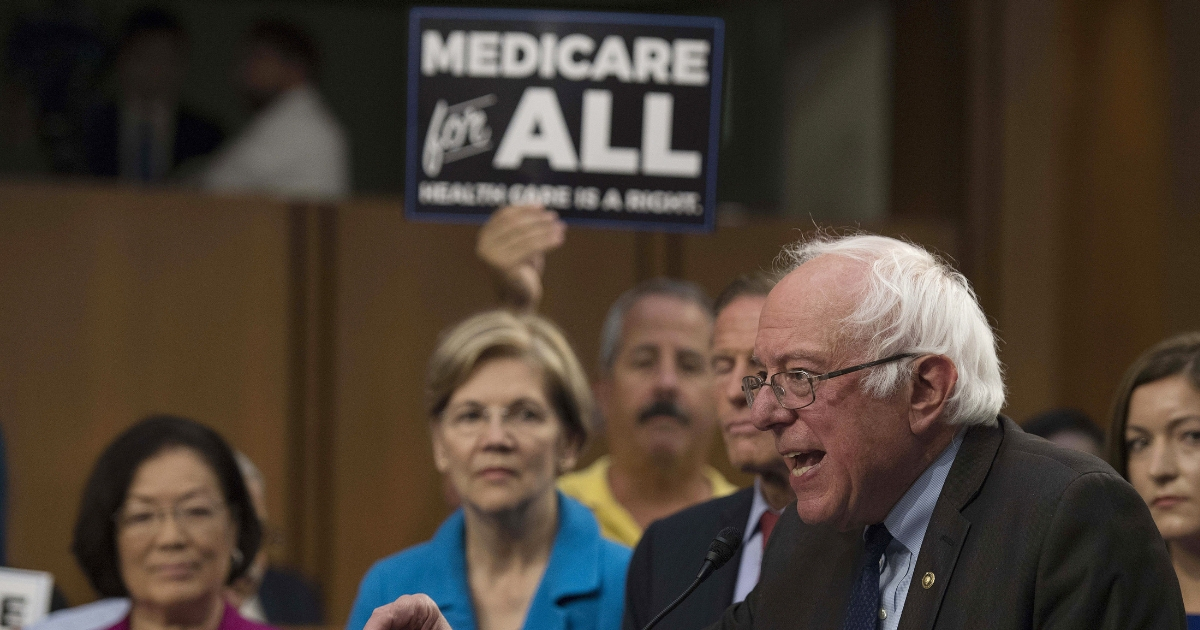 Opinion: 'Medicare for All' Could Have the US in Greek Levels of Debt in Just 9 Years
As the campaign for the midterms continues to ramp up, Alexandria Ocasio-Cortez has once again been doing the rounds in TV interviews and on social media, spreading the word about the policies of democratic socialism.
In late June, 28-year-old Ocasio-Cortez sent shockwaves through the Democratic Party when she defeated 10-term Congressmen Joe Crowley for the party's candidacy in New York's 14th congressional district.
With a platform based on the ideals of democratic socialism, Ocasio-Cortez has since become the public face of the movement, doing dozens of television interviews and other media appearances in an attempt to whip up support for the cause.
Advertisement - story continues below
In particular, Ocasio-Cortez and the other democratic socialists within the Democratic Party have been strongly advocating for "Medicare for All" — an expansion of government involvement in the health care system and touted as their version of universal health care.
In a recent tweet, Ocasio-Cortez was once again singing the praises of "Medicare for All" and linked an article she touted to her followers as "a breakdown" of her proposed policy.
According to the study cited in the article, if "Medicare for All" were enacted federally it would cost over $2.5 trillion in the first year and ultimately average $3.2 trillion per year over a 10 year period.
In the article, it claimed that the total cost of "Medicare for All" was going to be approximately $32 trillion over the next 10 years.
Advertisement - story continues below
What do the experts say?
If "Medicare for All" were enacted federally it would cost the government between $24.7 and $32.6 trillion over 10 years according to a number of different independent studies.
Are you against "Medicare for All"?
Kenneth Thorpe, a former Clinton administration health official and a health policy professor at Emory University in Atlanta, authored a previous study into the potential cost of "Medicare for All."
According to Thorpe, "it's going to cost the federal government $2.5 trillion to $3 trillion a year in terms of spending."
How would that level of spending affect the national debt?
Advertisement - story continues below
By using the rosiest of the independent data, the cost of implementing "Medicare for All" would be approximately $2.5 trillion a year.
After taking the projected deficit and GDP figures from the "The Budget and Economic Outlook: 2018 to 2028" published in April, done by the non-partisan Congressional Budget Office and adding the cost of "Medicare for All" at $2.5 trillion per year, the data illustrated just how unsustainable the policy truly was.
If "Medicare for All" were introduced in 2019 without tax increases, the total deficit for that year would be approximately $3.48 trillion or more than 16 percent of the entire annual GDP.
By the end of the 2026 fiscal year, the United States total federal debt would amount to a total of $50.7 trillion, more than 183 percent of annual GDP.
Advertisement - story continues below
To put this into perspective, Greece's debt to GDP ratio peaked at 180.8 percent after enduring an extremely damaging sovereign debt crisis. This crisis ultimately led to a severe contraction in the size of the Greek economy by over 43 percent, even to this day.
In essence, by adopting "Medicare for All" without an adequately sustainable way to create revenue to pay for it, the United States would find itself in a similar amount of debt as Greece in just 8 years after the implementation of the policy.
But Ocasio-Cortez said they would raise corporate taxes to help pay for it?
To be fair to her, let's include the estimated $2 trillion increase in revenue over 10 years from her proposed increases to corporate tax rates. For the purposes of this calculation, we'll average it out to $200 billion a year.
Advertisement - story continues below
Based upon the scenario where "Medicare for All" costs $2.5 trillion per year, it would take approximately one extra year for the United States to eclipse the peak level of Greek debt if Ocasio-Cortez's corporate tax increases are included.
By the end of the 2027 fiscal year under that scenario, U.S federal debt would reach $52.7 trillion and 184 percent of annual GDP.
So where does that leave "Medicare for All"?
For "Medicare for All" to be fiscally sustainable there would need to be an extremely large expansion of the federal government's revenue base. To put that into perspective, this single policy would cost more than all income tax revenue and corporate tax revenue combined. In fact, there would still be an over $600 billion a year shortfall that would have to be made up from other revenue sources.
Advertisement - story continues below
The reality is, as of this moment there is no sustainable plan to pay for "Medicare for All." If it were introduced without the required increase in revenue, the debt of the federal government would explode to its highest level in history indexed to GDP.
By going down the path of "Medicare of All" without a workable plan to pay for it, it would leave the U.S in more debt in only 9 years than Greece during its sovereign debt crisis, even under the absolute best case scenario including Ocasio-Cortez's proposed corporate tax increases.
"Medicare for All" in its current form cannot sustainably fix the crippling issues faced by the American health care system. More research will have to be done and genuine solutions found that fix the system from its broken foundations up.
The views expressed in this opinion article are those of their author and are not necessarily either shared or endorsed by the owners of this website. If you are interested in contributing an Op-Ed to The Western Journal, you can learn about our submission guidelines and process here.
Conversation