Commentary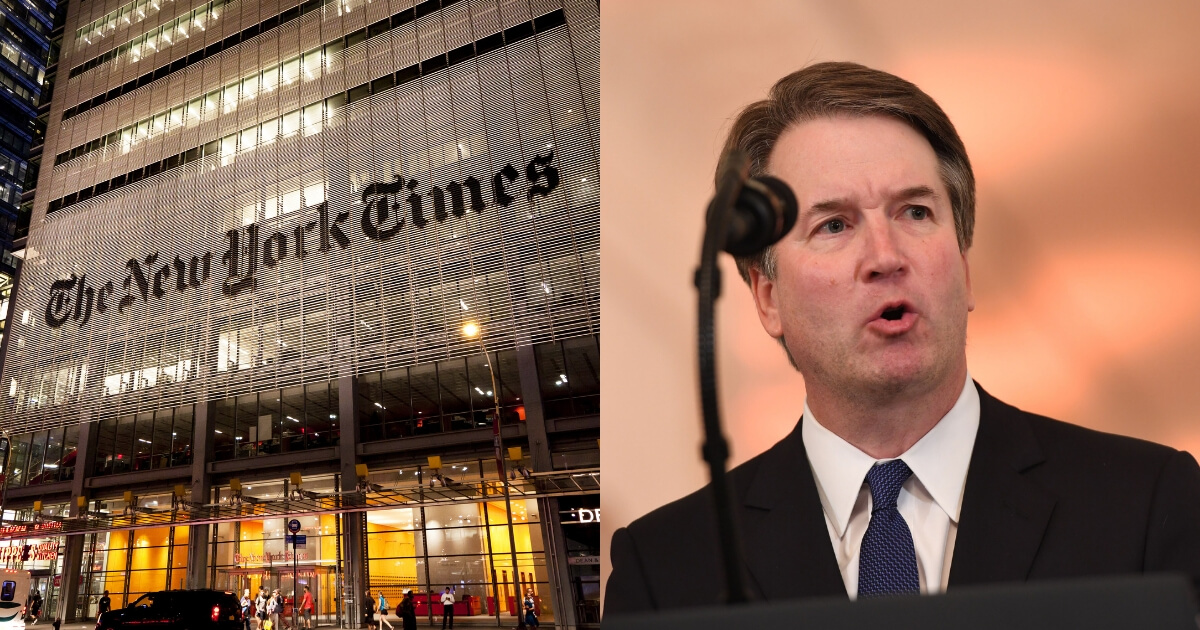 Panicking NYT Deletes Source Name, Caught Hiding Game-Changing Facts on Kavanaugh
It has become transparently obvious over the past two weeks that Democrats and their liberal media allies are engaged in a coordinated effort to smear Supreme Court nominee Brett Kavanaugh with vague allegations of sexual misconduct designed solely to derail his nomination to the high court.
Perhaps in a bid to help bolster the crumbling narrative surrounding California professor Dr. Christine Blasey Ford's 36-year-old unsubstantiated accusations against Kavanaugh, The New York Times just did a purported deep dive into Kavanaugh's 1983 high school yearbook from Georgetown Preparatory School.
The Times heavily implied in the article that Kavanaugh and his friends were some kind of sex-obsessed gang that openly bragged in the yearbook about their sexual conquests, especially with regard to one female student in particular named Renate Schroeder Dolphin, as they referred to themselves in a group picture as "Renate Alumni."
Advertisement - story continues below
But as Mollie Hemingway of The Federalist painstakingly pointed out, there are several glaring problems with the article from The Times that have rendered the story "fake news" and, if The Times had any integrity left, would seem to merit a full retraction and issuance of public apologies, rather than a handful of quiet and unexplained edits.
The first problem appears to be that The Times attempted to delete the name of a source for their smear against Kavanaugh and his friends. The original online post of the article cited a source named only as "Mr. Madaleno," a singular reference to the source that has since been completely deleted from subsequent versions of the article, according to a site known as NewsDiffs that tracks such changes via online archives.
Standard editorial procedure for The Times is to introduce a source by their full name when first mentioned in an article, followed by the individual's last name and title for any future references to them. However, any such reference to "Mr. Madaleno" is decidedly lacking in this piece by The Times.
Hemingway pointed out that the "Mr. Madaleno" in question is most likely a Georgetown Prep classmate of Kavanaugh's named Richard S. Madaleno Jr., a Maryland state senator who is virulently anti-Trump and just unsuccessfully ran for governor in the state on a platform that consisted largely of touting how his being gay and progressive would "infuriate" President Donald Trump.
Advertisement - story continues below
Considering Madaleno's obvious animus toward all things Trump, ethics would seem to dictate that The Times identify him so readers could gauge his particular motivations for making claims against Kavanaugh. Yet they did not, nor did they provide any explanation for why not or why his name was ultimately deleted completely from the article.
Furthermore, The Times also left unmentioned in the piece several key pieces of information that contradict or undermine the claims made by the article, such as the fact that another source who was actually named, William Fishburne, was an active campaign surrogate on behalf of Madaleno's failed gubernatorial bid, a rather pertinent fact that again goes toward motivation.
Are you sick of the blatant lies, half-truths and smear jobs published by The New York Times?
On top of that, The Times also cited a classmate named Sean Hagan as condemning the jokes in the yearbook about Dolphin, but failed to note that Hagan was the editor of that yearbook — and thus allowed what was written to be published — or that he is friends on Facebook with Madaleno and "likes" socialist Vermont Sen. Bernie Sanders and other anti-Trump pages.
The article did mention that "(Dolphin) and a second friend of Ms. Dolphin's denied that there was any sexual contact between Ms. Dolphin and Judge Kavanaugh or anyone else in his circle," but failed to include a similar statement of denial issued by Kavanaugh's friends, which stated in part, "None of us has ever taken part in any kind of verbal conduct or physical actions described by the Times and never bragged about or suggested any such thing."
Indeed, the men all insisted that there was nothing sexual about the references to "Renate" in the yearbook, but merely a notation that all of the friends had at one point or another dated, danced with or kissed Dolphin … all completely innocent behavior for teenage high school boys and girls.
Advertisement - story continues below
Some of the men even claimed to have remained good friends with Dolphins over the years since then as well, all of which would undermine the narrative that she was some sort of sexual conquest the group of boys was bragging about and disrespecting.
"The New York Times' callous treatment of the yearbook references to our friend have now destroyed relationships that span four decades. These friendships can't be recovered and will never be replaced. The anguish caused to our friend is immeasurable; the loss of her trust and respect is devastating," said one of the group members, who requested anonymity out of fear that The Times and the left would retaliate against him.
The New York Times purports to be the "paper of record," but they appear to have been caught red-handed in an obvious hit job on Kavanaugh that is disgustingly beneath a supposedly objective media outlet with integrity.
In all likelihood, this article by The Times never should have been published, at least not in the manner that it was, and now The Times is panicking as they attempt to clear up yet another brightly blinking example of their slanted liberal bias and apparent animus toward Trump's latest Supreme Court nominee, Brett Kavanaugh, which in all honesty is just a useful extension of their base anti-Trump bias.
Conversation