News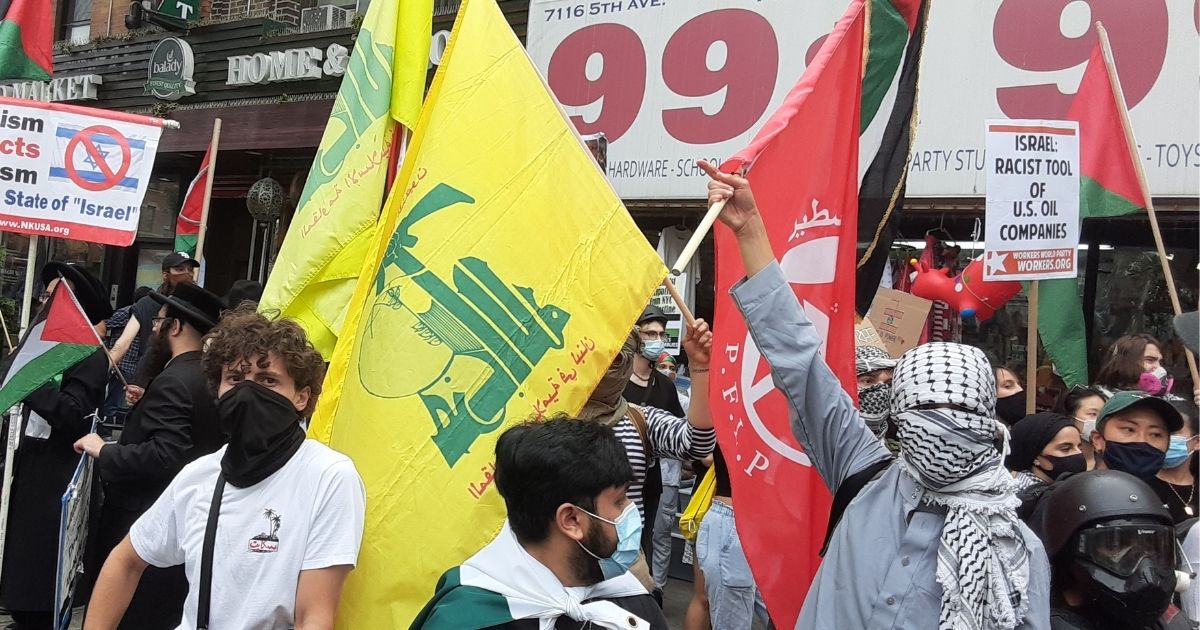 Pro-Palestine Protesters Spew Anti-American Rhetoric, Back Known Terrorist Groups
Nationwide protests organized by pro-Palestine and anti-Israel groups featured anti-American rhetoric and support for known terrorist groups, videos from the protests show.
Pro-Palestine protests occurred in at least 16 cities, including Washington, D.C., Chicago and New York, since July 1, according to the Samidoun Network, an international group of activists who support Palestinian prisoners.
Protesters carried the flags of known terrorist groups, chanted "death to America," and advocated for the release of Palestinian prisoners linked to terror groups.
Advertisement - story continues below
The Samidoun Network was a major organizer of the "Day of Rage" protests and has since announced additional nationwide "Days of Action."
Photos posted by the Samidoun Network on Twitter show pro-Palestine protesters in New York carrying Hezbollah and Popular Front for the Liberation of Palestine flags.
Samidoun Palestinian Prisoner Solidarity Network, along with @WOLPalestine and other members and supporters of the @Ny4Palestine Coalition, have gathered for a massive rally and march in Bay Ridge, Brooklyn as part of the #DaysOfResistance for Palestine. pic.twitter.com/f9QmNIOuZw

— Samidoun (@SamidounPP) August 7, 2020
Advertisement - story continues below
The PFLP was designated as a foreign terror organization by the United States in 1997, according to the State Department.
Hezbollah is an anti-Israel Shiite Muslim militant group and political party that operates as "a state within a state" in Lebanon, according to the Council on Foreign Relations.
Are you concerned about anti-American rhetoric?
One protester's sign said, "Israel: racist tool of U.S. oil companies," followed by a web address to the Workers World Party, a Marxist-Leninist group that organizes and fights "for a socialist revolution" in the U.S.
One protester concluded her speech by saying "Free Palestine! U.S.A. out of our world," followed by cheers from the crowd, video shows.
A second speaker, introduced as part of the Communist Party for Socialism and Liberation, said in Arabic, "death to Israel, death to America" and referred to the protest as a communist movement.
Advertisement - story continues below
Other protesters expressed support for Hamas, a group designated as a foreign terrorist organization by the State Department, video shows.
One protester denied that Hamas was a terrorist organization. "If they're fighting for their freedom, their land, I support them," another protester said.
The Samidoun Network in August organized "Days of Resistance" in honor of Ghassan Kanafani, calling on Palestinians and "social justice movements" to participate in marches and demonstrations.
Kanafani was an active member and spokesperson for the PFLP who defended the acts of the terror group, according to The Times of Israel.
Advertisement - story continues below
A version of this article appeared on The Daily Caller News Foundation website.
Truth and Accuracy
We are committed to truth and accuracy in all of our journalism. Read our editorial standards.
Conversation