Sports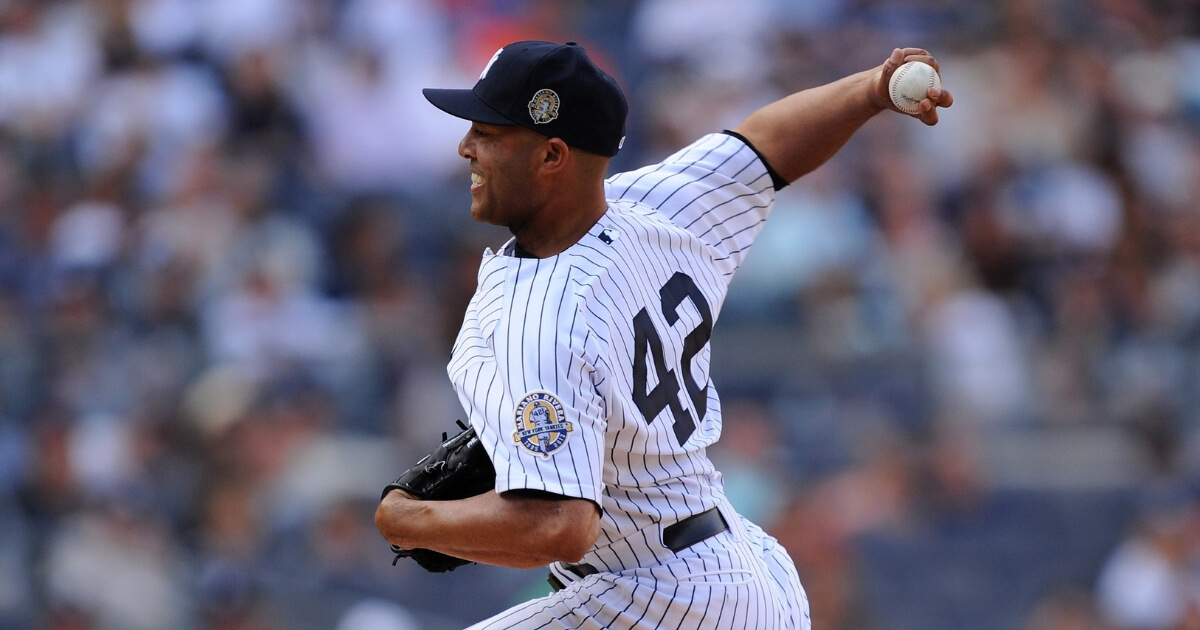 Red Sox Writer Becomes 1st To Refuse To Vote for Yankees Legend Rivera for Hall of Fame
The Baseball Writers' Association of America is the steward and gatekeeper for the hallowed Baseball Hall of Fame in Cooperstown, New York, and if ever there were a case of absolute power corrupting absolutely, we see it every year in the annual crop of moralizing hot takes by self-righteous baseball writers.
Case in point: Bill Ballou, Red Sox beat writer for the Worcester Telegram & Gazette, whose utterly incomprehensible argument for why Yankees legend Mariano Rivera is not getting his Hall of Fame vote — despite Ballou's admission that Rivera is the greatest closer in the history of baseball — leaves open the question of why a guy who writes for a paper read by approximately zero people in the city of Boston has a Hall of Fame vote at all.
Ballou's argument rests on the notion that saves are a useless statistic and therefore having a lot of them does absolutely nothing to make someone a Hall of Famer.
Advertisement - story continues below
Which, in a myopic sort of way is absolutely true. Any statistic that allows a relief pitcher to come into the game in the bottom of the ninth with two outs, the bases empty, and a 3-0 lead, give up a couple of walks and a couple of base hits to cut the lead to 3-2, and then get the next guy out and still say he "saved the game" is ludicrous on its face.
But does Ballou seriously believe that's why Rivera shouldn't be in the Hall of Fame? Has he watched a baseball game in his life?
The role of the closer in baseball's history may be of debatable and dubious value. A lot of better writers than Ballou have already made that argument.
But that's not why Rivera is a Hall of Famer. He took that dubious role and turned it into the most feared position in baseball.
Advertisement - story continues below
Does Mariano Rivera deserve to be a first-ballot Hall of Famer?
If your team was down one run after eight innings during Rivera's prime, the game was over. Fans would leave the ballpark, that's how automatic Rivera was. The bottom of the eighth felt like the bottom of the ninth, that's how urgent it was to get the run back off the setup man before Rivera could come in and slam the door.
It didn't take long for baseball Twitter to slam the door on Ballou and his ludicrous argument.
This is the most absurd thing I've ever seen. @baseballhall @officialBBWAA How do you even give this guy a vote? This is a disgrace. @BillBallouTG is either a hater, completely out of touch, or just writing this to get clicks. None are acceptable. Ugh!https://t.co/DQSGGOFRR4

— Nick Green (@nickgreen20) December 23, 2018
That's Nick Green of Fox Sports throwing a cold splash of water on the idea that Rivera's not a Hall of Famer.
Advertisement - story continues below
Tom Koehler jumped on the argument with an infographic pointing out that more people have walked on the moon (12) than have scored on Rivera in the postseason (11).
I will just leave this here…. #notasmallsamplesize pic.twitter.com/GtvTZvtyP0

— Tom Koehler (@TKREFRESH22) December 23, 2018
Rivera played 19 years. He had a career postseason ERA of 0.70 in 141 innings, had a postseason WHIP of 0.759, gave up exactly two home runs, and when he took the only postseason loss of his career in Game 7 of the 2001 World Series against the Diamondbacks, there's a good reason that everyone outside of New York thinks that game belongs among the greatest games of baseball ever played.
Advertisement - story continues below
Because it was so unusual that the moment was all the more historic for it happening, that's why! When Arizona's Luis Gonzalez singled to drive in Jay Bell, he joined legends of the postseason and got his name inscribed in the history books next to the likes of Bill Mazeroski and Kirk Gibson, the moment to be replayed on MLB Network until the apocalypse comes and there is no more baseball or television to watch it on.
Anyone else but Rivera and that moment doesn't have near the same weight.
And that's what Hall of Fame performances are made of.
Red Sox fans are infamously territorial, people in Boston sometimes blissfully unaware that Worcester even exists because "it's way out on 495 and who drives that fah?"
Advertisement - story continues below
But to denigrate the contributions of Mariano Rivera and to try and use the Red Sox's own cardiac kid Craig Kimbrel (6-of-6 on save opportunities despite a 5.91 ERA in 2018) as a valid comparison?
At least Ballou had the common courtesy to recuse himself from his own stupidity.
"Rivera could be the first Hall of Famer elected unanimously. I think I'm right about closers, but not so much that I would deny Rivera a chance to be the first unanimous Hall of Famer," Ballou wrote. "Thus, I'm not voting this year. A submitted blank ballot is "no" vote for every candidate, so I'm doing a Switzerland and not sending one at all."
I'm not going to do that thing where a writer takes a potshot at a Hall of Fame voter and says "they should give me his ballot." I'm an NBA guy, so let's save that for when the subject is basketball.
Advertisement - story continues below
But surely someone out there is more deserving of casting a Hall vote. Heck, I'd rather see the summer intern at the Boston Globe have Ballou's vote if it must be kept in Boston than letting Ballou have it.
Conversation