News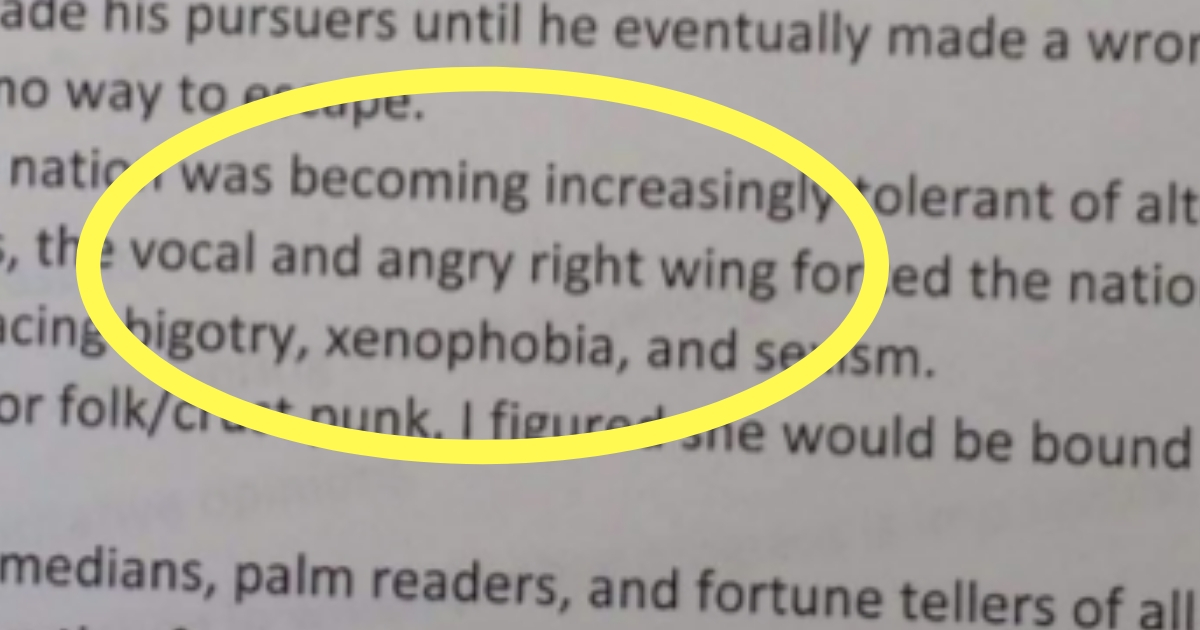 Student Fights Back Over Exam Question About Right-Wing 'Bigotry, Xenophobia, and Sexism'
Florida teenager Logan Parham appeared on "Fox & Friends Thursday to speak out about an exam question he received at St. Augustine high school about alleged right-wing bigotry towards immigrants and minorities.
The exam question read as follows:
"Right when it appeared the nation was becoming increasingly tolerant of alternative lifestyles, immigration and minorities, the vocal and angry right wing forced the nation to make a complete _______, embracing bigotry, xenophobia and sexism."
Advertisement - story continues below
Students were supposed to fill in the blank with a vocabulary word meaning "to turn around and face the opposition directly."
Parham took a picture of the exam question and his mother Reanna later posted it to Facebook.
FL Student, Mom Shocked by Test Question About 'Angry Right Wing' in America @foxandfriends @ainsleyearhardt @SteveDoocy https://t.co/F3SM2zkJbT

— FoxNewsInsider (@FoxNewsInsider) November 1, 2018
"Initially I was very shocked to first read it," Logan Parham said. "And I immediately thought how it painted the right to be what they are not. And I think it's very unfair to make a statement like that, especially to students who may not know any better."
Advertisement - story continues below
His mother said she felt the same way.
"I was also shocked," Reanna Parham added. "So I wanted to put it out there to get feedback from other parents and see if they were as shocked as I was and understanding it the same way."
If religious teaching isn't allowed in schools, should there be a similar ban on political opinions?
Logan Parham is a founding member of the Republican club at his school and said he now feels targeted.
"It just honestly makes me feel kind of targeted and threatened being that this is a teacher," he said. "And you know, I think teachers need to be teaching what teachers need to teach rather than forcing their opinions upon students who don't know any better.
"Fortunately I knew better than to take that."
Advertisement - story continues below
The SJC School District sent this letter *exclusively to @ActionNewsJax –It was sent by the St. Augustine HS principal, to the teacher involved. It reminds the teacher about following the Principles of Professional Conduct & exercising good judgement. pic.twitter.com/tirJRSr5eJ

— Courtney Cole (@CourtneyANJax) October 31, 2018
WJAX-TV in Jacksonville obtained a copy of a letter the school's principal sent to the teacher who wrote the quiz question, reminding him about exercising good judgment when dealing with politically charged issues.
"If he were to answer the question the way the teacher wanted him to answer it, it would essentially be having to admit that his viewpoints were evil," Reanna Parham told WTLV-TV in Jacksonville. "And I don't think that's fair."
Advertisement - story continues below
Content created by The Daily Caller News Foundation is available without charge to any eligible news publisher that can provide a large audience. For licensing opportunities of our original content, please contact licensing@dailycallernewsfoundation.org.
A version of this article appeared on The Daily Caller News Foundation website.
Conversation