Sports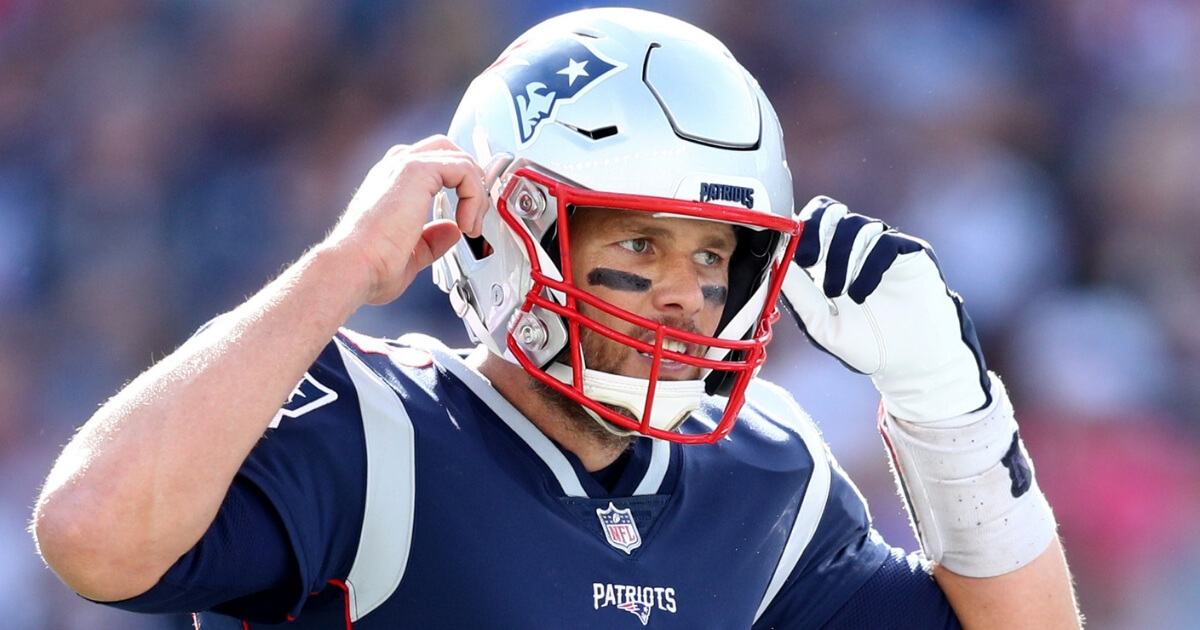 Tom Brady Says the NFL Has Become a 'More Glorified College Football'
Is the NFL game becoming less physical and more like college football?
New England Patriots quarterback Tom Brady thinks so.
"I think now, in some ways, pro football is more glorified college football," Brady said this week during his weekly interview on the "Kirk and Callahan" morning show on WEEI-FM in Boston.
Advertisement - story continues below
Brady said the rule changes that have taken place over the years to promote offense are the main reason.
"Maybe the transition is a more similar game than what it used to be when I first started. I think football now, with removing some of the physical elements of the game, it's just more of a space game," he said. "You see a lot of college plays more in the pro game than what I remember when I started. That's kind of how things have went over the last bunch of years."
A Sunday spent watching football and looking ahead to Mahomes and the Chiefs.

Tom Brady on @KirkAndCallahan: https://t.co/OFYqe7WpOP pic.twitter.com/WmCiXTJXmW

— New England Patriots (@Patriots) October 8, 2018
The topic came up when the hosts asked Brady about his rival this weekend, Kansas City Chiefs quarterback Patrick Mahomes.
Advertisement - story continues below
In his first year as a starter, Mahomes has been one of the big stories of the 2018 season so far with 14 touchdown passes, 1,513 yards and just two interceptions in leading the Chiefs to a 5-0 mark.
With more rules favoring quarterbacks and receivers, the league is much more pass-heavy than when Brady started. The Patriots quarterback said this trend has helped young quarterbacks excel more easily than in the past.
Do you prefer the NFL with more passing and less physicality?
"Some of those guys are playing really well. It's pretty awesome," Brady said. "I was a fourth-string quarterback my rookie year, so I was eating nachos in the stands before games. I wasn't playing games. So I had a chance to sit back and learn. Some other guys have had those chances, and when you're thrown into the mix, it's pretty impressive."
Mahomes said in his press conference this week that he has learned from watching Brady.
Advertisement - story continues below
"It's going to be a great opportunity," Mahomes said. "He is one of the greatest quarterbacks, if not the greatest quarterback, to ever play. So for us … I'm going against their defense, but as a team we're just going to go in and try to compete."
The young star said he "definitely watched a good amount" of Brady in college and noted that his coach at Texas Tech, Kliff Kingsbury, was with the Patriots in 2003 and '04.
"Coach Kingsbury actually played with Tom at one point and so he liked to show me some of the things he did, where he's in the pocket, his pocket movements and stuff like that," Mahomes said. "So I've taken some things from him.
"But he does it at such a high level, and it's something you have to strive to be like."
Advertisement - story continues below
The 3-2 Patriots host the 5-0 Chiefs Sunday night in the marquee matchup of the weekend. The outcome could have implications for home field advantage come playoff time.
Conversation