Commentary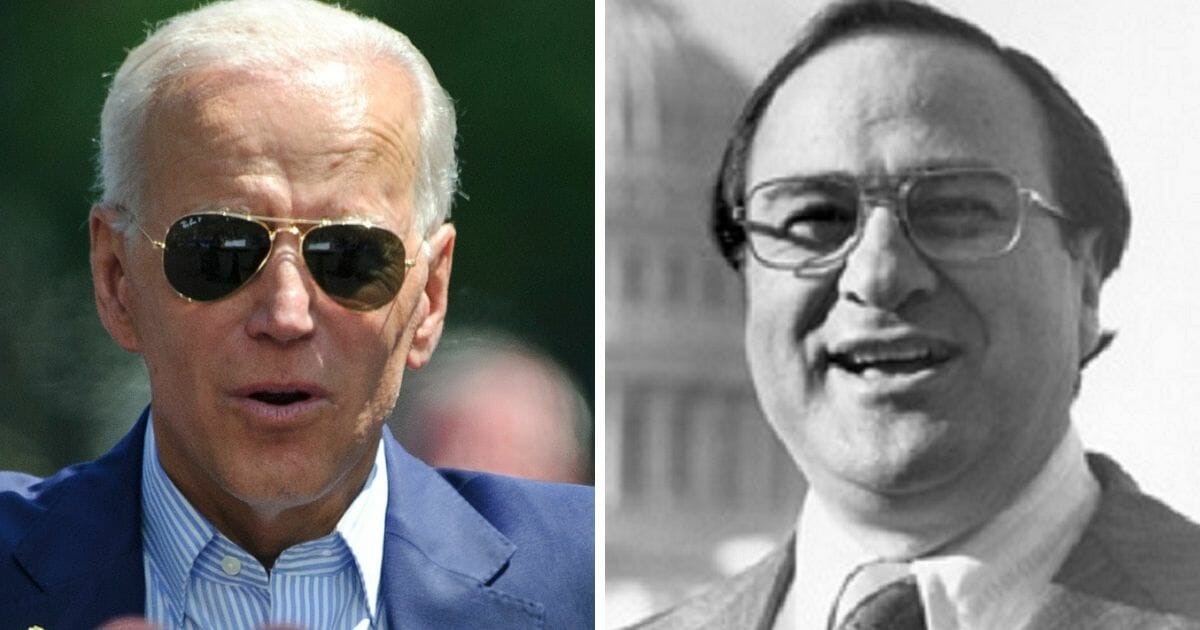 Unearthed 1970s Story on Joe Biden Tirade Re-Ignites Controversy over His Work with Segregationists
James Abourezk served only one term in the United States Senate from 1973 to 1979. The South Dakotan was once considered a rising star among the Democrats — in 1974, Time Magazine named him one of "200 Faces for the Future" — but he declined to run again in 1978.
I'm sure his 1989 memoir, "Advise and Dissent: Memoirs of South Dakota and the U.S. Senate," must have sold at least hundreds of copies upon its release, but it's been largely forgotten in the 30 intervening years. Now, it could inflict yet another wound as Democratic presidential front-runner Joe Biden dies a death of a thousand cuts over his opposition to busing.
In an unearthed passage from the book excerpted by The Washington Free Beacon on Monday, Abourezk wrote that Biden called him a "dirty bastard" and a "son of a b—h" over his opposition to a 1977 bill which would have stopped busing on the federal level.
Advertisement - story continues below
"Abourezk had been approached by the chief lobbyist for the NAACP to fight an upcoming bill Biden coauthored with Delaware's other U.S. senator, Republican William Roth, to block a federal court from ordering the state to desegregate schools through busing," the Free Beacon reported.
The bill was one of the first brought up by Mississippi Democrat Sen. James Eastland during his time at the helm of the Senate Judiciary Committee. Eastland was arch-segregationist who once referred to African-Americans as an "inferior race." He was one of the segregationists lauded for his "civility" by Biden on the campaign trail in mid-June.
"Eastland recognized me and I told the committee members to make themselves comfortable, because I intended to speak at length," Abourezk wrote in his memoir.
"So I started reading out of a book," Abourezk recalled to the Sioux Falls Argus Leader in a story published Monday.
Advertisement - story continues below
"It was a filibuster in the committee. After about an hour, they all got up and left. So I moved that we adjourn on the grounds there was not a quorum. And the same thing happened Tuesday, Wednesday, Thursday, Friday. And by Friday, Biden was so pissed he wanted to kill me."
"Biden leaned over to me, fire coming out of his eyes, 'Abourezk, you son of a b—h, if I ever vote for another one of your bills, it'll be a cold day in hell,'" Abourezk wrote in the memoir.
Do you think Joe Biden will win the 2020 nomination?
"'Calm down, Joe,' I told him, 'You're eventually gonna thank me for doing this.'
"'Like hell I will you dirty bastard.' Biden snorted, stomping out of the room."
Biden did eventually thank Abourezk for what he did, although probably not for reasons that Biden wants revealed now.
Advertisement - story continues below
"A few days later, Biden came into the scheduled committee meeting, this time with a broad, friendly grin aimed directly at me," Abourezk wrote.
"'Jesus, Abourezk, you were right,' he said. 'I am gonna thank you. You should see the Delaware newspapers — big front-page headlines saying, 'Biden Battles Liberals in Washington.' He was unabashedly elated. 'They love me back home, how did you know this would happen?'"
Biden's campaign didn't respond to a request by the Free Beacon to comment on Abourezk's characterization of events.
Now, of course, Biden is very, very sorry about that whole Eastland thing. Except that he was in opposition to him, of course.
Advertisement - story continues below
"Was I wrong a few weeks ago to somehow give the impression to people that I was praising those men who I successfully opposed time and again?" Biden said during a speech in South Carolina on Saturday, according to Reuters.
"Yes, I was, and I regret it. And I'm sorry for any of the pain or misconception I may have caused anybody."
This was a lot different from the thank-you note he wrote to Eastland for his help killing busing at the federal level back in the 1970s over busing, and quite different from the tone he used last month when he tried to frame his work with Eastland as a sort of bipartisanship. (Even though the two men belonged to the same party.)
"At least there was some civility. We got things done. We didn't agree on much of anything. We got things done. We got it finished," Biden said at a New York fundraiser.
Advertisement - story continues below
"But today, you look at the other side and you're the enemy. Not the opposition, the enemy. We don't talk to each other anymore."
The problem with having a long record in politics is that, well, you have a very long record. This is especially problematic for Biden in a primary cycle where it's become clear the Democrats have undergone a major ideological and generational shift — at least when it comes to the noisiest voices among the faithful.
Biden remains in front if just because he's the safe choice, both among those who want electability and those who yearn for a more moderate party. However, the busing thing continues to arise, zombie-like, to lurch around and haunt Biden's campaign.
It's not just because Biden opposed busing, which was a flawed policy for a number of reasons not worth going into here. It's instead about who he made common cause with and who he attacked.
Advertisement - story continues below
It's about how he acted when the issue was brought up again during the campaign. And, most importantly, it's about the fact that Biden's past continues to dredge itself up.
After all, James Abourezk hasn't been in the public spotlight for decades. Now, thanks to the journalistic unearthing of his book, he's a very temporary celebrity in the Biden sweepstakes, opining on Biden's chances in the 2020 election: When asked by the Argus Leader whether the busing battle should figure into Biden's campaign, Abourezek said "sure it will."
"You know, Biden, he and I were seatmates. We went into the Senate together, and we sat together for two years. And you would think he would have been more accommodating," he said.
You know, the same way Biden was accommodating toward Eastland.
Conversation