News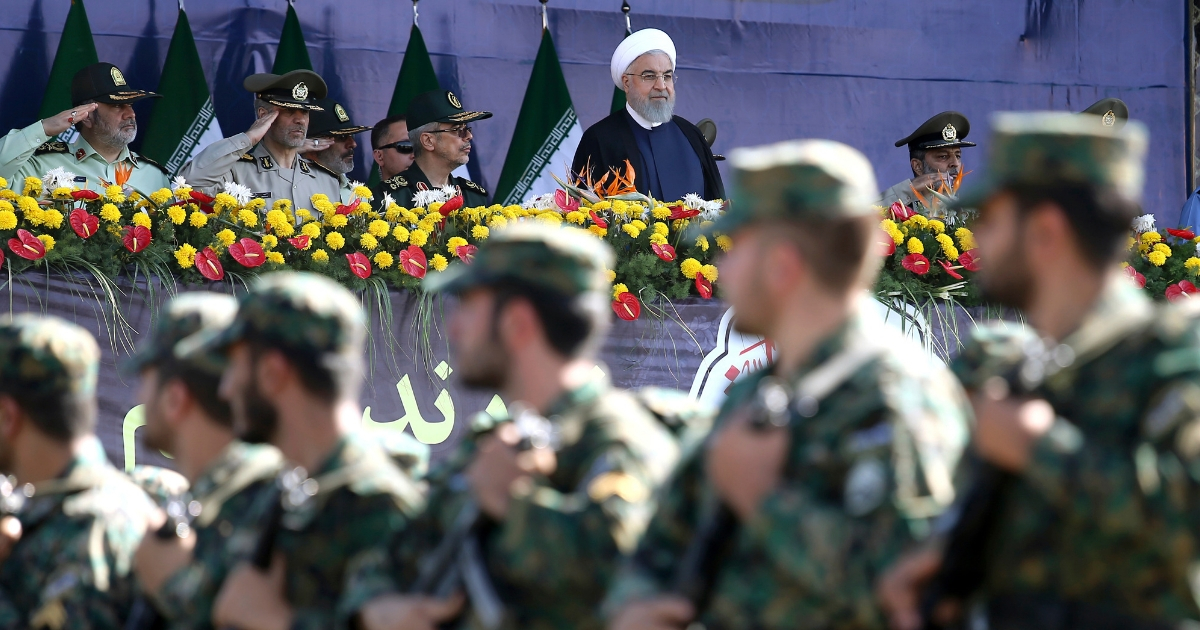 Trump Admin Takes Aim at Network Propping Up Iran's Use of Child Soldiers
The Treasury Department on Tuesday targeted a network of banks and businesses that provide financial support to a paramilitary force in Iran, which allegedly trains and deploys child soldiers to fight with Iran's Islamic Revolutionary Guard Corps.
The sanctions are part of the U.S. economic campaign to pressure Iran to radically alter its policies, including developing ballistic missiles, supporting regional militant groups and violating human rights.
Treasury said the Bonyad Taavon Basij network is an example of how the IRGC and Iranian military forces have expanded economic involvement in major industries and infiltrated seemingly legitimate businesses to fund terrorism and other malign activities.
Advertisement - story continues below
"This vast network provides financial infrastructure to the Basij's efforts to recruit, train and indoctrinate child soldiers who are coerced into combat under the IRGC's direction," Treasury Secretary Steven Mnuchin said in a statement. "The international community must understand that business entanglements with the Bonyad Taavon Basij network and IRGC front companies have real world humanitarian consequences. This helps fuel the Iranian regime's violent ambitions across the Middle East."
The sanctions prohibit Americans from doing business with the network or its affiliates and freeze assets they have under U.S. jurisdiction.
President Donald Trump's administration has been steadily restoring sanctions on Iran since he withdrew from the 2015 nuclear accord in May.
Iran has been grappling with an economic crisis in recent months, with its currency plunging to historic lows and sporadic protests breaking out.
Advertisement - story continues below
The first set of sanctions, which were eased under the terms of the nuclear deal negotiated by the Obama administration, was re-imposed in August. A second, more sweeping set of sanctions is set to be re-imposed in early November.
The sanctions target the business network — known in English as Basij Cooperative Foundation — and the paramilitary group called the Basij Resistance Force. The paramilitary unit, formed after the 1979 Iranian revolution, is run by the IRGC and has branches in every province and city in Iran.
According to Treasury, it indoctrinates schoolchildren and provides combat training to Iranian and Afghan refugee children as young as 12 years old who are sent to fight in Syria.
In a press announcement, Treasury included a photograph of children in the resistance force using photos of former Presidents Barack Obama and George W. Bush for target practice.
In addition, the Treasury also targeted several banks, investment companies and businesses affiliated with the financial network.
Advertisement - story continues below
Iran has tried to downplay U.S. sanctions targeting the country's vital oil and gas sector. Iran President Hassan Rouhani said the Nov. 4 sanctions will have no effect because "the U.S. has already done whatever it wanted to do." Rouhani has called the Trump administration the "most hostile" ever toward Iran, but that his country will overcome the sanctions through "unity and integrity."
Hoping to avoid further international sanctions, Iran's parliament recently voted to join a global convention to cut off terror financing.
Parliament speaker Ali Larijani said 143 out of 268 lawmakers voted to join the "Combating the Financing of Terrorism," or CFT. The bill must be ratified by the Guardian Council, a constitutional authority, to become a law.
Iran has long provided support to the Lebanese Hezbollah militant group as well as Palestinian armed groups, which Western countries view as terrorist organizations. Joining the CFT is unlikely to prevent Iran from continuing to support such groups.
The Western Journal has reviewed this Associated Press story and may have altered it prior to publication to ensure that it meets our editorial standards.
Conversation