Sports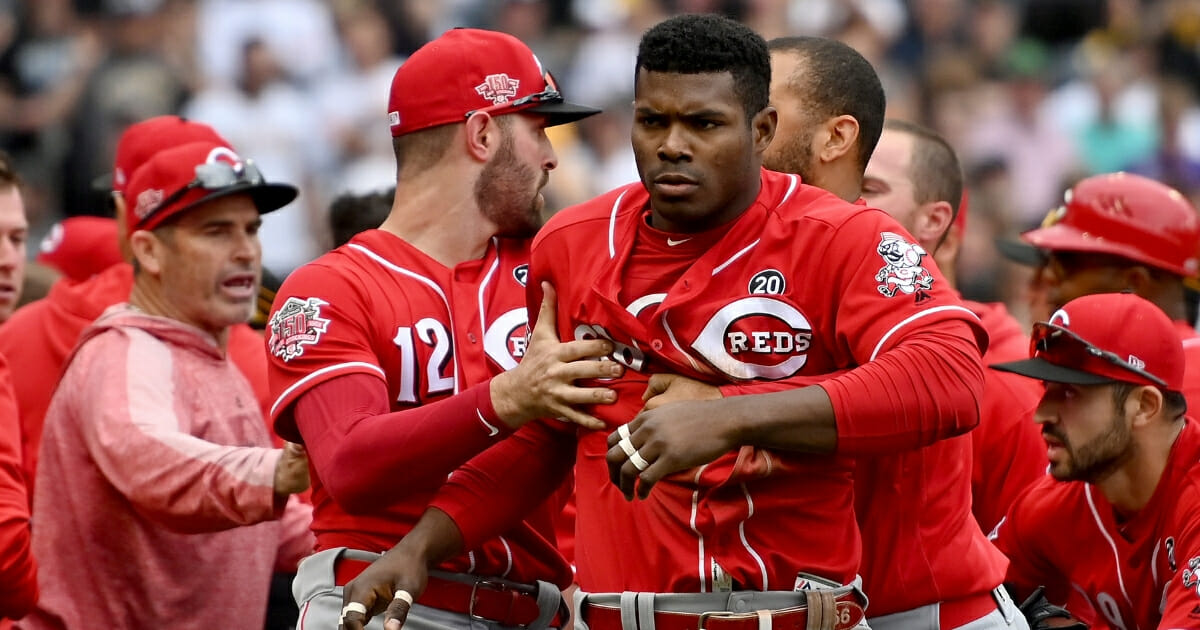 Watch: Controversial MLB Star Sparks 1st Bench-Clearing Skirmish of the Season
Cincinnati Reds outfielder Yasiel Puig is no stranger to controversy when it comes to getting involved in, or launching, bench-clearing skirmishes.
He was also at the center of another one Sunday between the Reds and Pittsburgh Pirates.
This one was bizarre in that a whole lot of nothing went on for the few minutes until the end when Puig tore after a group of Pirates players and had to be restrained. Watch the video through until the end.
Advertisement - story continues below
Temps are rising in Pittsburgh after a behind the back pitch on Derek Dietrich who homered earlier in the game. pic.twitter.com/y3dIDCV7Gj

— FOX Sports Ohio (@FOXSportsOH) April 7, 2019
It all started when Reds infielder Derek Dietrich drilled a 436 foot long home run off Pirates starter Chris Archer into the cheap seats in the second inning. Apparently, Dietrich admired it a little too long for Archer's liking.
Stand and stare.

Derek Dietrich was in no hurry to get out of the box on this splash shot.

(Via @Reds) pic.twitter.com/QZ7xiCRPMw

— FOX Sports: MLB (@MLBONFOX) April 7, 2019
Advertisement - story continues below
So the next time Dietrich came up, Archer threw a pitch behind Dietrich.
Chris Archer manages to stay in the game after throwing behind Derek Dietrich. pic.twitter.com/DboBGVR3IN

— Chase Williams WPXI (@chasepwilliams) April 7, 2019
Reds manager David Bell immediately charged the mound to argue that Archer was throwing at Dietrich in retaliation for the home run.
"Any time another team or another player is intentionally trying to hurt one of our players, that's the problem. It's that simple," Bell said, reported MLB.com. "It's unacceptable, and we'll always stick up for our players no matter what.
Advertisement - story continues below
Should the league hand out suspensions for this fight?
Archer later denied that he was throwing at Dietrich, saying he "missed" his spot.
Shortly after Bell ran on to the field to argue with the umpire, Puig was right behind him and got in Archer's grill. That got everybody up from both benches and players, including Reds infielder Joey Votto and Pirates outfielder Melky Cabrera. A red-hot Puig had to be restrained, as well.
Meanwhile, there was a lot of pushing and shoving in the scrum on the field, but it didn't appear that any punches were thrown.
Advertisement - story continues below
Then, just when it seemed like everything had calmed down and the fight was breaking up, something set off Puig and he broke away from Votto and tore after several Pirates players including Archer, Trevor Williams and Francisco Cervelli, MLB reported.
*Orders Puig jersey. Express International Shipping* #Reds #MLB #Puig pic.twitter.com/hRSergvmgx

— kurren (@Kurren13) April 7, 2019
Reds catcher Tucker Barnhart tried to stop his teammate and can be seen holding Puig back by his foot.
Advertisement - story continues below
This photo is the baseball equivalent of "The Last Supper". Simply glorious. #puig pic.twitter.com/jNSH7CKwEC

— I am Stove (@Iam_Stove) April 7, 2019
Eventually things settled down, but not before Bell, Puig, and Amir Garrett from the Reds and Keone Kela and Felipe Vazquez from the Pirates were ejected.
Amir Garrett was also ejected in the benches-clearing incident. Five people (Bell, Puig, Kela and Vazquez) total. #Reds

— Bobby Nightengale (@nightengalejr) April 7, 2019
Advertisement - story continues below
Last year Puig, while with the Dodgers, got suspended two games for a fight with the Giants Nick Hundley that sparked a bench clearing brawl.
No word yet on if there will be further disciplinary action on Puig or any others involved in the dust up.
Oh by the way, the Pirates won 7-5. Josh Bell and Adam Frazier hit home runs. Dietrich had two homers for the Reds.
Conversation