Sports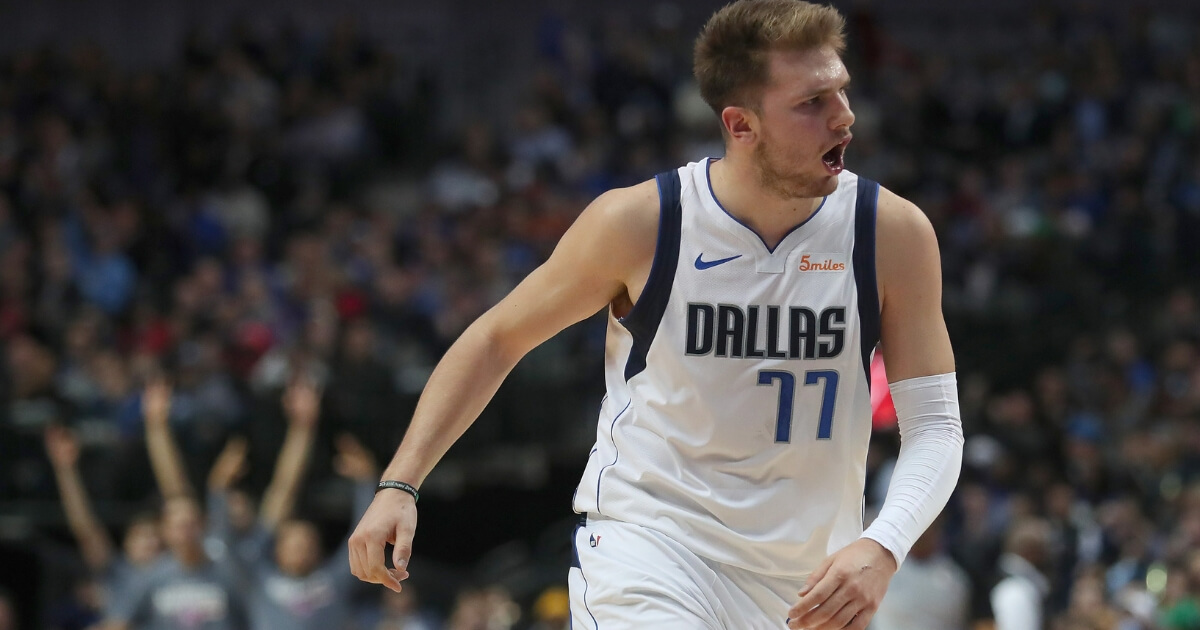 Watch: NBA Wunderkind Goes on Solo Scoring Spree, Personally Erases 8-Point Deficit
Mavericks rookie sensation Luka Doncic showed shades of Michael Jordan and Reggie Miller on Saturday, scoring 11 straight points to help Dallas beat the reeling Houston Rockets 107-104.
Dallas, after going 24-58 last season, would make the playoffs as the eighth seed in the Western Conference if the season ended today.
The Rockets? They've lost three in a row, and at 11-14 are 14th in the Western Conference just a year after taking the Golden State Warriors to a Game 7 in the conference finals.
Advertisement - story continues below
"It was special," Mavs coach Rick Carlisle said of Doncic's performance after Saturday's win, according to ESPN. "It's pretty clear that he's got a flair for the moment. He's unafraid. You don't see that every day."
You don't see that every day, but you can see it today:
It's a common practice to compare young wunderkind guards to Michael Jordan, and Doncic's outburst certainly wouldn't be out of place in such a comparison.
Advertisement - story continues below
But in terms of personally leading a team back with a quick scoring outburst? One of the biggest Pacers blogs on the web is named "8 Points, 9 Seconds" for a reason.
This was Reggie Miller stuff in slower motion.
Will Doncic be as big a star in Dallas as Dirk Nowitzki was?
Doncic himself played terribly before his scoring outburst. He went one-for-nine from the field in the first half, even going so far as to change his shoes from a red pair of Nikes to a black pair at halftime in hopes that it would improve his game.
It seems to have worked.
"I wasn't playing great," Doncic said. "My game wasn't good at all. I get confident at the end of the game, and obviously then I feel comfortable."
Advertisement - story continues below
The actual sequence was all kinds of amazing and showcased a variety of shooting skills on the part of the reigning EuroLeague MVP.
The flurry started with a corner three off a pass from Wesley Matthews where Doncic was so wide open that you can see Rockets guard Chris Paul give up even trying to close out for fear of getting whistled for a foul and giving up a four-point play. Or maybe Paul was just demoralized before the shot even went up.
Next, Doncic shook Houston center Clint Capela out of his shoes and calmly drained a step-back three-pointer off the bounce.
Then, Doncic took on PJ Tucker, a stalwart defender by reputation, and clowned him like a judo champion, using Tucker's own movement against him to create space for a floater.
Advertisement - story continues below
Finally, Doncic drained another three over Capela to cap the one-man 11-0 run.
Doncic joins Stephen Curry, Lou Williams, and James Harden as the only players to rattle off a personal 11-0 run in a game this season.
In addition, his 11 straight points is the longest one-man run by a rookie since Kyrie Irving's scored 12 in a row back in 2012, ESPN reported.
Doncic is clutch as clutch can be, and he's now tied with the Pacers' Victor Oladipo in clutch shooting, defined on the stat sheet as shots with the score margin at five points or closer and five or fewer minutes left in the fourth quarter or overtime.
Advertisement - story continues below
The Mavericks find themselves with an outstanding rookie shooter from Europe. Last time that happened, it was 1998, and some kid from Germany that they traded Robert "Tractor" Traylor to get was being hailed as a new and improved version of Detlef Schrempf.
Well, we all know how Dirk Nowitzki turned out. With Doncic, could Dallas be primed for another two decades of Euro-led dominance?
Conversation