Commentary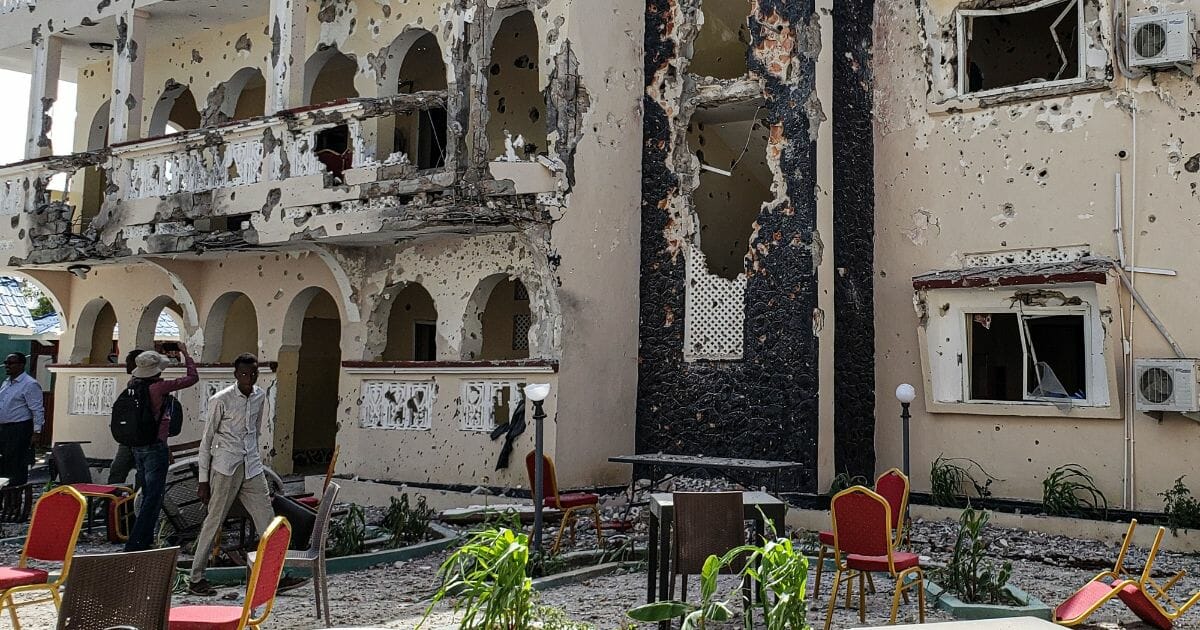 Woman Travels to Ilhan Omar's Home Country To Show Its Positive Side, Ends Up Murdered by Terrorists
Maybe Minnesota Rep. Ilhan Omar can learn a lesson from this.
Hodan Nalayeh, a Somalian-born woman whose family left the troubled nation 35 years ago for a life in the West, returned to Somalia as a journalist last year to produce videos of "positive stories" about the country.
That sojourn came to an end Friday, The Washington Post reported, when Islamic terrorists attacked a hotel in Kismayo, along the Indian Ocean, killing 26, including Nalayeh.
Advertisement - story continues below
It's a grim story, if not entirely surprising. Somalia has lacked a functioning government for decades and has been riven by battling warlords and the al-Shabab Islamic militants who carried out Friday's attack.
Dear @IlhanMN,

Need help sorting out the bad guys on this one, too?

"Kismayo, Somalia attack: At least one American among the dead when terrorists storm Asasey hotel"https://t.co/LJeGX8Rt2Y#BlackhawkDown

— Larry Elder (@larryelder) July 14, 2019
Somalia is a country President Donald Trump seemed to refer to in his notorious Twitter posts on Sunday that invited American lawmakers – including Minnesota's Omar — to "go back and help fix the totally broken and crime infested places from which they came. Then come back and show us how it is done."
Advertisement - story continues below
Trump wasn't speaking literally, of course. He knows that Omar would never trade her life in the West for the squalor and violence of Somalia.
Nalayeh, who became a Canadian citizen after her family emigrated from Somalia, did return — not to deliver peace to the lawless land, but to try to show the world its positive side. As The Post put it, Nalayeh was "sharing a side of Somalia rarely depicted in the West."
Unfortunately, she became on Friday part of the story of the side of Somalia the West does see – a world of violence where Islamist terrorists feel no compunction about slaughtering the innocent to make a political point. That was the Somalia that Omar's family fled in the early 1990s.
And that was the world Trump was highlighting in his Twitter posts mocking Omar, along with other members of "the squad": progressive Reps. Alexandria Ocasio-Cortez of New York, Ayanna Pressley of Massachusetts, and Rashida Tlaib of Michigan.
Are there good people who live in Somalia? Of course.
But the reality is that there are places that have been made hell on earth thanks to tyranny, lawlessness, and terrorism. Somalia is one of them.
Advertisement - story continues below
And the United States is not – no matter what liberals say about the Trump administration.
That fact alone is the reason America is the home to refugees from around the world – including Ilhan Omar's family – who were attracted by its strength, its stability and the opportunity it offers to every man and woman willing to work to succeed.
Do you think Trump's tweets went too far?
Hodan Nalayeh committed herself to telling "positive" stories about the country where she was born – and it cost her her life.
Advertisement - story continues below
Maybe Rep. Omar could take that example and decide to see the positive reasons to love the United States instead of constantly attacking the land that saved her life.
She could look at it like "sharing a side of America that's rarely depicted by liberals."
The only thing it might cost her is her membership in the "squad."
Conversation