Sports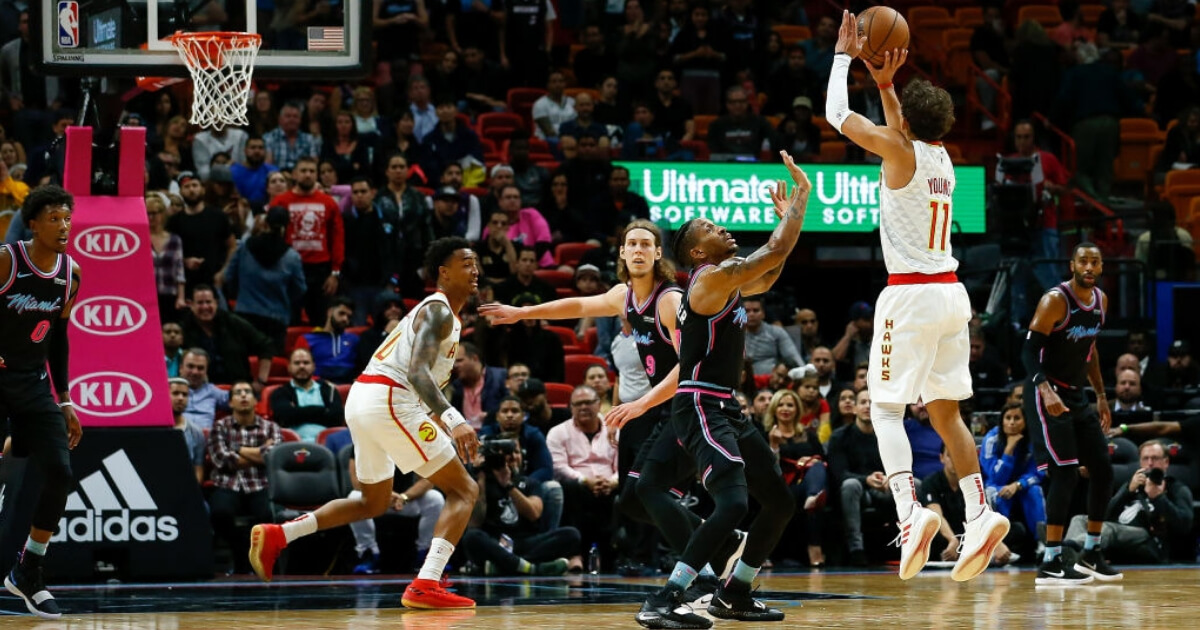 How the '4-Point Line' Is Already Changing the NBA
This era of the NBA is all about "pace and space" where teams are pushing the tempo like never before while utilizing space on the court to emphasize freedom of movement.
Along those lines, ESPN's Malika Andrews reports that a handful of teams have begun practicing with some variation of a four-point line that is five feet behind the regular three-point line.
The idea is that if a player can consistently hit three-pointers from the hypothetical four-point line, it would draw that player's defender to that line.
Advertisement - story continues below
When a defender is pushed out further away from the basket, it creates more space inside the four-point line that other players can utilize.
ESPN reports the 76ers, Hawks, Nets, Bulls and Bucks are the teams using a four-point line in practice.
Hawks rookie Trae Young was known for his "four-pointers" even in college and he says he took those shots because defenders weren't expecting them.
"I would always try to extend my range farther and farther because I wasn't getting much taller," said Young, who is listed at 6-foot-2. "The farther I shoot, people weren't expecting that."
Advertisement - story continues below
The NBA three-point line is 23 feet 9 inches at the top of the key and on the wings. Young has attempted 52 three-pointers at least 28 feet in distance this season, the most in the NBA.
Hawks coach Lloyd Pierce gives Young the freedom to decide if it's better to pull up from the four-point line or drive to the basket.
Should the NBA implement a four-point line?
"When Trae gets here, he has decisions to make," Pierce said while standing on a 4-point line, before jogging to the basket to mimic a Young drive. "If someone is going to meet him at the rim, he is going to know to make those passes out."
While Young and the Hawks have utilized the four-point line as an extension of the three-point line, the Bucks have utilized it to create space inside the arc for their star.
Milwaukee uses a five-out offense where Giannis Antetokounmpo is surrounded by 3- (or 4-) point shooters like Malcolm Brogdon, Khris Middleton and Eric Bledsoe, all of whom are shooting at least 36 percent from beyond the arc.
Advertisement - story continues below
Defenders clinging to those players at the four-point line has created extra driving lanes for Antetokounmpo, who is just a 13 percent three-point shooter.
Antetokounmpo has driven through the lane for a league-leading 55 unassisted dunks. The next-closest player, Rudy Gobert, has 23.
The revamped Bucks offense is now leading the NBA in scoring at 117.6 points per game after ranking just 15th last season at 106.5 PPG.
"Sometimes you have to find more creative ways to say we want to create spacing," Bucks coach Mike Budenholzer said of the NBA's latest infatuation.
Conversation