News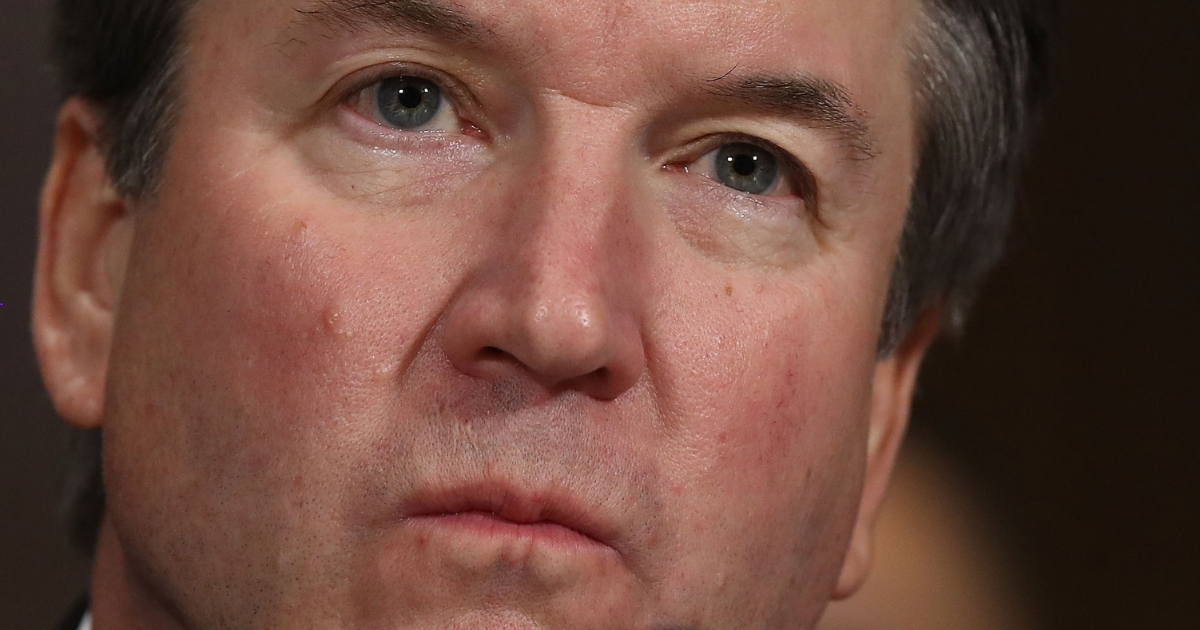 ACLU Breaks Policy To Come Out Against Kavanaugh
The American Civil Liberties Union chose to interject itself in the controversy surrounding the unproven allegations against Judge Brett Kavanaugh, President Donald Trump's nominee to the Supreme Court.
"The ACLU opposes the confirmation of Judge Brett Kavanaugh to the Supreme Court," a statement from the group read.
"There are credible allegations that Judge Kavanaugh has engaged in serious misconduct that have not been adequately investigated by the Senate. Dr. Christine Blasey Ford's credible testimony, subsequent allegations of sexual misconduct, the inadequate investigation, and Judge Kavanaugh's testimony at the hearing lead us to doubt Judge Kavanaugh's fitness to serve as an Associate Justice of the Supreme Court."
Advertisement - story continues below
The ACLU said in its statement that it acted because of Christine Blasey Ford's testimony during Thursday's Senate Judiciary Committee hearing. She claimed Kavanaugh drunkenly climbed on top of her and tried to remove her clothes while they were at a party in high school. Kavanaugh has vehemently denied the incident ever took place, and the witnesses Ford says were there say they have no recollection of the alleged incident or party.
The activist group said that while taking a stand on judicial or political candidates is against its policy, it's making an exception in this case.
"This is not a decision taken lightly. We cannot remain silent under these extraordinary circumstances about a lifetime appointment to the highest court of the land. The standard for such an appointment should be high, and the burden is on the nominee. That burden is not met as long as there are unresolved questions regarding the credible allegations of sexual assault," the statement read.
We have the power to delay Brett Kavanaugh's confirmation vote until an investigation into sexual assault claims can be complete — we just have to keep the pressure on.

📲 (202) 224-3121https://t.co/oN9yKqFoS0

— ACLU (@ACLU) September 28, 2018
Advertisement - story continues below
"As a nonpartisan organization, the ACLU does not oppose Judge Kavanaugh based on predictions about how he would vote as a Justice. We oppose him in light of the credible allegations of sexual assault against him," said Susan Herman, president of the ACLU.
Although the Senate Judiciary Committee voted Friday to move Kavanaugh's appointment to the full Senate, it also delayed any action for at least a week by calling for the FBI to investigate the claims against Kavanaugh, while capping the FBI's timetable at one week.
Do you think the ACLU should stay out of this?
President Donald Trump on Friday set in motion the legal steps to begin the probe.
Sen. Lindsey Graham said the delay is a speed bump that will soon be passed.
"It can be done quickly and then we will be able to move forward to an up-or-down vote in the Senate next week," the South Carolina Republican said, according to Fox News. "I've never felt better about the Supreme Court nomination of Judge Brett Kavanaugh than I do right now."
Advertisement - story continues below
However, Michael Avenatti, the attorney for a woman who claims Kavanaugh was involved in gang raping at high school parties, has vowed that Republicans will rue the day they supported Kavanaugh.
Warning – If the committee advances the nomination this afternoon, my client and I are going to thoroughly enjoy embarrassing @ChuckGrassley @LindseyGrahamSC @tedcruz and all of the other GOP members on the committee this weekend when her story is told and is deemed credible.

— Michael Avenatti (@MichaelAvenatti) September 28, 2018
Avenatti tweeted Saturday that the FBI will prove his client's claims were true.
We have yet to hear from the FBI. When and if we do, we will promptly disclose to them all information and witnesses in our possession. We continue to request this opportunity as we have been doing for days. My client is telling the truth and deserves to be heard and not shammed.

— Michael Avenatti (@MichaelAvenatti) September 29, 2018
Conversation
The Western Journal is pleased to bring back comments to our articles! Due to threatened de-monetization by Big Tech, we had temporarily removed comments, but we have now implemented a solution to bring back the conversation that Big Tech doesn't want you to have. If you have any problems using the new commenting platform, please contact customer support at
commenting-help@insticator.com
. Welcome back!