News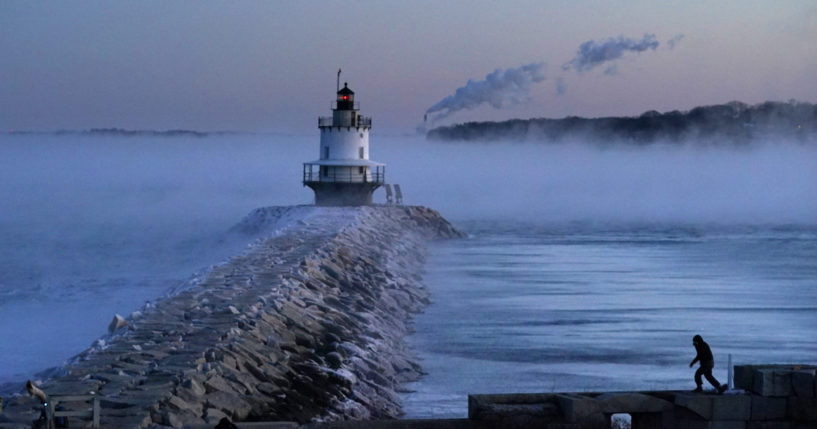 Crushing Cold Envelops Northeast - Triple Digit Negative Wind Chill Recorded
Arctic air descended into the Northeast on Saturday morning, bringing dangerously cold sub-zero temperatures and wind chills that dropped between minus 45 and minus 50 degrees Fahrenheit in many areas.
Atop Mount Washington in New Hampshire's White Mountains, the overnight wind chill was measured at minus 108 degrees, according to the weather observatory at the peak of the Northeast's highest mountain (6,288 feet), which is famous for its extreme weather conditions.
"This is just kind of an arctic intrusion," said Stephen Baron, a meteorologist with the National Weather Service in Gray, Maine. "Sometimes in the winter, the jet stream dips and the arctic oscillation allows the cold air to come into our area for a day or two."
Advertisement - story continues below
High winds on Friday were blamed for the death of an infant in Southwick, Massachusetts.
The winds brought a tree branch down on a vehicle driven by a 23-year-old Winsted, Connecticut, woman, according to a statement from the Hampden District Attorney's Office.
The driver was taken to the hospital with serious injuries, but the infant died, authorities said.
Most people heeded warnings to stay inside on Saturday, but some people had little choice but to go out.
Advertisement - story continues below
Gin Koo, 36, braved the cold to take his Boston Terrier, Bee, out for a walk.
"I can't remember it being this cold, not since 2015," said Koo, who was wearing three shirts and a down jacket, as well as a hat and a hood. Bee still shivered despite his doggie coat.
Have you ever experienced below-zero temperatures?
"I wouldn't go out if I didn't have to," Koo said.
Paul Butler, 45, who said he has been homeless since he was evicted in December 2021, took shelter in South Station, the Boston transit hub that authorities kept open overnight so the unhoused would have somewhere warm to stay.
Boston, like many communities, opened warming centers.
Advertisement - story continues below
"This is the coldest I ever, ever remember, and I worked the door at a bunch of clubs for 15 years," said Butler, a former Marine, who carried two bags with extra clothes and blankets.
The morning low in Boston dropped to minus 10 at 5:15 a.m., the coldest reading in the city since minus 12 on Jan. 15, 1957.
The extreme cold curtailed some traditional winter activities in the Northeast. Ski areas scaled back operations, while in New Hampshire, organizers of an annual ice castle attraction in North Woodstock shortened the evening visitor schedule for Friday and Saturday nights.
In New York's Adirondack Mountains, Old Forge recorded a temperature of minus 36 early Saturday. Readings plunged into the negative teens in dozens of other cities and towns, with wind chill making it feel even colder.
Advertisement - story continues below
Peak winds late Friday exceeded 50 mph in some areas.
Mackenzie Glasser, owner of Ozzie's Coffee Bar in Old Forge, said frigid temperatures are just part of life in the Adirondacks.
"I even had customers for the first hour that I was open, and I wasn't expecting that at 7 a.m. So I don't think it's keeping too many people away," she said.
The good news is that the cold air is expected to move out of much of the region by Sunday, when temperatures could rise to the 40s.
Advertisement - story continues below
"That's quite a change," the National Weather Service's Baron said.
The Western Journal has reviewed this Associated Press story and may have altered it prior to publication to ensure that it meets our editorial standards.
Conversation