News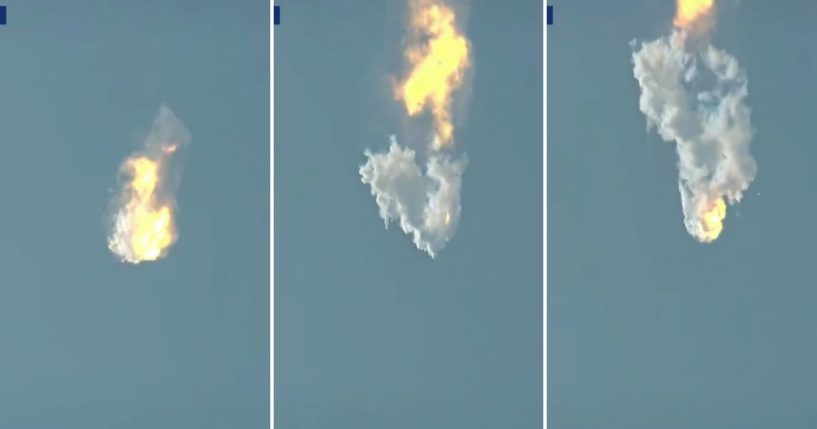 Musk's SpaceX Launches Record-Setting Rocket, But Ball of Flames Erupts Soon After
SpaceX's giant new rocket exploded minutes after blasting off Thursday on it first test flight and crashed into the Gulf of Mexico.
Elon Musk's company was aiming to send the nearly 400-foot Starship rocket on a round-the-world trip from the southern tip of Texas, near the Mexican border.
It carried no people or satellites.
Advertisement - story continues below
Images showed multiple engines weren't working on the 33-engine rocket as it climbed from the launch pad, reaching as high as 24 miles.
The flight plan had called for the booster to peel away from the spacecraft minutes after liftoff, but that didn't happen.
The rocket began to tumble and then exploded four minutes into the flight, plummeting into the gulf.
FTS abort. Well done Booster 7 (and Ship 24)! That was still a big win. Launch site is fine and got a lot of first stage data!

Next up, Booster 9!https://t.co/npUj2AHByW pic.twitter.com/KRxBwsLlKq

— Chris Bergin – NSF (@NASASpaceflight) April 20, 2023
Advertisement - story continues below
After separating, the spacecraft was supposed to continue east and attempt to circle the world, before crashing into the Pacific near Hawaii.
Should Elon Musk continue with his space ventures?
Throngs of spectators watched from South Padre Island, several miles away from the Boca Chica Beach launch site, which was off limits.
As it lifted off, the crowd screamed: "Go, baby, go!"
Musk, in a tweet, called it "an exciting test launch of Starship! Learned a lot for next test launch in a few months."
Advertisement - story continues below
Congrats @SpaceX team on an exciting test launch of Starship!

Learned a lot for next test launch in a few months. pic.twitter.com/gswdFut1dK

— Elon Musk (@elonmusk) April 20, 2023
In the weeks leading up to the flight, Musk gave 50-50 odds that the spacecraft would reach orbit.
The company plans to use Starship to send people and cargo to the moon and, eventually, Mars.
Advertisement - story continues below
NASA has reserved a Starship for its next moonwalking team, and rich tourists are already booking lunar flybys.
It was the second launch attempt. Monday's try was scrapped by a frozen booster valve.
At 394 feet and nearly 17 million pounds of thrust, Starship easily surpasses NASA's moon rockets — past, present and future. The stainless steel rocket is designed to be fully reusable with fast turnaround, dramatically lowering costs, similar to what SpaceX's smaller Falcon rockets have done soaring from Cape Canaveral, Florida. Nothing was to be saved from the test flight.
The futuristic spacecraft flew several miles into the air during testing a few years ago, landing successfully only once. But this was to be the inaugural launch of the first-stage booster with 33 methane-fueled engines.
Advertisement - story continues below
SpaceX has more boosters and spacecraft lined up for more test flights.
Musk wants to fire them off in quick succession, so he can start using Starships to launch satellites into low-Earth orbit and then put people on board.
The Western Journal has reviewed this Associated Press story and may have altered it prior to publication to ensure that it meets our editorial standards.
Conversation