Sports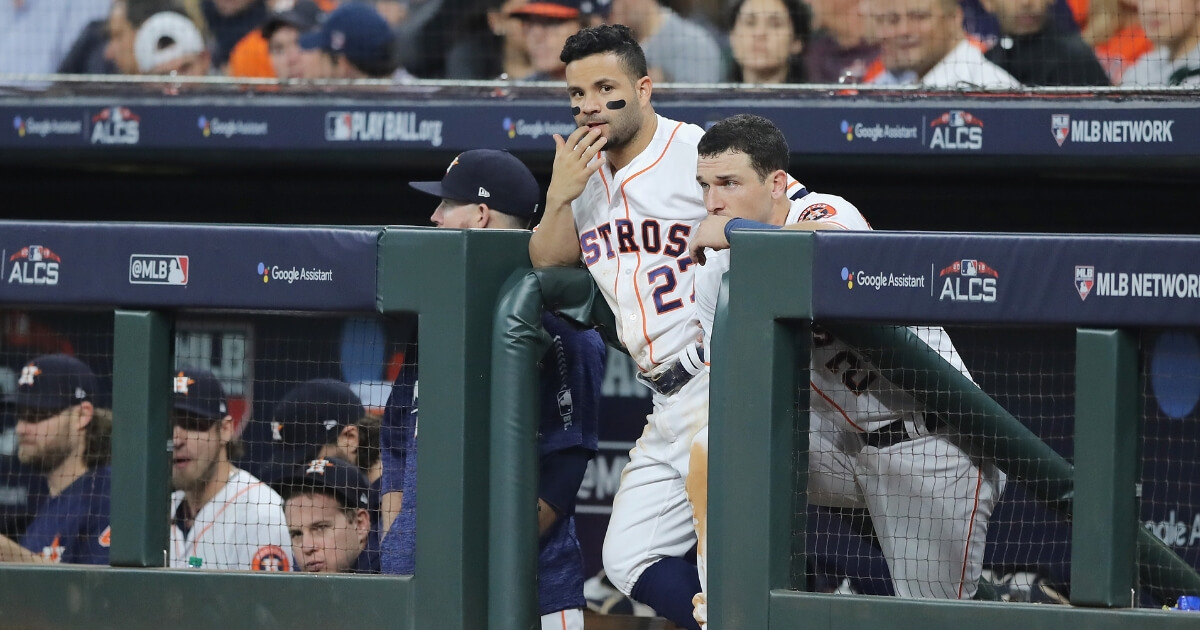 Astros Video Scandal Deepens: Team Reportedly Sent a Second Person Against Indians
Two people familiar with the situation say the Houston Astros attempted to get a second person next to Cleveland's dugout during Game 3 of the AL Division Series after another man was removed earlier by security for taking pictures with his cellphone.
The second person tried to gain access to the field photographer's pit but was turned away, said the people who spoke Wednesday to The Associated Press on condition of anonymity because of the sensitivity of the matter.
The Indians have filed a complaint with Major League Baseball, which is investigating Houston's actions.
Advertisement - story continues below
MLB said in a statement that the matter "will be handled internally."
The same man, who had been issued a credential before the Oct. 8 game in Cleveland, was removed from an area near Boston's dugout for taking photos during Game 1 of the ALCS on Saturday, according to reports by Metro Boston and Yahoo Sports.
Kyle McLaughlin was caught in Cleveland and Boston pointing a cell phone at the opposing dugout. He is not listed publicly as an Astros employee, but photos obtained by Yahoo Sports show him wearing an Astros ID badge and flying on a private plane with an Astros logo. pic.twitter.com/boa3jCFSJh

— Jeff Passan (@JeffPassan) October 17, 2018
The Red Sox had been warned before their series-opening game, the AP was told by the people.
Advertisement - story continues below
The Indians, who were swept by Houston and eliminated in the first round for the second straight year, were concerned the man was attempting to view scouting reports Cleveland had on Houston's players, one person said.
During the early innings in Game 3, the Indians became aware that the man standing near their dugout in Progressive Field was aiming his cellphone into their dugout and taking pictures.
Do you think the Astros crossed the line here?
He stood out because he was wearing a suit jacket in a restricted area reserved for photographers, a member of the team's social media department and where TV reporters are permitted to stand, one of the sources said.
After being approached by security, the man left without incident, but a second person attempted to replace him several innings later and was denied access to the field area, the AP was told.
The Indians entered the series concerned the Astros, who have been accused of deceit in the past, had stolen some signs or had other useful information about them, one person said.
Advertisement - story continues below
On Tuesday, the Metro Boston report said a man claiming to be an Astros employee was removed from a credentialed area near Boston's dugout during the third inning of Game 1.
Stealing signs has been part of baseball since the invention of the game. Teams routinely try to gain an advantage by trying to detect patterns, whether it's a catcher showing signs to a pitcher on the mound or a third-base coach relaying signs to a batter.
However, new technology may have given teams an unfair advantage as the use of high-definition, high-speed cameras allows teams to peer where they couldn't before.
The Red Sox were fined last season by MLB for using an Apple Watch to try to steal signs from the rival New York Yankees.
The Western Journal has reviewed this Associated Press story and may have altered it prior to publication to ensure that it meets our editorial standards.
Conversation
The Western Journal is pleased to bring back comments to our articles! Due to threatened de-monetization by Big Tech, we had temporarily removed comments, but we have now implemented a solution to bring back the conversation that Big Tech doesn't want you to have. If you have any problems using the new commenting platform, please contact customer support at
commenting-help@insticator.com
. Welcome back!