News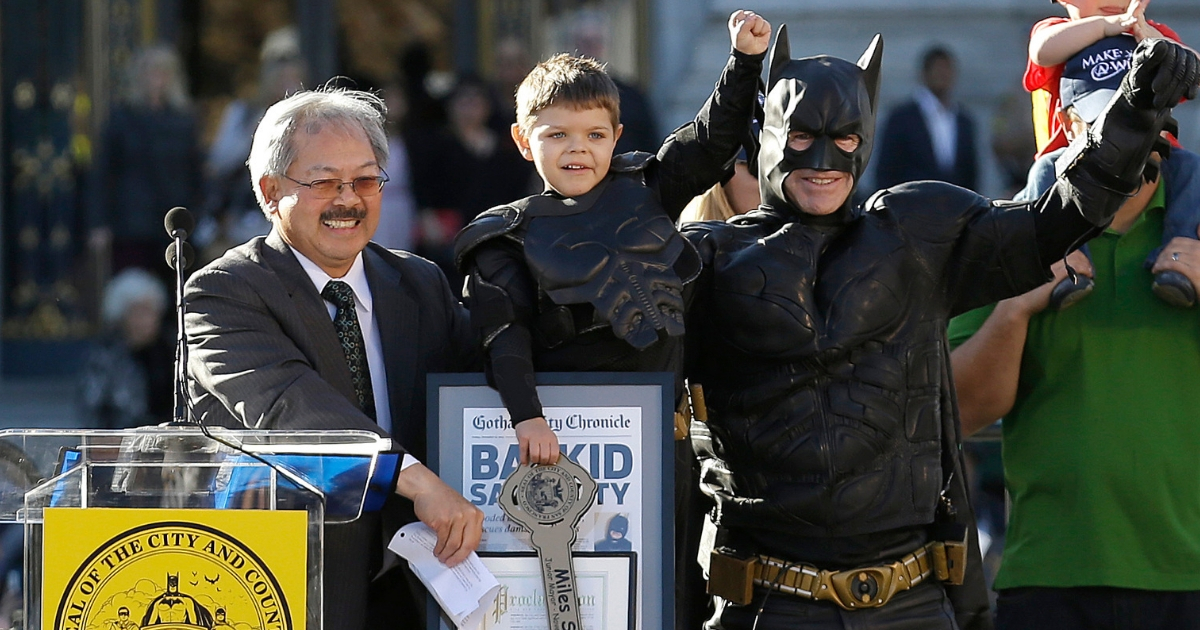 Jeff Chiu / AP Photo
'Batkid' Who 'Saved' San Francisco 5 Years Ago Officially Cancer-Free
The Make-A-Wish Foundation is notorious for granting wishes to terminally ill children, bringing a bit of joy and magic to their lives that they might not otherwise have.
In 2013, one of the kids the foundation worked with was named Miles Scott. You may have heard of him: He's also known as "Batkid."
According to Make-A-Wish, Miles (who was battling Leukemia) knew exactly what he wanted: "When asked what he wanted for his wish back in early 2013, 5-year-old Miles took everyone by surprise when he said he wanted to be Batman," the Make-A-Wish website stated.
Advertisement - story continues below
They took that theme, and boy did they run with it. Thanks to many different groups who all pitched in, they were able to create a day to remember.
"With the help of the late San Francisco Mayor Ed Lee, the San Francisco Police and Fire Departments, the San Francisco Giants and countless others, San Francisco turned into Gotham to help provide one brave boy the chance to forget his illness for a day," the website continued.
Advertisement - story continues below
"Thousands of people crowded the streets to cheer Miles on as he battled villains, thwarted crime, freed Giants' mascot Lou Seal and earned a key to the city."
"This wish meant closure for our family and an end to over three years of putting toxic drugs in our son's body," the boy's mother said after that glorious day, according to Global News.
It was an amazing day full of fighting crime and wearing awesome outfits. Thankfully, though, it wasn't Miles' last big day.
All that happened five years ago. Five years later, he's doing well.
Advertisement - story continues below
"Since his crime fighting day five years ago, Miles has returned to being a typical kid," the website stated, "playing Little League, going to school, helping his family farm, and even selling his first market goat in the local fair!"
"After fighting his own heroic battle with leukemia since he was a year old, Miles visits his oncologist once a year, and has been in remission from leukemia for the past five years."
"He just thought he was doing his job," said the foundation director who helped make Miles' dreams a reality, according to the San Francisco Chronicle. "He took his work seriously. He thought Batkid might need to stick around."
Truth and Accuracy
We are committed to truth and accuracy in all of our journalism. Read our editorial standards.
Conversation