Commentary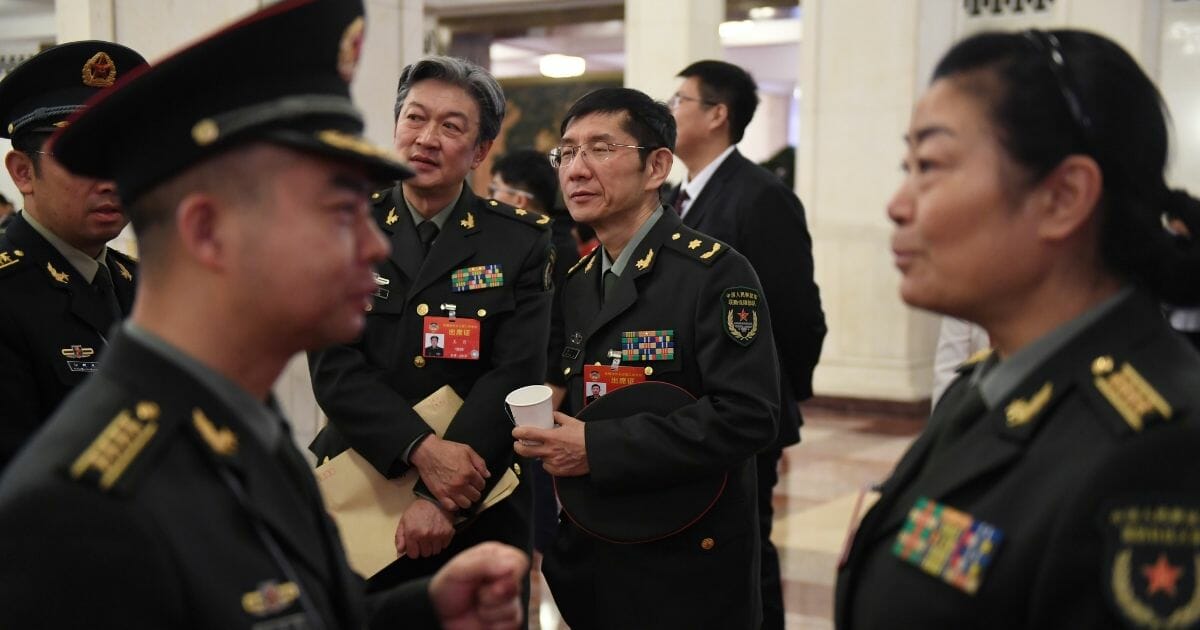 Bombshell Docs Show Unsettling Relationship Between Huawei and the Chinese Military
Chinese electronics have become widespread both in America and throughout the world, but what if there's a dark side to the cheap smartphone in your pocket?
The Shenzhen-based tech company Huawei is booming. Last year, the gadget manufacturer cranked out a staggering 200 million phones, with the brand making big gains in countries outside of Asia. But there are lingering questions about the company's close connections to the communist government in China.
Now, it appears that the brand may have concealed just how deep those questionable ties go. Newly uncovered documents show disturbing links between the Chinese military and Huawei, and seem to confirm the Trump administration's suspicions about the company.
Advertisement - story continues below
"Several Huawei Technologies Co. employees have collaborated on research projects with Chinese armed forces personnel, indicating closer ties to the country's military than previously acknowledged by the smartphone and networking powerhouse," Bloomberg reported on Wednesday.
Bloomberg journalists combed through Chinese academic databases, which are similar to the scholarly journals used by researchers in America. The journalists found a pattern of collaboration among Huawei employees, the People's Liberation Army and other branches of the communist government.
"Over the course of the last decade, people identified as Huawei employees have collaborated with military researchers on at least 10 research projects," Vice Magazine explained. "[T]he documents give more credence to White House claims that Huawei is a threat to U.S. national security due to its close relationship with the Chinese military."
Indeed, it's tough to separate the brand from the anti-western government in China. Even the name, Huawei, roughly translates as "Chinese achievement."
Advertisement - story continues below
And the tech firm's founder, Ren Zhengfei, is a known communist loyalist who worked on communications projects for the Chinese military during his time in uniform.
It would be somewhat like having millions of Soviet Union-built phones in U.S. homes during the Cold War, all made by a company named "Russia Forever" that a Red Army officer founded.
Should Americans be wary of Chinese tech brands such as Huawei?
Unsurprisingly, the Chinese company downplayed any connections between its employees and the government. "Huawei only develops and produces communications products that conform to civil standards worldwide, and does not customize R&D products for the military," company spokesman Glenn Schloss told Bloomberg.
But an increasing number of decision-makers in the United States are skeptical, including officials within the Trump administration. The president has indicated that he sees the prevalence of Huawei phones as a national security threat, a stance that privacy experts reinforce.
"We discovered that there were hundreds of cases of potential backdoor vulnerabilities – improper default configurations that could allow Huawei or a malicious attacker to covertly access a user's device," a security audit from the U.S. tech firm Finite State found.
Advertisement - story continues below
Decision-makers in Washington, D.C., pointed to those findings as Exhibit A in their case against the Chinese behemoth.
"This report supports our assessment that since 2009, Huawei has maintained covert access to some of the systems it has installed for international customers," a White House official told The Wall Street Journal.
Like it or not, we live in a brave new world. Wireless communications and miraculous smartphones have revolutionized our lives, but they also carry risks.
Being wary of adversaries who are not friendly to American interests is smart — and at a time when foreign governments are integrated in Chinese technology brands, asking difficult questions about the devices in our pockets might be unavoidable.
Conversation