News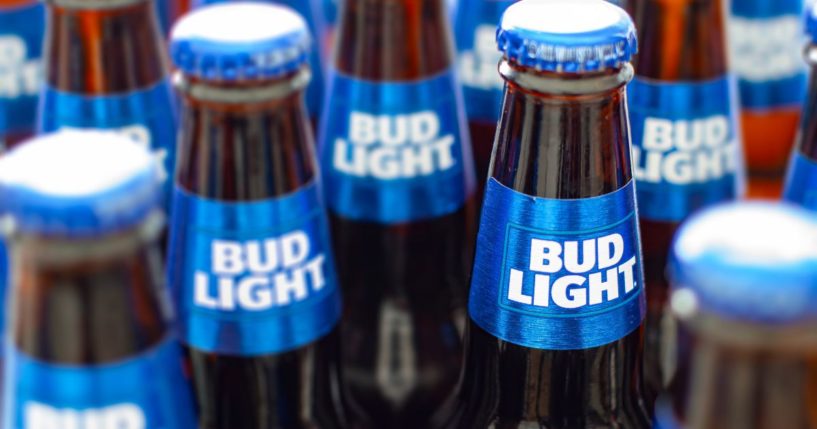 Bud Light Makes First Post Since Backlash Began, And Things Are Not Looking Good
Bud Light dipped a toe into the waters of social media on Friday only to discover there are a whole lot of angry sharks waiting to bite.
Bud Light and its parent company, Anheuser-Busch, have been battling a backlash ever since the brand partnered with transgender influencer Dylan Mulvaney for an ad campaign.
Marketing executive Alissa Heinerscheid also alienated customers by describing past marketing campaigns as "fratty" and "out of touch."
Advertisement - story continues below
Country music stars Travis Tritt and John Rich dropped the beer, while Kid Rock vented the anger of many by taking a rifle to a stack of Bud Lights.
On Friday, Bud Light issued its first post since April 1 — the day Mulvaney posted his now-infamous video hawking the beer — with a tentative tweet reading, "TGIF?"
TGIF? pic.twitter.com/d3W4oWJSXr

— Bud Light (@budlight) April 14, 2023
Advertisement - story continues below
Rarely have so many had so much to say over so little.
T hat
G uy
I sn't
F emale

— Matt's Idea Shop (@MattsIdeaShop) April 15, 2023
Not if it was the last can of beer on the planet.

— David Wohl (@DavidWohl) April 15, 2023
Advertisement - story continues below
TGIF+

Fixed it.

— Matt Schaefer (@RepMattSchaefer) April 15, 2023
Where is the apology to all of your customers for mocking real women by having a man that parodies women be the face of your brand?

— Oli London (@OliLondonTV) April 15, 2023
Advertisement - story continues below
If Bud fired everyone associated with this campaign up to the top, and issued a public apology, I think people would come back, though the left would go scorched earth.

So yeah, they are screwed.

— Humble servant of the A.I. (@twobenjamins) April 15, 2023
Anheuser-Busch lost $5 billion in market value as the Bud Light backlash intensified.
Anheuser-Busch CEO Brendan Whitworth issued a statement on Friday trying to stem the outrage against his company.
Advertisement - story continues below
"As the CEO of a company founded in America's heartland more than 165 years ago, I am responsible for ensuring every consumer feels proud of the beer we brew. We're honored to be part of the fabric of this country," Whitworth said.
 "We never intended to be part of a discussion that divides people. We are in the business of bringing people together over a beer."
"Moving forward, I will continue to work tirelessly to bring great beers to consumers across our nation," he said.
Conversation