Sports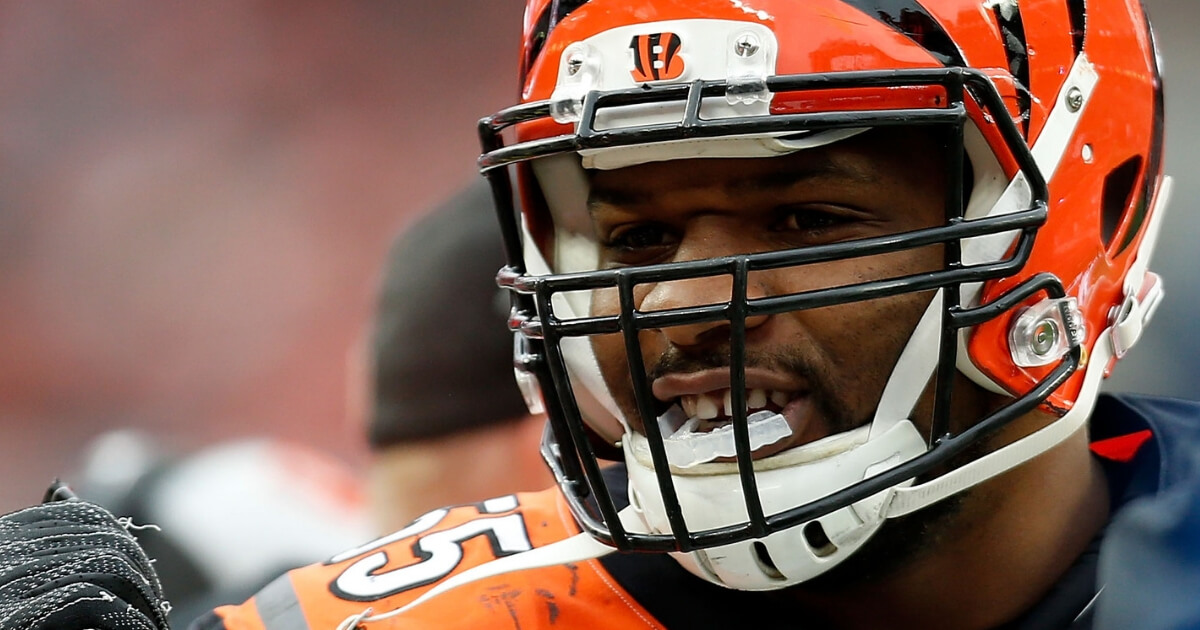 Controversial Linebacker Vontaze Burfict's Career Could Be in Jeopardy
Cincinnati Bengals linebacker Vontaze Burfict's last game may have been his last game.
Burfict suffered a concussion in his team's game against the Cleveland Browns on Sunday and never returned after leaving in the first half. Burfict had missed two games earlier in the season with another concussion.
Katherine Terrell, who covers the Bengals for ESPN, reported that it was at least his seventh concussion, and his career could be in jeopardy.
Advertisement - story continues below
Those are only the seven we know about as well. I always wonder how many players have concussions that don't end up in protocol. https://t.co/m4YrCMfM0G

— Katherine Terrell (@Kat_Terrell) December 27, 2018
At least one of the 7, I believe, occurred when he and his teammate collided. Having never had one myself, I can't imagine what it feels like. But his first one this year took a few weeks to get over, and he immediately got another one. It's very concerning at this point.

— Katherine Terrell (@Kat_Terrell) December 27, 2018
Advertisement - story continues below
Terrell said she rewatched the play on which Burfict was injured and his head hit a teammate's and snapped back. Burfict then fell backward onto another teammate.
As Burfict was being assisted off the field by a Bengals trainer, he snapped his arm from the trainer and didn't appear to want to be examined by the league's independent neurologist.
Vontaze Burfict now moved away from acting dirty to other players to acting dirty to his own team's staffpic.twitter.com/J2oUqZZEjo

— Dov Kleiman (@NFL_DovKleiman) December 23, 2018
Burfict, in his seventh season, has played in seven games this season and registered 33 tackles. He is rated as the No. 78 linebacker this season by Pro Football Focus.
Nine-year veteran linebacker Vincent Rey is expected to replace Burfict in the Bengals' season finale against Pittsburgh.
Advertisement - story continues below
Burfict was suspended for the first four games of the 2018 season for violating the league's policy on PEDs. It was the third suspension of Burfict's career, although the first two were due to his actions on the field.
Last season, he was suspended for five games for an illegal hit on the Kanas City Chiefs' Anthony Sherman during a preseason game. He appealed the suspension and it was reduced to three games.
Burfict was also suspended for three games in the 2016 season for repeated violations of player safety rules.
Will you miss watching Vontaze Burfict play if his career is over?
Advertisement - story continues below
Over his career, Burfict has been fined 14 times for a total of $4.2 million. These fines range from unsportsmanlike conduct to late hits to striking players in the groin.
Burfict is in the second year of a four-year extension he signed before the 2017 season. He is due $11.18 million over the next two seasons plus a roster bonus of $2.25 million in each season.
The Bengals are 6-9 as they face the Steelers, who have to win in order to have a chance to make the playoffs.
Cincinnati has clinched a losing season for the third year in a row, which is their longest streak of sub-.500 seasons since finishing with a losing record every year from 1997 to 2002.
Conversation