Sports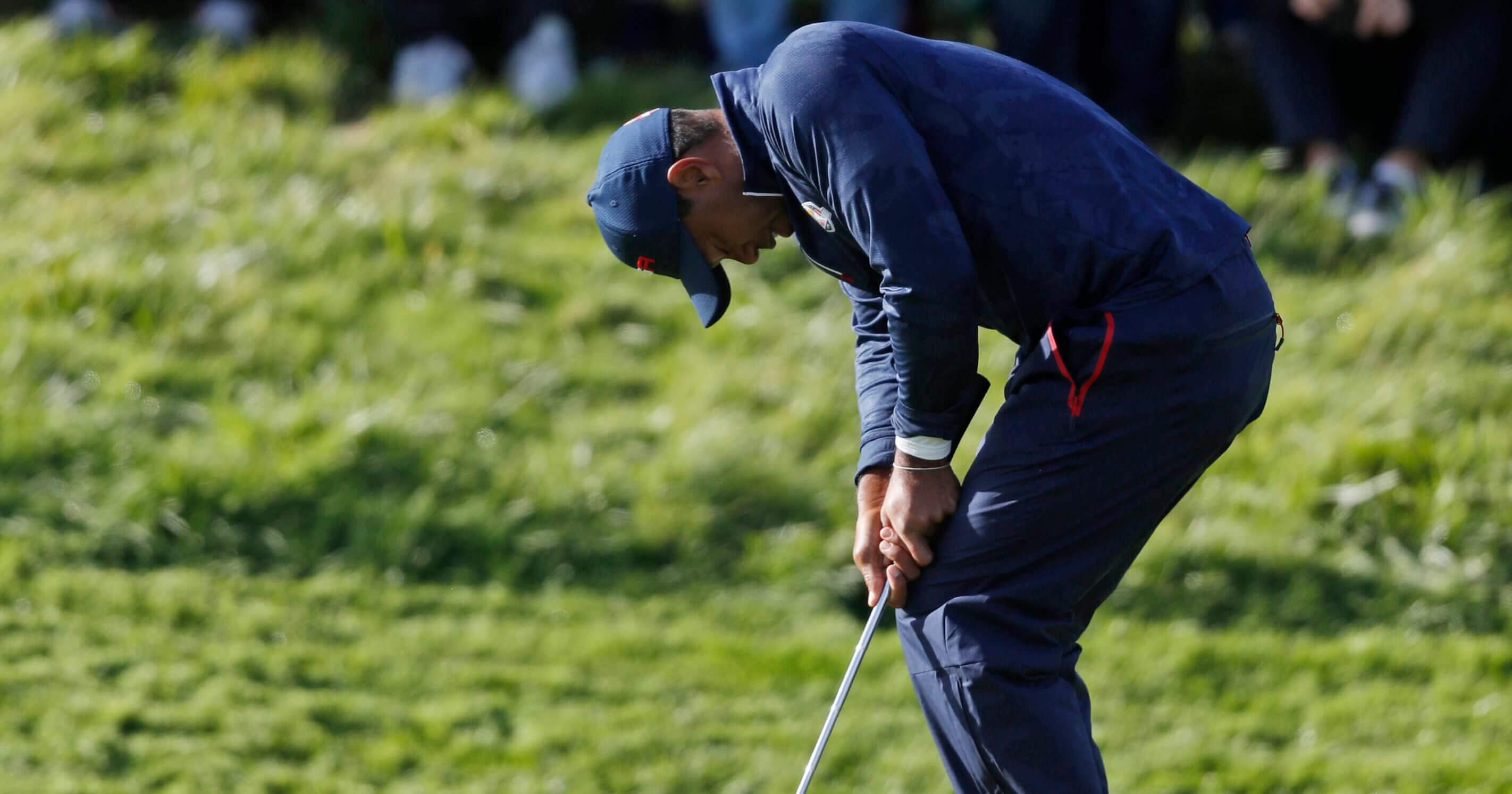 Crashing Back to Earth: Tiger Woods Struggling at Ryder Cup Again
Tiger Woods kept bending over in anguish, his shoulders sinking further and further, the energy ebbing as he made his way around Le Golf National for the second time Saturday.
It was the body language of a tired, defeated golfer.
Quite a contrast to the previous weekend, when he triumphantly strutted down the final fairway at East Lake, savoring his first victory in more than five years as thousands of fans stormed the course behind him.
Advertisement - story continues below
Then again, this is the Ryder Cup — one of the few blemishes on Woods' brilliant record.
Nothing much has changed in France.
Woods dropped all three of his matches over the first two days, cut down each time by Europe's most dynamic combination, mullet-sporting Tommy Fleetwood and British Open champion Francesco Molinari.
Molinari caressing Tommy Fleetwood's hair the way we all secretly want to pic.twitter.com/JQlatpvnin

— Dan Wolken (@DanWolken) September 29, 2018
Advertisement - story continues below
With Woods playing with two different partners, none of his matches reached the 18th hole. In fact, he's only held the lead for a grand total of three holes the entire weekend.
It was hardly what was expected from his first Ryder Cup appearance since 2012.
Can Tiger Woods bounce back?
"The three matches we played, they never missed a putt inside 10 to 12 feet," Woods said. "That's hard to do. Playing against a team like that, that's putting that well, you're going to have to make a lot of birdies. We didn't."
Woods teamed with Patrick Reed for a pair of fourball matches, then switched to Bryson DeChambeau for the Saturday afternoon foursomes. The new partnership didn't fare any better than the first one.
The duo known as "Moliwood" led from the very first hole on the way to a 5-and-4 whipping, the match ending when DeChambeau missed a birdie putt at the par-5 14th hole, before it even reached a closing stretch that looks like something out of Waterworld.
Advertisement - story continues below
The struggles of Woods & Co. are a big reason his star-studded team faces a daunting 10-6 deficit heading to Sunday singles. While certainly not impossible to pull off such a comeback — it was done in 1999 by the Americans at Brookline, and again in 2012 by the Europeans at Medinah — the U.S. hasn't won the Ryder Cup on this side of the Atlantic in a quarter-century.
"We've got some work to do," Woods said. "Hopefully we can get off to a quick start and get up in some of these matches and turn the tide a little bit."
Looking to get his career back on track after myriad physical problems and personal missteps, the 42-year-old Woods played in 19 events this season — roughly the number he used to take on in his prime. While his comeback from major back surgery has been nothing short of remarkable, it looks like the grind of the year and all the work he put in to get back on the course caught up with him at the worst possible time.
When you throw in the emotional drain of winning the Tour Championship for his 80th career triumph, Woods certainly looks like someone dealing with a severe letdown.
Advertisement - story continues below
"Early in the week, he looked a little tired. His pace looked a little bit slow walking," U.S. captain Jim Furyk said. "I think that's expected, coming off a big win. You have to think emotionally what he put into his comeback to this season, the amount of golf he played leading up this, trying to make the Ryder Cup Team, almost winning the FedEx Cup. I mean, he put a lot of work and effort into it and played a lot more golf than he's used to."
Woods insisted that his body feels just fine.
His mindset is another issue.
"Just pretty (ticked) off, the fact that I lost three matches and don't feel like I played poorly," he said.
Advertisement - story continues below
For whatever reason, the Ryder Cup has always been a struggle for Woods. The team nature of the event has never seemed to fit with his lone-wolf approach and steely focus. He's played a total of 36 matches over eight appearances but won only 13. His record in fourballs and foursomes, when he goes out with a partner, is an ugly 9-19-1.
And, frankly, it would be hard for anyone to knock off Fleetwood and Molinari, who have become the first European duo to win all four of their Ryder Cup matches.
"That's the frustrating thing about match play," Woods said. "We can play well and nothing can happen. We ran up against two guys that were both playing well. And when one was out of the hole, especially in best-ball, the other one made birdie and vice versa. They did that a lot to us."
Injuries prevented Woods from playing in the last two American victories, in 2008 and 2016.
Advertisement - story continues below
He's been part of only a single Ryder Cup-winning team over his career — 19 long years ago at Brookline.
One long drought ended a week ago.
Another still looms over Woods, dragging him down.
The Western Journal has reviewed this Associated Press story and may have altered it prior to publication to ensure that it meets our editorial standards.
Conversation