Commentary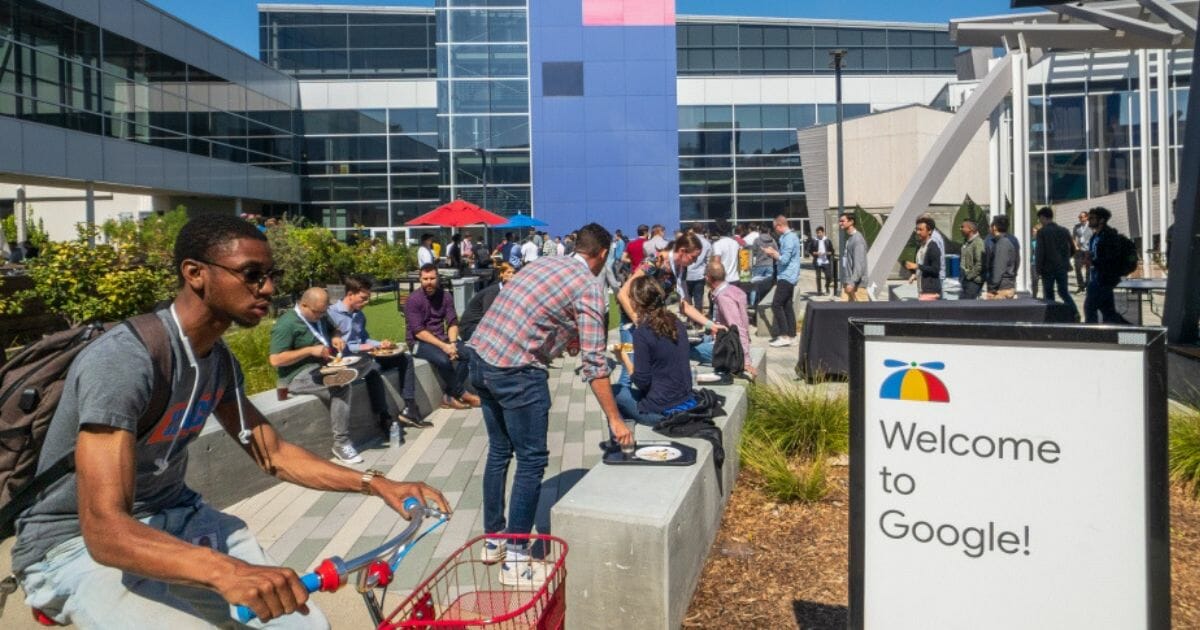 This Could Be the Most Damning Google Leak Yet: Internal 'Resist' Guide Goes Public
Google continues to stand by its claim that it is an unbiased company with an unbiased search engine, but leaked documents seemingly proved that the opposite is true.
On Thursday, Project Veritas announced a new internal leak from an anonymous Google employee, showing that a special group existed within the company that was dedicated to helping people protest President Donald Trump's administration.
The internal group's title is an email address known as "Google.com."
Advertisement - story continues below
The document Project Veritas received was labeled "The Beginner's Guide to Protesting (#GooglersUnite)," which notes that its mission is to "assemble best practices and ensure that everyone feels comfortable and pumped about Resist@Google.com marches/protests."
Some of the things the group has proposed in its fight against Trump are slogans for political signs. For example, "Resist," "No Ban No Wall," "#NoMuslimBan #No Wall," were ideas in the leaked document. Google even suggested creating a sign that read, "Muslims cure cancer."
In addition, "From Palestine to Mexico, All the walls have got to go," was a chant they wanted anti-Trump marchers to yell as they protested in the streets.
Another gem hidden in this document was that Resist@Google.com encouraged people to "disrupt" traffic, telling protesters that they shouldn't "feel obligated to stop at crosswalks."
Advertisement - story continues below
"This document leak is the fourth in a series of leaks from inside Google and their subsidiary, YouTube," Project Veritas founder James O'Keefe said.
"This new document appears to show internal coordination of political protests which contradicts Google's public statements that they are politically neutral.
Do you think Google is biased against conservatives?
"More tech insiders are coming forward, and we will continue to work with them to expose the secrets of Silicon Valley," O'Keefe said.
This is a damning report — both in content and timing — as Google executive Jen Gennai recently stated that her company has no political leanings or biases.
"Google has repeatedly been clear that it works to be a trustworthy source of information, without regard to political viewpoint. In fact, Google has no notion of political ideology in its rankings," Gennai wrote in a lengthy Medium piece on Monday.
Advertisement - story continues below
Project Veritas' exposé comes weeks after the tech giant fired a Republican engineer that called out "outrage mobs" and "witch hunts" against conservative viewpoints, according to the Daily Caller.
Engineer Mike Wacker blasted the company's rampant censorship in a scathing Medium post, which caused him to be put on administrative leave before ultimately being fired.
The day before his initial suspension period from Google, Wacker appeared on Fox Business to discuss his take on the company's anti-conservative leanings with Trish Regan.
"You don't know what's going to offend somebody next, and a lot of time they are going to HR over these trivial things," he said.
Advertisement - story continues below
#Google Software engineer @m_wacker SOUNDS OFF on his company's anti-conservative bias: "These outrage mobs are so hostile. You want to kind of want to push back on them… but if you push back, they can turn on you instead." #TrishRegan pic.twitter.com/giUYQFAxay

— Trish Regan (@trish_regan) May 29, 2019
If Google wanted to demonstrate it has no political biases, it should counter the documents leaked to Project Veritas with proof that internal groups comprising pro-Trump conservatives exist within the company.
But, as Google is located in the heart of Silicon Valley, chances are good that this group simply doesn't exist.
Conversation