News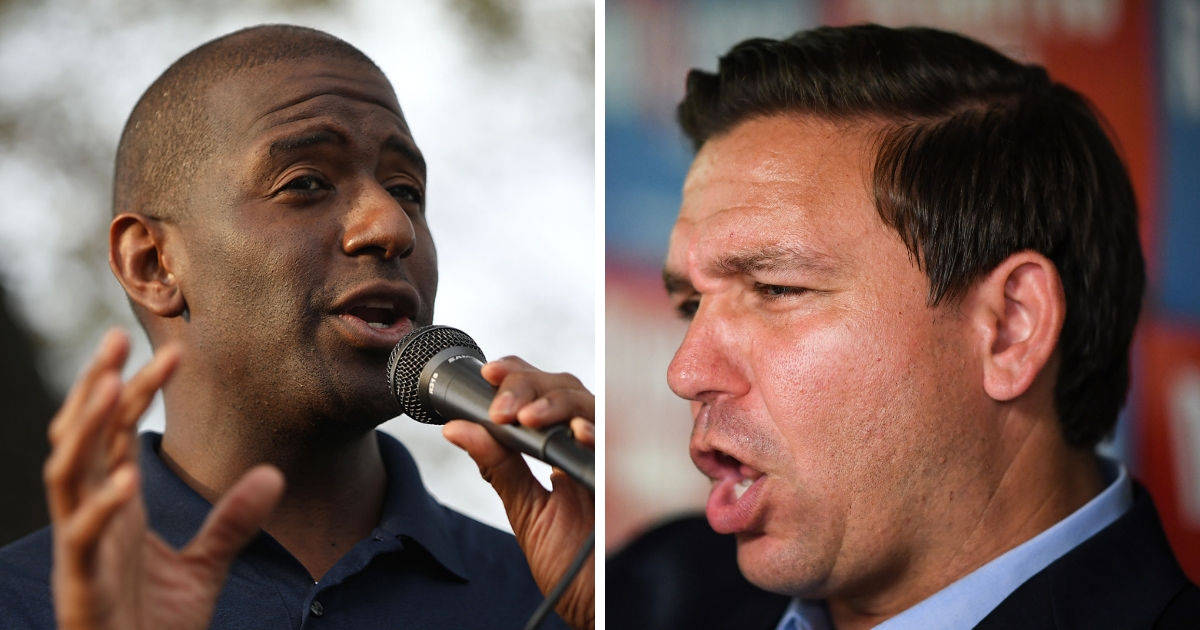 Breaking: DeSantis Defeats Gillum for FL Governorship, Significant Blow to Democrats
Republican Ron DeSantis has defeated Democrat Andrew Gillum in the hotly-contested race for Florida governor, The Western Journal projects.
The contest between Gillum, who is the mayor of Tallahassee, and DeSantis, who currently represents Florida's Sixth District in the House, has been a high-profile battle for a state that is pivotal in every presidential election.
The most recent polls taken before Tuesday's elections showed Gillum in the head, but with DeSantis within striking distance a few percentage points below Gillum, The Hill reported. The importance of the swing state was emphasized in the final days of the campaign when President Donald Trump came to Florida to support DeSantis while former President Barack Obama came to Florida to support Gillum.
Visit The Western Journal for more up-to-date election coverage.
Advertisement - story continues below
The campaign between Gillum, who is black, and DeSantis was a match of hard-fighting styles in which race and racism emerged as major issues.
During their final debate last month, DeSantis said he was tired of hearing complaints about allegedly racist statements made by those who support him.
Will this election have an impact on presidential politics in 2020?
"How the hell am I supposed to know every single statement somebody makes?" he said, according to the Miami Herald. "I am not going to bow down to the altar of political correctness. I am not going to let the media smear me as they've done with so many people."
Gillum replied by jabbing DeSantis.
"My grandmother used to say a hit dog will holler — and it hollered through this room. … Now I'm not calling Mr. DeSantis a racist. I'm simply saying the racists believe he's a racist," he said.
Advertisement - story continues below
DeSantis did not let that pass.
"I am not going to sit here and take this nonsense from a guy like Andrew Gillum who always plays the victim, who's going out and attacking and aligning himself with groups who attack our men and women in law enforcement, attack our military," DeSantis replied, according to The New York Times.
However, battles over who was saying what continued through the final days of the campaign.
On Saturday, Agriculture Secretary Sonny Perdue of Georgia made a Florida trip to support DeSantis, CNN reported
Advertisement - story continues below
"Public policy matters. Leadership matters. And that is why this election is so cotton-pickin' important to the state of Florida," Perdue said. "I hope you all don't mess it up."
Perdue's language was attacked by some as "racist."
Gillum said in response that Perdue "should go back to Georgia. We'll take care of Florida."
"Listen, we're trying our very best to end this race on a high note," Gillum said. "As I have said throughout the campaign, we're working to give voters something that they can vote for and not just against."
Advertisement - story continues below
When issues arose during the campaign, there was plenty of difference between the candidates.
DeSantis promised that he will cut taxes in elected, according to his website. Gillum, on the other hand, wanted the corporate tax rate increased from 5.5 percent to 7.75 percent with most of that money put into education, the Orlando Sentinel reported.
"There is no area of commonality. Usually, there is. But with these two, whatever one is for the other is against," said Charles Zelden, a Nova Southeastern University political scientist, according to the Tallahassee Democrat.
Conversation