Commentary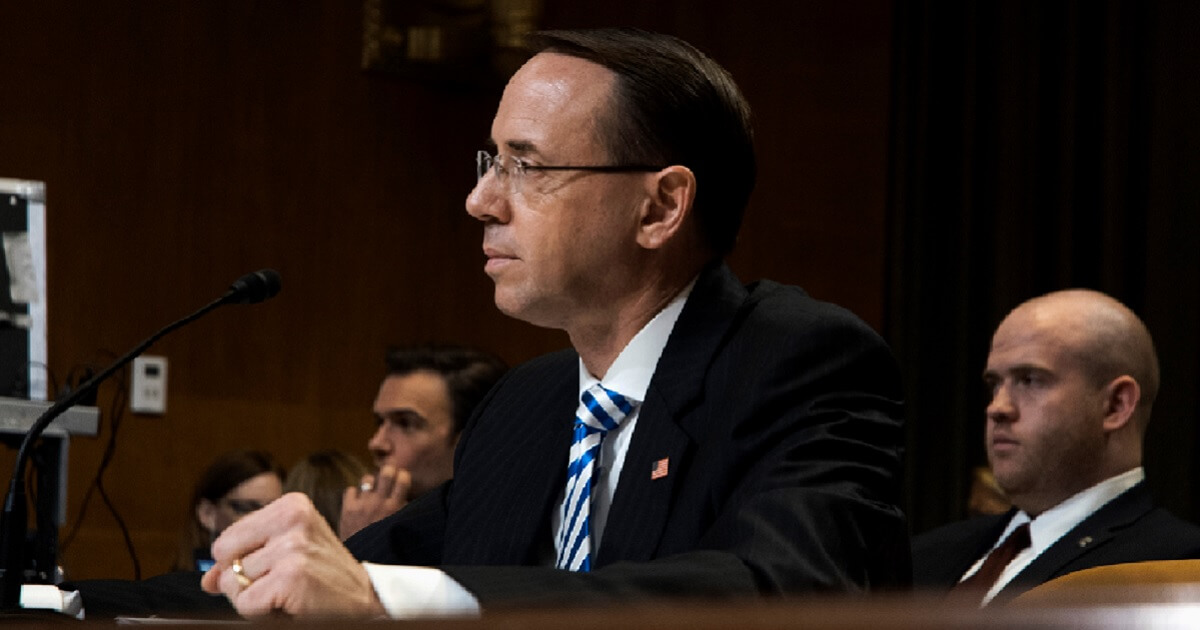 Federal Vacancies Reform Act Is Democrats' Worst Nightmare If Rosenstein Resigns
With rumors and reports swirling about the future of Deputy Attorney General Rod Rosenstein, Democrats are facing a potentially explosive situation that would only benefit President Donald Trump.
According to the U.S. Government Accountability Office, the Federal Vacancies Reform Act was updated in 1998 as a means for presidents to fill a vacant executive agency position through a Senate confirmation.
The Federal Vacancies Reform Act could be a worst-case scenario for Democrats if Rosenstein opts to resign, as many have speculated he may do.
Advertisement - story continues below
Rosenstein immediately came under scrutiny last week after The New York Times reported that he allegedly claimed to want to wear a wire to secretly record Trump in May of 2017 and explored using the 25th Amendment to try and impeach Trump.
Many have called for Trump to fire Rosenstein. Many have also called for Rosenstein to step down in the wake of the reports.
While the outcome to both situations remains virtually the same — the deputy attorney general post would be vacant — the way it happens matters a great deal.
As Washington Post reporter Aaron Blake notes, the situation is murky. But it could well end up to be a lose-lose for Democrats.
Advertisement - story continues below
https://twitter.com/AaronBlake/status/1044238139416612865
It should be noted that Rosenstein is effectively holding two different attorney general positions currently.
Should Rod Rosenstein resign from the Justice Department?
As CNBC states, Rosenstein is the current deputy attorney general in an official capacity. However, because Attorney General Jeff Sessions recused himself from the allegations of Russian collusion with the Trump presidential campaign, Rosenstein is also the acting attorney general in charge of special counsel Robert Mueller's probe.
Should Rosenstein resign or be fired, Trump would actually have no say in naming a new person to fill Rosenstein's role as the acting AG for the Russia investigation. That responsibility would fall on Solicitor General Noel Francisco.
If Rosenstein resigns, however, under the Federal Vacancies Reform Act, Trump will have some leeway in naming his personal choice for deputy attorney general.
Advertisement - story continues below
According to CNBC, Trump would have his pick of any Senate-confirmed political appointees to fill the vacancy. Per the Reform Act, Trump can fill that position so long as the person vacating the position "dies, resigns, or is otherwise unable to perform the functions and duties of the office."
Note that "fired" is not among the criteria to invoke the Federal Vacancies Reform Act.
In the event of a firing, there is a federal succession plan that temporarily fills a vacancy with what is typically a deputy official or another Senate-confirmed person in the department.
That doesn't every situation is cut and dried, though.
Advertisement - story continues below
When previous Veterans Affairs Secretary David Shulkin vacated his post in in early 2018, Trump didn't take much time filling the position with Robert Wilkie, the undersecretary for personnel and readiness at the Defense Department.
The White House officially states that Shulkin resigned his post, according to Politico. Shulkin claimed he was fired, which means Trump may have skipped proper succession protocol by naming Wilkie. If Shulkin resigned, however, Trump was within his rights appointing Wilkie.
In April, Trump was sued by veteran advocacy groups who claimed that the president didn't follow the federal succession plan by appointing a candidate that wasn't from Veteran Affairs. That suit has yet to be resolved.
Many on the far left fear that Trump would appoint a deputy AG that would be more friendly towards the president and more amicable towards his policies.
Advertisement - story continues below
Even if Trump can't directly appoint a new Justice Department overseer of Mueller's probe, they fear a decidedly pro-Trump deputy AG could seal records and make any investigations into the president be far more difficult.
Considering the lengths the far left is going to oppose Trump's nomination of Brett Kavanaugh to the Supreme Court, it wouldn't be a surprise to see similar outcries over an acting attorney general nomination.
Blake argues that Rosenstein resigning would give Trump a big win.
https://twitter.com/AaronBlake/status/1044239434277945350
Advertisement - story continues below
If Rosenstein is fired by Trump, the far-left still doesn't procure a win. Trump will still get the chance to nominate Rosenstein's replacement, there will just be more hoops to jump through.
For Democrats, if Rosenstein is fired, they at least have an uphill battle to fight Trump on a replacement.
If Rosenstein resigns? Democrats will have virtually nothing that they can do.
Conversation