News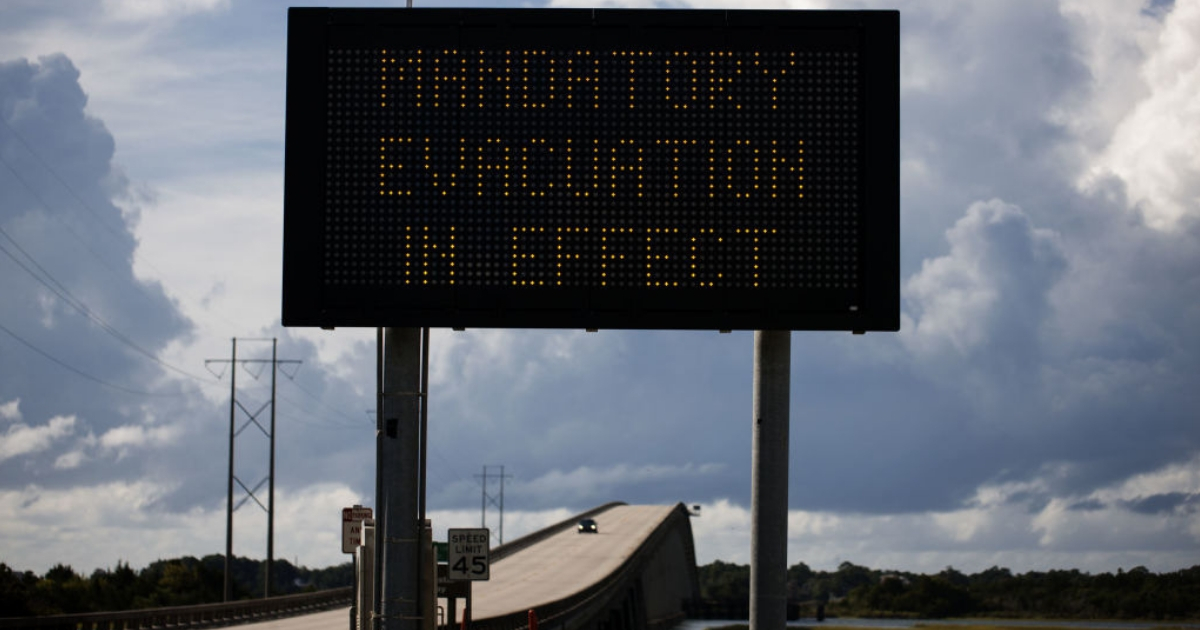 FEMA Official: Florence Is Going To Be a 'Mike Tyson Punch' to Carolinas
As officials at the federal, state and local levels continued to plead with those living in Hurricane Florence's path to evacuate immediately, some resorted to vivid imagery in describing the catastrophic impact the storm could have.
In an update on Wednesday, one Federal Emergency Management Agency official described it as a "Mike Tyson punch" to much of the coast — particularly the Carolinas.
"This is not going to be a glancing blow."

Hurricane Florence is going to be "a Mike Tyson punch to the Carolina coast," FEMA official says.https://t.co/4RH3q6Suqd pic.twitter.com/n5KY5BwL5o

— MSNBC (@MSNBC) September 12, 2018
Advertisement - story continues below

"Lives cannot be replaced," said Jeff Byard, associate administrator for FEMA's Office of Response and Recovery.

He went on to say he wanted to "hammer that importance" of recognizing the potential of the powerful storm.

"This is not going to be a glancing blow," Byard said. "This is not going to be a tropical storm. This is not going to be one of those storms that hits and moves back out to sea. This is going to be a Mike Tyson punch to the Carolina coast."

On top of the strong, sustained winds, Byard pointed to the threat of widespread flooding as another hindrance in the cleanup and rescue effort to follow the storm's initial blow.

Advertisement - story continues below

"It's going to stall us," he said. "We're looking at inland flooding. We're looking at coastal storm surge. We're looking at all the hazards that a storm of this magnitude will take."

Are you worried about Florence's impact on the Carolina coast?

Byard said that in situations like this, it is important for all impacted residents to join together for the sake of their own community.

"It's neighbor helping neighbor in this situation," he said. "If that's the case, help your neighbor."

Byard repeated that call to local action moments later.

"I would ask that neighbors help neighbors in this situation, and let's all be on the team," he said.

The National Hurricane Center is among the agencies regularly updating warnings as the Category 4 storm continues to take shape and direction approaching the East Coast.

Advertisement - story continues below
Here are the Key Messages for the 5 AM EDT advisory for Hurricane #Florence pic.twitter.com/lY1y5KSZb9

— National Hurricane Center (@NHC_Atlantic) September 12, 2018
Expected to reach land with hurricane-force winds on Friday, officials — including President Donald Trump — have urged those in its potential path to stay safe and move inland.
Still, plenty of locals — many of whom have stayed put during previous hurricanes — are prepared to roll the dice and ride out Hurricane Florence, as Fox News reported.
"Everyone who is staying here is either a real old-timer, someone who doesn't know where would be better, or someone involved in emergency operations one way or another," said Liz Browning Fox, who told reporters she plans to stay in her Buxton, North Carolina, home with her 88-year-old mother as Florence passes.
Conversation
The Western Journal is pleased to bring back comments to our articles! Due to threatened de-monetization by Big Tech, we had temporarily removed comments, but we have now implemented a solution to bring back the conversation that Big Tech doesn't want you to have. If you have any problems using the new commenting platform, please contact customer support at
commenting-help@insticator.com
. Welcome back!