Commentary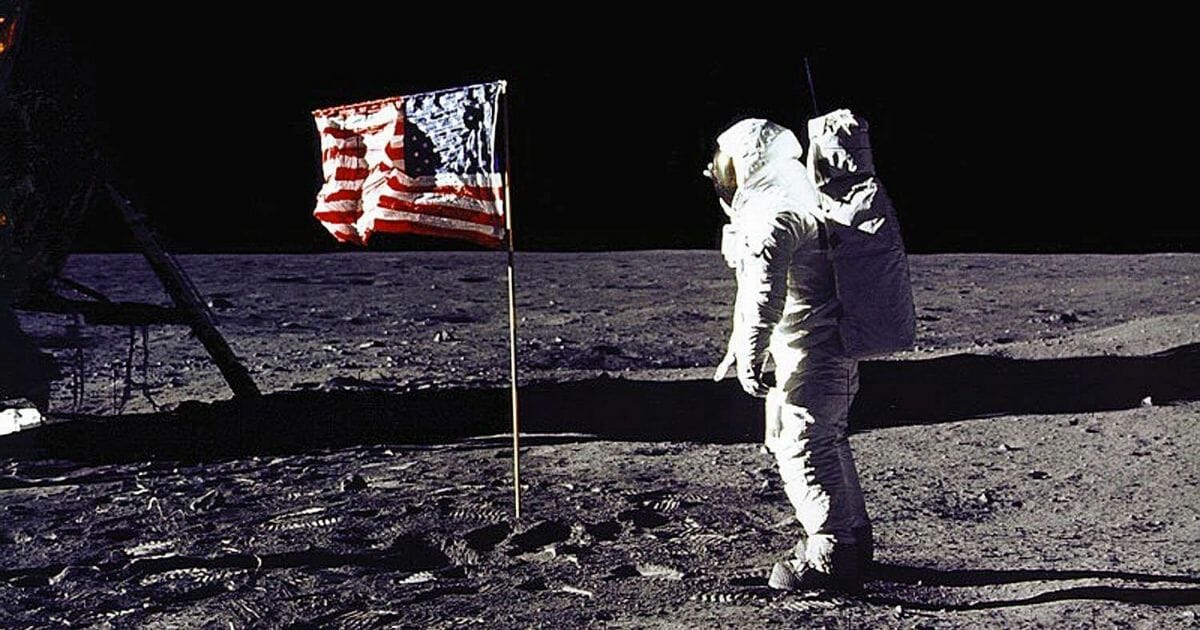 First Meal on the Moon Was Communion. It Would Have Caused Riots in Present-Day US
July 20, 1969 may mark the peak of human achievement — for now, anyway. On that date 50 years ago, a man from Ohio with an American flag on his shoulder stepped off the lunar module onto the surface of the moon, etching his name into all of history.
That man, of course, was Neil Armstrong. With the big 5-0 anniversary of the moon landing finally here, the late commander of Apollo 11 is receiving a lot of attention, thanks in part to the recent "First Man" biopic which starred Ryan Gosling.
But it was the second man on the moon, Edwin "Buzz" Aldrin, who made history in a very different way on that day in 1969. Although it's now mostly a footnote in the NASA archives, one of the first actions on the moon wasn't to pull on a spacesuit. It was to partake in Christian communion to thank God for all that had been accomplished.
Advertisement - story continues below
"Aldrin, seated next to Neil Armstrong, became the first person to celebrate a religious sacrament on a heavenly body outside Earth," Fox News reported.
"The ordained Presbyterian elder wrote in a piece for Guideposts in 1970 he chose Holy Communion because his pastor at Webster Presbyterian, Dean Woodruff, often spoke about how God reveals Himself through the everyday elements," the outlet continued.
What is especially fascinating here is that Aldrin was very much a man of science. He was an expert in astronautics, wrote NASA's vital guide to orbital docking essentially singlehandedly, and held a Doctor of Science degree from MIT.
Yet Aldrin was also a man of deep faith.
Advertisement - story continues below
"I wondered if it might be possible to take communion on the moon, symbolizing the thought that God was revealing Himself there, too, as man reached out into the universe," he said in 1970. "For there are many of us in the NASA program who do trust that what we are doing is part of God's eternal plan for man."
Acknowledging his Christian faith was so important to the famous astronaut that he went out of his way to plan communion on the surface of the moon, taking a holy communion wafer and a silver cup with wine on the 239,000 mile journey to another world.
Do you think science can be compatible with personal faith?
"I opened the little plastic packages which contained bread and wine," Aldrin said. "I poured the wine into the chalice our church had given me. In the one-sixth gravity of the moon, the wine curled slowly and gracefully up the side of the cup. It was interesting to think that the very first liquid ever poured on the moon, and the first food eaten there, were communion elements."
Mindful of the fact that the moon landing was being watched by millions around the world, the veteran astronaut didn't push his personal views on others but asked observers for a moment to reflect on what had been accomplished.
"I would like to take this opportunity to ask every person listening in, whoever and wherever they may be, to pause for a moment and contemplate the events of the past few hours and to give thanks in his or her own way," he said. Audio of that radio call can be heard below.
Advertisement - story continues below
Aldrin's view that his Christian faith wasn't incompatible with science, but rather complimented it, flies in the face of current attitudes in much of the establishment media.
In today's world, anyone who believes in God is portrayed as some sort of backward anti-science peon.
In fact, NASA purposely kept the communion event under wraps in order to avoid any scandals. A year earlier during the Apollo 8 mission, astronauts had read from the Book of Genesis during Christmas Eve, which led to the space program being sued by an angry atheist. The lawsuit was later dropped.
Advertisement - story continues below
You can safely bet that if America's space program broadcast a communion today, there would be a loud outcry from left-leaning pundits and even protests over this display of faith. In the modern world, all hints of a higher power seem to be purposely stripped or ridiculed as backward.
Yet there is no denying that Buzz Aldrin was one of the most forward-thinking men of his time. He was able to balance science, technology, and faith at once. His achievements — and the achievements of so many God-believing scientists throughout history — speak for themselves.
Pretending that explorers and pioneers like Aldrin were only motivated by hard science misses a huge part of the story. Science and slide rules may have gotten Americans to the moon, but it was a deep belief that mankind is part of a bigger picture which motivated them to reach for the stars.
Conversation