Commentary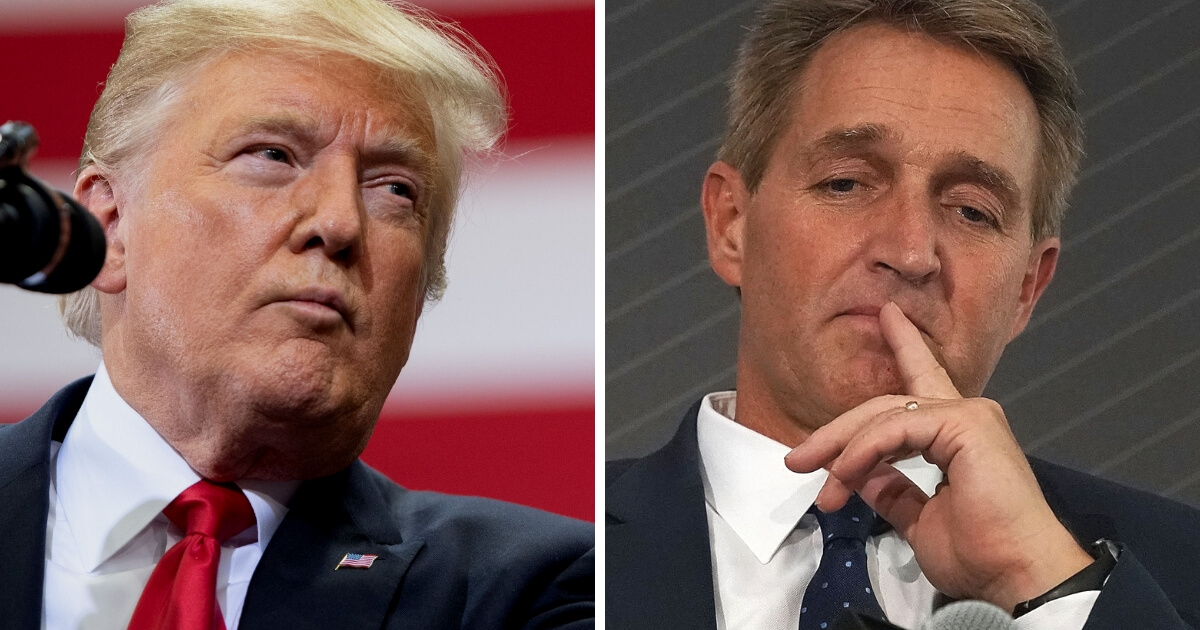 Jeff Flake Reportedly Considering the Ultimate Attack on Trump by Running in 2020
Jeff Flake isn't gone. He's never gone. We may not know who's going to replace him out in Arizona yet, but he's already looking for a new seat — namely, the one behind the Resolute Desk.
In an interview with Politico and The Hill on Friday, the outgoing senator and RINO par excellence said someone needs to challenge President Donald Trump in the 2020 GOP primary, and he's not ruling himself out as the guy who'll do it.
Nudge nudge, wink wink.
Advertisement - story continues below
"I've not ruled it out. I've not ruled it in. Just, somebody needs to run on the Republican side," Flake said.
If it wasn't him, Flake mentioned the usual suspects: former Ohio Gov. John Kasich, who was one of the last bitter clingers in the 2016 primary race; and Nebraska Sen. Ben Sasse, who — with the departures of Flake and Tennessee Sen. Bob Corker — arguably becomes the president's most consistent Republican critic in the upper chamber.
The outgoing Arizona senator said both could give Trump a decent run for the nomination, which probably goes a long way in explaining why Flake is perceived as being painfully out of touch with the party.
A lot changes in four years, but Kasich hung on mostly because of the fact that he knew that there was a chance of a brokered convention and that establishment types would have much preferred him to either Trump or Texas Sen. Ted Cruz, the only other candidate with a significant number of delegates. During the campaign, Kasich won a grand total of one state — his own.
Advertisement - story continues below
As for Sasse, he's an independent voice alternately loved and loathed by Republican political junkies. Outside of that rather limited demographic, however, nobody really knows who he is. There are senatorial candidates who lost (see Robert F. O'Rourke) with exponentially greater name recognition than Sasse.
Never mind that, though. Flake said Trump was hurting the long-term prospects of the Republican Party — which is hardly a new argument, but damned if he's going to make it.
Do you think Jeff Flake will run for president in 2020?
"I hope somebody does just remind people what it means to be conservative and what it means to be decent, we've got to bring that back," Flake told reporters. "If we're going to be a relevant party in the future then we've got to be a decent party."
"This politics of grievance and anger and resentment, you know, you can whip up the base for a cycle or two but it wears thin," he continued. "Anger and resentment are not a governing philosophy."
If this is the elevator pitch Flake is going to base his candidacy (or alleged candidacy, cough cough) on, there are a few things that need to be mentioned here.
Advertisement - story continues below
When it comes to the politics of anger and grievance, I'm kind of confused what party we're talking about here. We're coming off of an election cycle where, to be reductionist, one party ran on the economy and enforcing our laws and the other party ran on identity politics, which is by nature a politics of grievance and anger. Beyond that, we've heard this admonition about "whipping up the base" and how it will lead to ruin since the advent of the tea party movement. Now we have the White House and the Senate and managed to weather a midterm that was pretty much like every other midterm. But apparently, what the GOP ought to look like is a clone army of milquetoasts like Jeb "Please Clap" Bush.
Beyond all this, running is still a terrible idea. Let's say Flake (or someone else) defeats Trump in the primaries. Trump can self-fund a third-party campaign. He certainly has the resources, and he's not the type to go gently into that good K Street life. If Trump wins, Flake and/or whoever else runs ends up becoming what Ted Kennedy was in 1980 or Pat Buchanan was in 1992: a candidate who weakened a sitting president and hastened his downfall.
There's no endgame that works out well for Flake or the Republican Party in this situation. He's not going to make the GOP a more "decent" party, particularly in an era where polarization and rancor are effective tools of the left. He's not going to save the party or make it stronger. He's trying to stay a thorn in President Trump's side for as long as possible. And, like any politician, he's trying to stay relevant as long as possible — no matter what the collateral damage might be.
Conversation