Commentary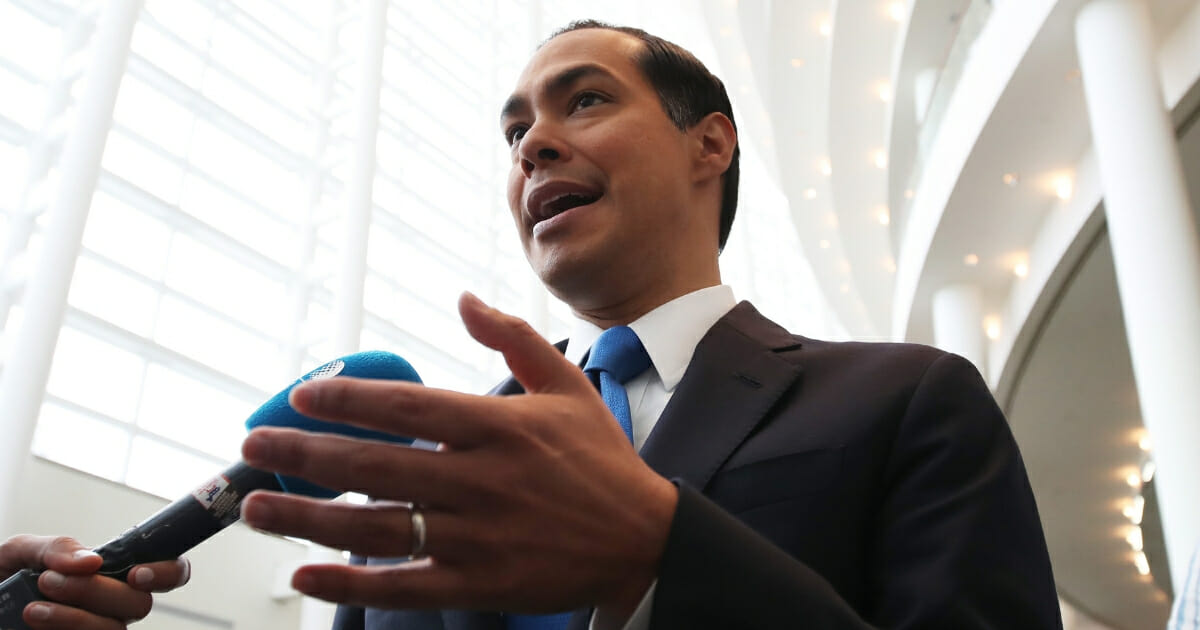 Julian Castro Just Linked the Treasured Betsy Ross Flag to Dems' Favorite Hate Symbol
Julian Castro is no stranger to putting his foot in his mouth.
Who can forget the bizarre moment last week when the former Obama-era Housing and Urban Development secretary and current 2020 Democratic presidential candidate, claimed trans women — i.e. biological men who identify as female — should be able to obtain abortions.
So it should come as no surprise that Castro has made another dumb statement, this time in reference to the controversy over Nike, who was reportedly influenced by Colin Kaepernick to pull a sneaker adorned with the Betsy Ross flag from shelves.
Advertisement - story continues below
First, a bit of background.
Sources familiar with the matter told The Wall Street Journal that the Air Max 1 USA — which had the original version of the flag with 13 stars on the heel — was recalled by the company from retailers without an explanation.
"After images of the shoe were posted online, Mr. Kaepernick, a Nike endorser, reached out to company officials saying that he and others felt the Betsy Ross flag is an offensive symbol because of its connection to an era of slavery, the people said. Some users on social media responded to posts about the shoe with similar concerns," The Journal reported.
Nike also made a statement on the controversy to The Western Journal.
Advertisement - story continues below
"We regularly make business decisions to withdraw initiatives, products and services. NIKE made the decision to halt distribution of the Air Max 1 Quick Strike Fourth of July based on concerns that it could unintentionally offend and detract from the nation's patriotic holiday," the company said.
"Nike is a company proud of its American heritage and our continuing engagement supporting thousands of American athletes including the US Olympic team and US Soccer teams. We already employ 35,000 people in the U.S. and remain committed to creating jobs in the U.S., including a significant investment in an additional manufacturing center which will create 500 new jobs."
Do you think the Betsy Ross flag is offensive?
Back to Castro.
In a Tuesday interview on CBS News, Castro said he agrees with those who think the Betsy Ross flag-themed shoe is racially problematic.
"I was glad to see that," he said of Nike's decision. "My hope is that they didn't just do it to do it, that they understand the significance there."
Advertisement - story continues below
Then came the head-scratching comparison to the Confederate flag.
.@JulianCastro tells CBSN he was "glad to see" Nike pull Betsy Ross flag sneakers from retailers https://t.co/zee28SIaIi pic.twitter.com/uw9rUzRMvf

— CBS News (@CBSNews) July 3, 2019
"Look, there are a lot of things in our history that are still very painful," he said. "The Confederate flag that still flies in some places and is used as a symbol. And I believe that we need to move toward an inclusive America that understands that pain, that doesn't wipe it away from history in the sense that it still belongs in a museum, or we need to read about it and understand the significance."
Advertisement - story continues below
"Because that's how you learn and make sure that we don't make the same mistakes in the future, but does not glorify it, does not celebrate it."
It should go without saying why this comparison is ridiculous, but I'm going to explain why that is anyway.
Now, people can make good-faith arguments on both sides of the Confederate flag controversy.
But to connect the symbol representing the Confederacy, which actually rebelled against the Union, and the Betsy Ross flag, which was simply designed during an era where some people owned slaves, is absolutely ridiculous.
Advertisement - story continues below
There is an argument to be made — not one I necessarily agree with — that the Confederate flag represents slavery.
But the Betsy Ross flag? Just because it came from an era where some people did bad things is not a good reason to cease celebrating it.
What's next? Will we stop celebrating the American Revolution because some revolutionaries owned slaves?
A nuanced view of American history requires a full, contextual look at the figures involved.
Advertisement - story continues below
We should not worship our Founding Fathers because they, like every historical figure, had their faults.
But we can still recognize and celebrate their accomplishments.
Similarly, we should not worship the era they came from, because it was a time of slavery, as well as significant racial and gender inequality.
But don't throw out the baby with the bathwater. Celebrate the good, and criticize the bad.
Advertisement - story continues below
Castro and those like him need to realize that those bad things don't negate the good.
Conversation