Commentary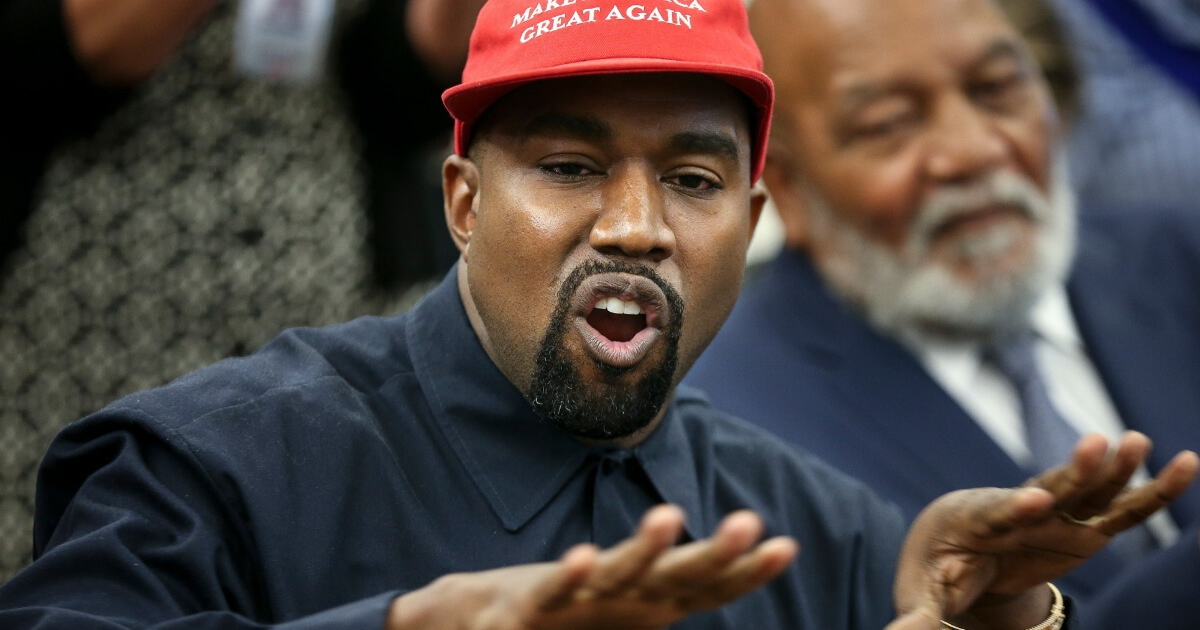 Huge: Kanye Condemns 'Welfare Mentality,' Says It's What Led Him To Criticize Bush
In the aftermath of Hurricane Katrina, singer Kanye West was among several celebrities who addressed the needs of those hit by the disaster. Within the message was a statement from Kanye that President Bush didn't "care about black people."
Remember when Kanye used his platform to call out George Bush for neglecting stranded Black folks in Hurricane Katrina? Hard to realize that this is the same guy who now rocks a MAGA hat and reps hard for Trump. https://t.co/RFjULP21qS#KanyeWest #MakeKanyeGreatAgain

— Jooyoung Lee? (@theyoungjoo) October 11, 2018
Since making those remarks, Kanye had publicly apologized to Bush. In his apology, he stated that he had "made mistakes" and had "grown as a person."
Advertisement - story continues below
But during his meeting with President Donald Trump at the White House today, the topic came up again.
Kanye explained his criticism of Bush at the time as being due to being "programmed."
No one "programmed" Kanye to say that Bush didn't care about blacks people. He did it on his own. And this is the guy preaching about responsibility?

Kanye: "I was very emotional & I was programmed to think from a victimized mentality,a welfare mentality" pic.twitter.com/7u58zHOZgA

— Khary Penebaker, Fx (@kharyp) October 11, 2018
His statement was that "I was very emotional & I was programmed to think from a victimized mentality, a welfare mentality."
Advertisement - story continues below
Kanye's experience fits with the narrative many black conservatives express regarding the "Democrat Plantation" and Democrats pushing "victimhood" and "welfare mentality" on them.
Listen. If you're a conservative – particularly a black conservative – you need to know that you have choices. The effort to 'keep you on the Democrat plantation' is well-funded and well-rehearsed. HERE'S HOW TO BEAT IT https://t.co/qZYMyHzQbp

— Herman Cain (@THEHermanCain) May 31, 2018
IT'S TIME TO LEAVE THE PLANTATION…….

"I think Democrats use identity politics to keep people in line."

I sat down with @jessewatters to 'come out' as a black, gay Iraq war veteran AND conservative Republican on @wattersworld on @foxnews! pic.twitter.com/5gk7NXwLjs

— FREEDOM NOW (@1776FREEDOMNOW) October 11, 2018
https://twitter.com/therealcornett/status/1044228976133255174
Kanye took it even further and addressed how racism ties in with the Democrat Plantation and claims of racism against President Donald Trump. It came up when a reporter at the event asked him about Trump and racism.
#KanyeWest says it best:"A #Liberal will try 2 control a black person by the concept of racism…you think racism can control ME?!That don't stop me-that's an #InvisibleWall!"#FreeThinker#DragonEnergy#DemocratPlantation Emancipation#MAGA 4 ALL#AllLives#NationalComingOutDay pic.twitter.com/nZ74MxZQRN

— DrConservaMom???? (@ConservaMomUSA) October 11, 2018
Advertisement - story continues below
"A liberal would try to control a black person through the concept of racism because we know we're very proud, emotional people. So when I said I like Trump to like someone liberal, they'll say, oh, but he's racist."
"You think racism can control me? Oh, that don't stop me. That's an invisible wall."
According to the Washington Examiner, Kanye went even further with his emotional response, adding hope for black Americans in the form of a solution.
" … as black people we have to take responsibility for what we're doing. We kill each other more than police officers."
Advertisement - story continues below
Do you agree with Kanye West?
He also called on various entities to do better and focus on what would really help the black community. His solution included showing respect for the president, and Kanye explained why that mattered.
"What I need 'Saturday Night Live' to improve on or what I need the liberals to improve on is if he don't look good, we don't look good. This is our president."
"He has to be the freshest, the flyest, the flyest planes, the best factories, and we have to make our core be empowered, we have to bring jobs."
Advertisement - story continues below
President Trump mentioned that Kanye "gets it" and his statements show that he does indeed.
Conversation