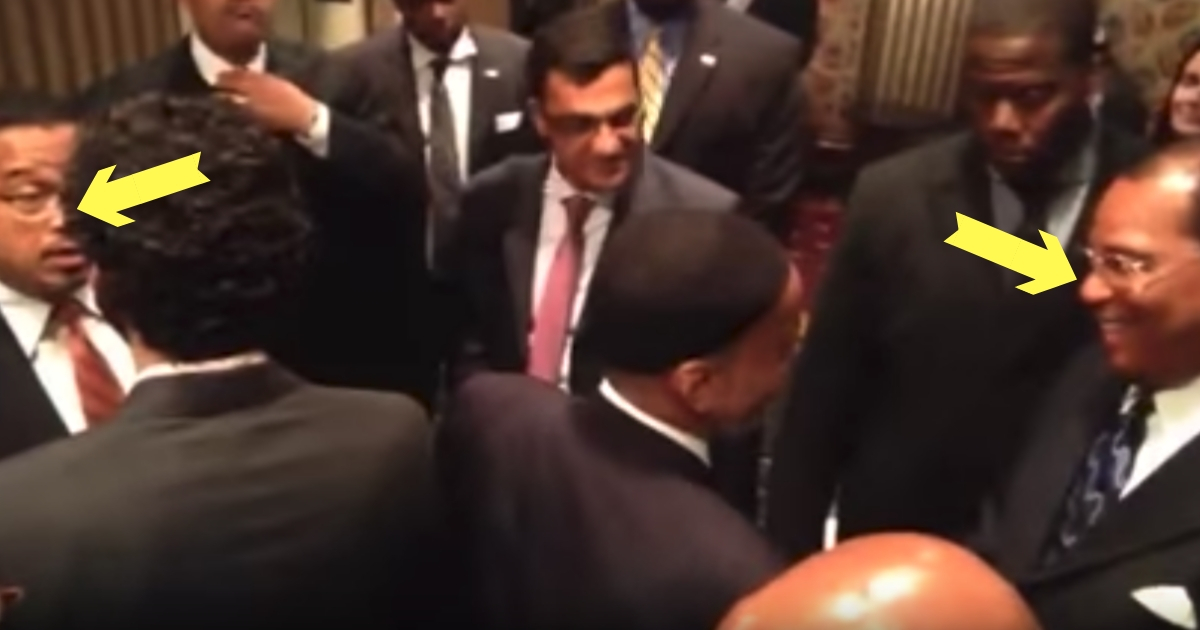 Keith Ellison Again Misleads on Louis Farrakhan Ties
Democratic Minnesota Rep. Keith Ellison misled the public Sunday during the Minnesota attorney general debate about his ties to Nation of Islam leader Louis Farrakhan, a notorious racist and anti-Semite.
Ellison, the deputy chair of the Democratic National Committee, denounced Farrakhan's views and portrayed his ties to the minister as a relic of decades past, even though he continued to associate with Farrakhan years after entering Congress in 2006.
Ellison explained that he thought Farrakhan had "something to offer" in the "early 1990s" because Farrakhan "was a person speaking to issues of African-American civil rights" (Farrakhan praised Hitler as a "very great man" in 1984).
Advertisement - story continues below
"He made it very clear in the early 1990s that his views and mine were absolutely incompatible and I've been saying that ever since," Ellison said, in response to an attack from Republican candidate Doug Wardlow.
Keith Ellison defends his ties to Louis Farrakhan, saying Farrakhan had "some things to offer" in the early 1990s.

In 1984, Farrakhan made headlines for calling Judaism a "gutter religion" and Hitler "a very great man." pic.twitter.com/SKvNC9btr5

— Michael Ahrens (@michael_ahrens) October 22, 2018
Ellison's answer was misleading on multiple counts.
Advertisement - story continues below
First, depicting his ties to Farrakhan as limited to the "early 1990s" clashes with his own past statements.
Ellison admitted to The Washington Post in 2006 that he worked with the Nation of Islam for approximately 18 months ahead of Farrakhan's October 1995 Million Man March. Ellison wrote an Op-Ed defending Farrakhan in November 1995, one month after the march.
Should more Democrats denounce Ellison's ties to Louis Farrakhan?
Second, Ellison's ties to Farrakhan continued for decades beyond the 1990s.
Ellison attended three meetings where Farrakhan was present while he was serving in Congress.
One of those was a private hotel meeting in 2015 between Ellison, Farrakhan and Democratic Indiana Rep. Andre Carson.
Advertisement - story continues below
Two of the three attendees — Carson and Farrakhan — have admitted that the meeting took place, while Ellison has repeatedly denied that it did.
Ellison also attended a private dinner in 2013 for American Muslim leaders hosted by Iranian President Hassan Rouhani. Farrakhan was among the attendees.
Johari Abdul-Malik, then director at Dar Al Hijrah Islamic Center in Virginia, uploaded a YouTube video in 2013 that shows Ellison casually chatting among a crowd of men, including Farrakhan.
Advertisement - story continues below
(Image via Johari Abdul-Malik / YouTube screen shot)
The video is short — just 28 seconds — but what it shows is indisputable: Ellison comfortably socializing in the same group as Farrakhan, decades after Ellison supposedly cut ties with him.
The exact date of the video is unclear, but Abdul-Malik's caption indicates it took place no earlier than 2010. In the video, Farrakhan is seen hugging Muslim American activist Mahdi Bray.
"Min Farrakhan gives thanks for Mahdi Bray's recovery from stroke," Abdul-Malik wrote. Bray suffered a stroke in 2010, according to PBS.
Advertisement - story continues below
The Washington Post's fact-checker awarded Ellison "four Pinocchios" in March — its worst possible rating — for claiming his ties to Farrakhan ended in the 1990s. The Post's fact-check cited The Daily Caller's reporting.
Ellison's campaign did not return a request for comment for this article.
Content created by The Daily Caller News Foundation is available without charge to any eligible news publisher that can provide a large audience. For licensing opportunities of our original content, please contact licensing@dailycallernewsfoundation.org.
A version of this article appeared on The Daily Caller News Foundation website.
Conversation