Sports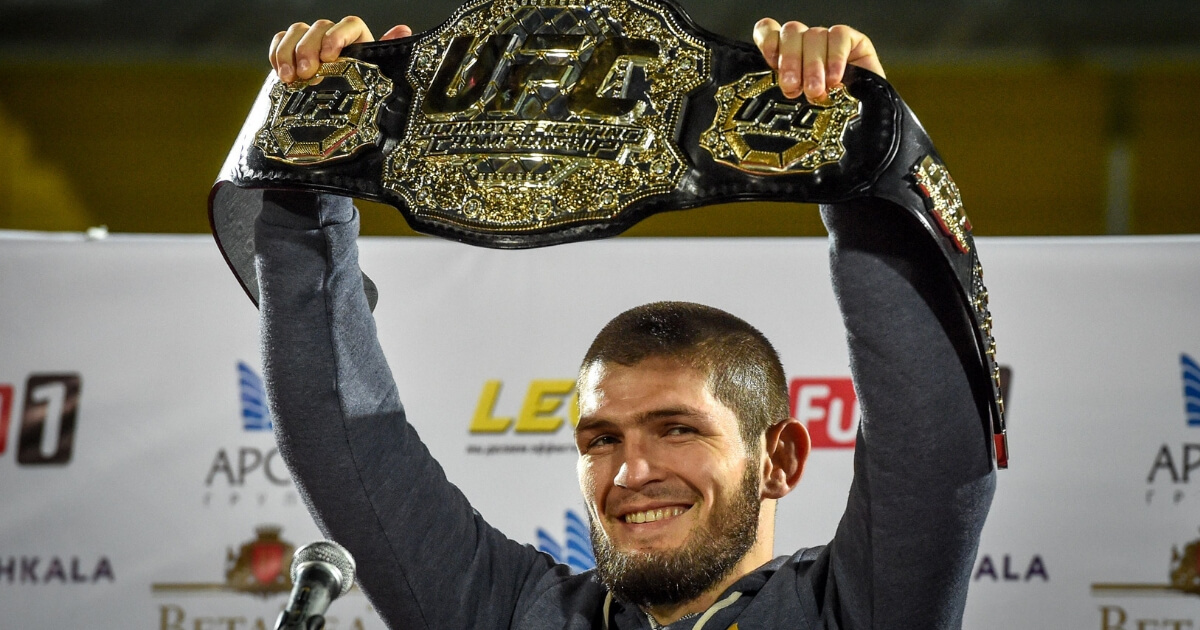 Khabib Nurmagomedov Threatens to Quit UFC After Defeating Conor McGregor
Fresh off the biggest win of his career, lightweight champion Khabib Nurmagomedov has given an ultimatum to the UFC.
Nurmagomedov is threatening to quit the UFC if the promotion cuts ties with his teammate, Zubaira Tukhugov.
A featherweight competitor, Tukhugov was involved in the melee that erupted after Nurmagomedov's win over Conor McGregor at UFC 229.
Advertisement - story continues below
Tukhugov jumped the cage after the fight to check on Nurmagomedov's cousin, Abubakr, who got into a scuffle with McGregor. Tukhugov then confronted McGregor himself and started throwing punches at UFC's biggest star.
https://twitter.com/_ScottBond_/status/1049260418840109058
That prompted UFC to cancel Tukhugov's scheduled fight with one of McGregor's teammates. Dana White also indicated UFC would cut ties with those who jumped into the fray.
"The guys who jumped in will never fight here," White said after the melee. "They'll never fight here."
Advertisement - story continues below
The idea that UFC would release Tukhugov has drawn Nurmagomedov's ire. The undefeated champion posted a message on Instagram in which he said, "If you decide to fire him, you should know that you'll lose me too.
Do you think Nurmagomedov would follow through with his threat to quit UFC if his teammate is released?
"You canceled Zubaira's fight and you want to dismiss him just because he hit Conor," Nurmagomedov said. "But don't forget that it was Conor who had hit my another Brother FIRST, just check the video."
Nurmagomedov also referenced his $2 million purse that UFC is currently withholding due to an investigation by the Nevada State Athletic Commission.
"And one more thing, you can keep my money that you are withholding," he said. "You are pretty busy with that, I hope it won't get stuck in your throat. We have defended our honor and this is the most important thing. We intend to go to the end."
Advertisement - story continues below
Tukhugov certainly wasn't remorseful for his actions after the fight as he posted a video on Instagram reveling in the fact that he slapped McGregor.
"I slapped him as promised," Tukhugov said in Russian. "I promised to make him answer for his words and I did."
Tukhugov followed that up by denying that McGregor punched him. "Tell everyone who thinks I was hit, where?" he said. "Where, nothing. Just this cop pushed me away, on the video, as if I was hit, in short. Not missed, was not even close."
Given that Nurmagomedov is still under contract with UFC, it would likely be very difficult for him to just leave the promotion and fight in another MMA company.
Advertisement - story continues below
There's also the fact that he's a current champion, ranked No. 2 in UFC's pound-for-pound rankings, and there's money to be made in a rematch with McGregor.
White has never been one to pass up a huge UFC payday, and appeasing Nurmagomedov is likely the route he'll go by softening the company's stance on Tukhugov.
Conversation