Sports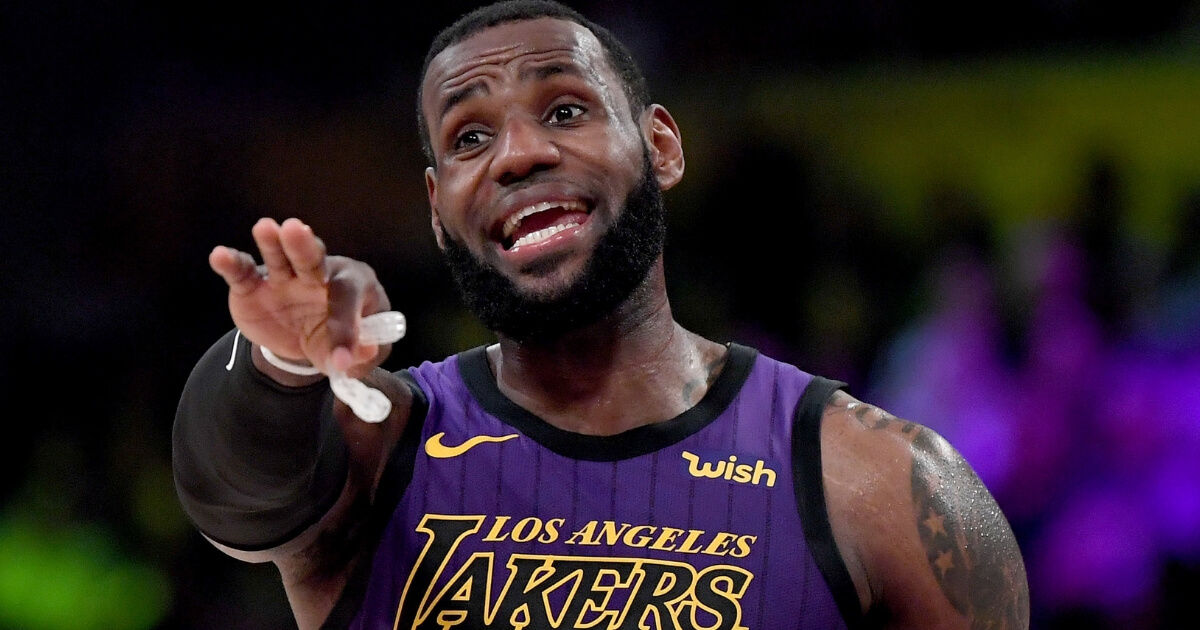 LeBron James Compares Millionaire NFL Players to Slaves
The lowest-paid player in the NFL, according to Pro Football Reference, is defensive tackle Adolphus Washington. He earns $37,059, which is still more than many Americans make in a year.
After Washington is receiver Victor Bolden, who makes $65,294, and then a trio of players making $84,705.
As CNBC notes, the median household income in American reached $61,372 in 2018. In short, literally every NFL player in 2018, save for one, makes more than the median American household for about 7 months of work.
Advertisement - story continues below
That's to say nothing of higher-paid NFL players like Minnesota Vikings quarterback Kirk Cousins, who makes a whopping $22.5 million, and Dallas Cowboys defensive end Demarcus Lawrence, who makes $17.1 million.
According to NBA superstar LeBron James, that means NFL owners have a "slave mentality." Huh?
James was hyper-critical of NFL owners during the latest episode of HBO's "The Shop," according to ESPN. In addition to being an executive producer, James is essentially a co-host of a show that aims to mimic barbershop conversations.
James took a racially charged shot at "old white" NFL owners while describing their "slave mentality."
Advertisement - story continues below
"In the NFL they got a bunch of old white men owning teams, and they got that slave mentality," James said during episode 3 of "The Shop."
"And it's like, 'This is my team. You do what the f— I tell y'all to do or we get rid of y'all,'" he added.
Is James' comparison in any way legitimate?
To be blunt, owners have every right to tell their employees, many of whom are making exorbitant salaries, to do what they say.
Where else are NFL stars going to make this kind of money? The XFL? The AAF? Please. James went on to espouse how valuable the players are to the overall product.
"The players are who make the ship go. We make it go. Every Sunday, without Todd Gurley and without Odell Beckham Jr., without those players, those guys, there is no football. And it's the same in the NBA," James said.
Advertisement - story continues below
Here's the thing, I'm not in the vocal subset of people who think athletes are overpaid. Frankly, from a purely capitalistic standpoint, I actually believe some professional athletes are underpaid. James is getting approximately $35 million from the Los Angeles Lakers this year, pre-tax. If you don't think he easily generates triple or quadruple that kind of revenue for the Lakers through jersey, ticket and merchandise sales, you're fooling yourself.
But even as someone who thinks some athletes should be paid more, James is so grossly out of line with his comments it's breathtaking.
Professional athletes are still paid handsomely and, this can't be stressed enough, paid by the owners. I would love to ask James how much Odell Beckham Jr.'s 2018 base salary of $1.45 million translates to what actual slaves were being paid in the past.
If an owner doesn't want you to speak about social injustices on company time, they're well within their rights. As underpaid as I think some professional athletes are, in what other vocation would they even approach what they currently make?
Advertisement - story continues below
For James to reach for the low-hanging fruit of racial identity politics is pathetic. Are there some bad sports owners out there? Probably. But there are lots of bad athletes out there as well, making millions on a third or fourth chance.
To have James compare that to the horrors of slaves who were brought over on boats is mind-boggling. It's such a disservice and a slap in the face to people who've suffered through actual slavery and racism to compare their plight to athletes making millions.
I love professional sports and I am almost always going to be on the side of the athletes on many issues. But I cannot disagree with James more. He should be ashamed for making that kind of comparison.
Conversation