Sports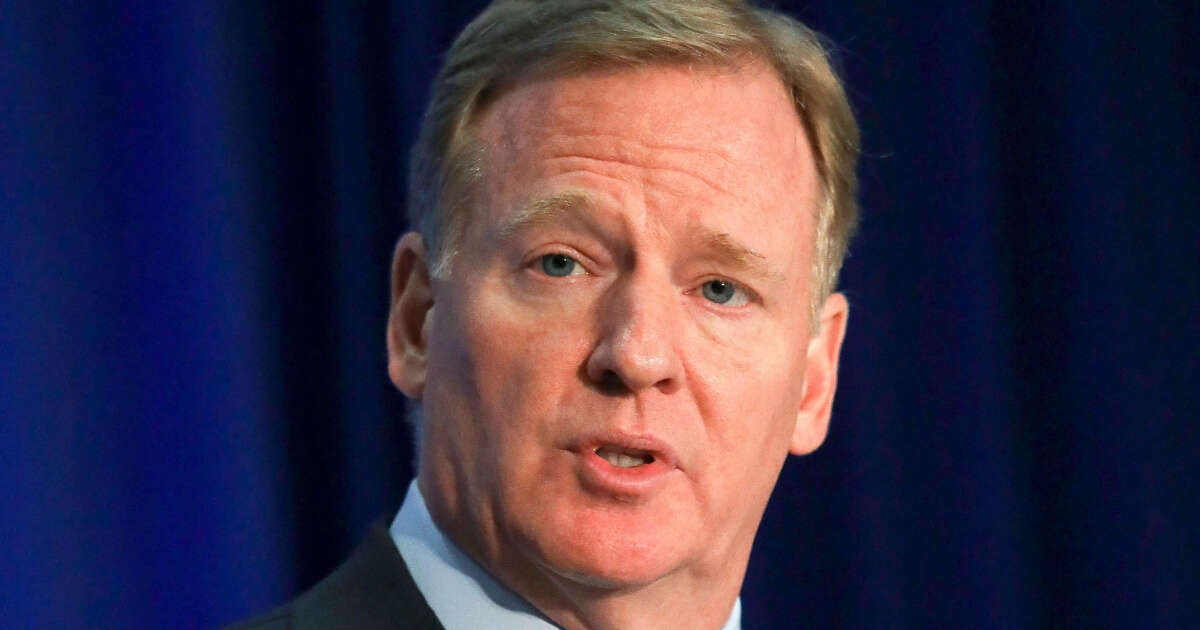 NFL Owners Appear Poised To Punt on Anthem Policy
Don't expect the NFL to institute a national anthem policy this season, if at all.
During a news conference Wednesday, NFL Commissioner Roger Goodell didn't say whether the league and the NFL Players Association are moving closer toward an agreement on the contentious issue of player protests during the anthem, instead emphasizing the work teams and players are doing in the community.
"The focus of the players' association, the NFL and all of our clubs and our players is to focus on the efforts our players have continually brought (forth) as their issues in their communities and how can we make our communities better," Goodell said after the conclusion of the NFL owners fall meetings in New York.
Advertisement - story continues below
"They're incredibly passionate about that," he said. "They have brought these issues greater awareness and they are working in their communities to try to make their communities better and they are working on the issues, on criminal justice reform. I've been on listen-and-learn tours with our players. Owners have been on listen-and-learn tours. Our players are obviously out there, and you see a tremendous amount of work being done."
Dallas Cowboys owner Jerry Jones, who has been outspoken against the anthem protests, indicated a policy isn't forthcoming.
"I think right now we are going forward just as we entered the season," Jones said.
He added: "One of the owners stood up and said: 'We have really gotten in a place that's positive and not that we weren't, but we benefited from this.' And, I agree, in relationships and sorting through where we want to go, and I'm so impressed with the social programs that the clubs and the players have engaged in."
Advertisement - story continues below
In May, the NFL passed a rule requiring players to stand during "The Star-Spangled Banner" but allowing them to stay in the locker room if they wish. The league left it up to teams on how to punish players.
The union challenged the rule in a grievance, and the league put the policy on hold in July.
Do you think the NFL should allow its players to protest during the national anthem?
"The NFL and NFLPA, through recent discussions, have been working on a resolution to the anthem issue. In order to allow this constructive dialogue to continue, we have come to a standstill agreement on the NFLPA's grievance and on the NFL's anthem policy. No new rules relating to the anthem will be issued or enforced for the next several weeks while these confidential discussions are ongoing," the league and players union said in a joint statement at the time.
The "next several weeks" have now stretched into almost three months with no agreement in sight.
Meanwhile, the NFL and a coalition of players have been working in tandem to support player initiatives for a variety of social issues. Last month, for example, several coalition members conducted work in the area of bail reform. On Sept. 25, Seattle's Doug Baldwin attended bail hearings and met with grass-roots organizations and the King County, Washington, public defender's office to end cash bail.
Advertisement - story continues below
"Baldwin and many others believe cash bail unfairly jails citizens of lower socioeconomic status for non-violent and minor offenses, simply because they don't have money to pay standard bail," Gregg Bell of Tacoma's News Tribune reported.
Coalition members have focused on voting this month, especially restoring voting rights to convicted felons.
"The focus has been on listening, learning, understanding what the players want to accomplish in their community, the impact they want to have and supporting them," Goodell said. "Our clubs have done that at historic levels and we've gone over that the last couple of days. I'm proud of what our clubs are doing. I'm proud of what our players are doing. We're all working together to try to address those issues, and from my standpoint that always helps make relationships more productive when there's respect and understanding and agreement to work together to try to make things better.
"When you have people working together and listening to one another and that level of respect, I think everyone feels better and I think that's important, but the key thing is there's a lot of work to be done."
Advertisement - story continues below
In 2016, then-San Francisco 49ers quarterback Colin Kaepernick began protesting during the national anthem, first by sitting on the bench and then by kneeling. "I am not going to stand up to show pride in a flag for a country that oppresses black people and people of color," he said at the time.
The anthem protests soon spread to other players and teams.
Many fans were turned off by the demonstrations, which they view as unpatriotic and insulting to those who have served in the military, and the NFL's television ratings dropped in 2016 and 2017.
Conversation