Sports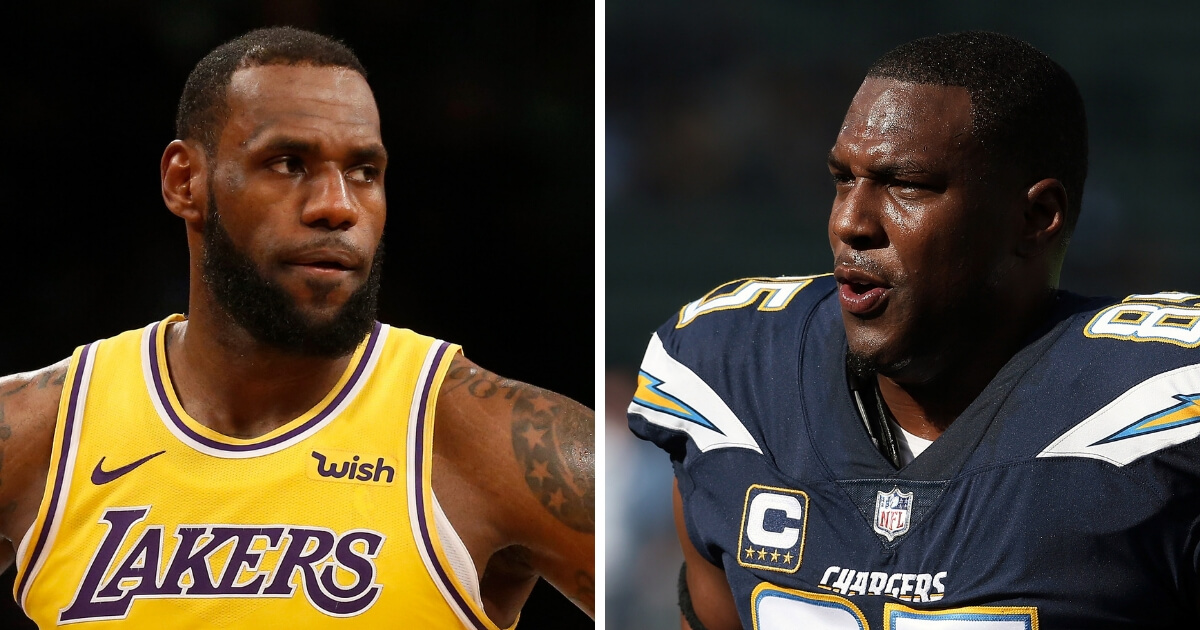 NFL Star Uses the Most Obvious Logic To Destroy LeBron's 'Slave Mentality' Narrative
Los Angeles Lakers star LeBron James has been known to turn heads on a basketball court with a thunderous drunk or dazzling display of athleticism.
But lately, the outspoken James has been turning heads off the basketball court for various comments he's made about race.
James had a bizarre incident on social media where he basically helped reinforce anti-Semitic stereotypes.
Advertisement - story continues below
"We been getting that Jewish money, Everything is Kosher," James posted in a since-deleted Instagram post, quoting a lyric from "ASMR" by 21 Savage.
The backlash was swift, and James promptly apologized. To be fair, as odd as it is for someone who espouses so frequently about racial matters to not be aware of the stereotype he was enforcing, this could have been an honest mistake.
What was much more deliberate, however, was when James went on his own HBO show, "The Shop," and basically equated the relationship between NFL owners and their players with that of slave owners and slaves, respectively.
"In the NFL they got a bunch of old white men owning teams, and they got that slave mentality," James said on his show. "And it's like, 'This is my team. You do what the f— I tell y'all to do or we get rid of y'all.'"
Advertisement - story continues below
Those comments should be much more offensive and inflammatory than what could have been an honest mistake quoting a song lyric. And the logical fallacy should be readily apparent.
One NFL star, after being approached by TMZ Sports, proceeded to refute James' "slave mentality" narrative with simple logic that virtually every American already understands.
Eight-time Pro Bowl tight end Antonio Gates, who has spent his entire 16-year career with the San Diego/Los Angeles Chargers, rebuffed James' narrative succinctly when asked about it.
"I don't know all the owners. I know my owner. And my relationship with my owner has been phenomenal," Gates said when asked about NFL owners having a slave mentality.
He then proceeded to make such a simple point it's breathtaking that James glossed over it on "The Shop."
Advertisement - story continues below
"And it's sports. You know what I mean? You get paid to play," Gates said.
It mind-boggling that this even has to be spelled out, but he made reference to how actual slaves had no say about their lot in life.
Do you see any parallel between NFL owners/players and slave owners/slaves?
"We all know what we sign up for (as football players)," said the 38-year-old Gates.
Advertisement - story continues below
The final hatchet Gates took to James' narrative was how NFL players, unlike slaves, could provide such a comfortable life for the families and loved ones.
"A lot of us make a really good living, man, being able to support our families at the same time," he said. "So, it is what it is."
It's a classy response from Gates that totally refutes the identity politics in which James tried to engage.
Despite initially retiring after last season, Gates came out of retirement to help the Chargers when the nominal starting tight end (and Gates' heir apparent), Hunter Henry, was lost for the season with a torn ACL in practice.
Advertisement - story continues below
Wait. Gates willingly returned to the Chargers to be handsomely compensated? Doesn't sound much like a slave's experience, Mr. James.
Conversation