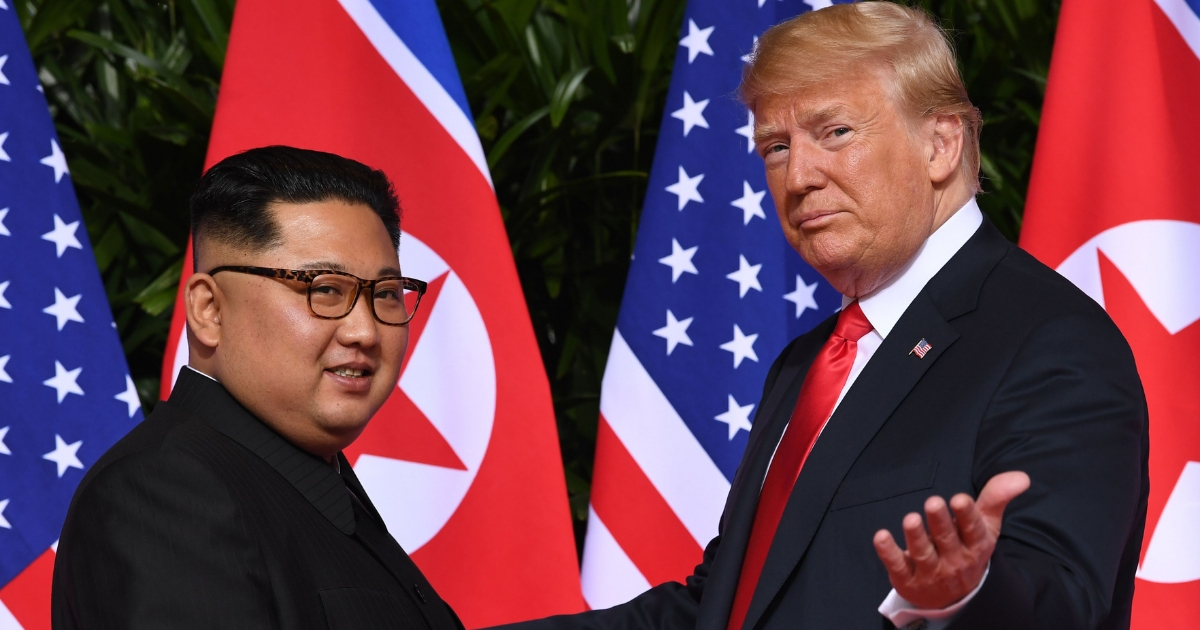 North Korea Agrees To Move Toward Denuclearization If US Reciprocates
On the second day of meetings between South Korean President Moon Jae-in and North Korean leader Kim Jong Un in Pyongyang, North Korea, Kim proposed a few steps toward concrete denuclearization, but only if the United States reciprocates as well.
A few of the plans Kim made involved furthering peace talks with South Korea and making his first visit to the country's capital of Seoul, The New York Times reported.
Kim also pledged to end military exercises and create no-fly zones at the border between the two countries in an effort to calm the nerves that have grown after reports that Kim was actually increasing his nuclear capacity after he promised to denuclearize in his June meeting with U.S. President Donald Trump.
Advertisement - story continues below
In relation to such denuclearization, however, Kim made a notable promise to dismantle a missile engine-test facility while also inviting "external inspectors" to watch over the dismantling to ensure it is disabled.
"We have agreed to make the Korean Peninsula a land of peace that is free from nuclear weapons and nuclear threat," Kim said, according to The Washington Post. "The road to our future will not always be smooth, and we may face challenges and trials we can't anticipate."
Kim is referring to the Yongbyon nuclear complex, which is central to his country's nuclear program.
In return, Kim has asked the U.S. to formally declare an end to the 1950-1953 Korean War, which was halted with an armistice.
Advertisement - story continues below
Kim said he will move forward with such pleasures only if the U.S. takes "corresponding steps" based on pledges Trump made in their June summit.
Experts are divided on the outcome of the meeting between Korean leaders, with some saying any steps in the right direction are welcome, while others are saying it's not enough.
Do you think North Korea will denuclearize?
"No matter how hard I look, I can find no real progress in denuclearization in today's announcements," an analyst at the Asan Institute for Policy Studies, Cheon Seong-whun, told the NYT.
Trump, on the other hand, welcomed the news on Twitter.
Kim Jong Un has agreed to allow Nuclear inspections, subject to final negotiations, and to permanently dismantle a test site and launch pad in the presence of international experts. In the meantime there will be no Rocket or Nuclear testing. Hero remains to continue being……..

— Donald J. Trump (@realDonaldTrump) September 19, 2018
Advertisement - story continues below
….returned home to the United States. Also, North and South Korea will file a joint bid to host the 2032 Olympics. Very exciting!

— Donald J. Trump (@realDonaldTrump) September 19, 2018
"These moves are expected to help resolve the international community's doubts toward North Korea's preemptive dismantling moves in the past as a mere show," director of South Korea's National Security Office, Chung Eui-yong, said, according to The Post.
Even though Kim seemingly made moves to dismantle sites and simmer his nuclear capacity, one expert, Melissa Hanham from the Middlebury Institute of International Studies at Monterey, reminded the U.S. that Kim has more than one nuclear facility and Kim's concessions do not translate to ending all missile programs.
On top of nuclear talks, Moon and Kim decided the two countries would compete together at the 2020 Olympics and make a bid to hold the Summer Games in 2032.
Advertisement - story continues below
In another move appearing to show solidarity, the two announced a ceremony to open railroads and roads connecting the countries, The Post reported.
The White House said on Sept. 10 that the U.S. and North Korea are discussing a second meeting to further stalled denuclearization talks.
A version of this article appeared on The Daily Caller News Foundation website.
Conversation