Sports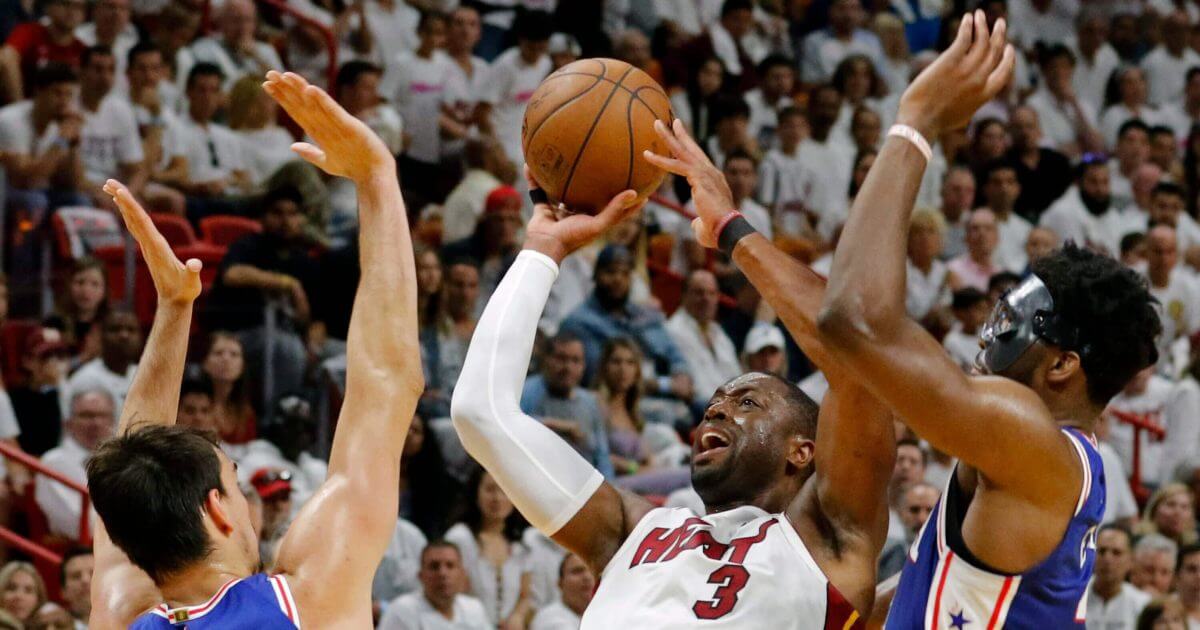 NBA Star Dwyane Wade Decides on Future, Makes One Last Stop in Miami
Dwyane Wade looked into the camera, stood alone in the middle of a darkened room and talked for 10 minutes. He struggled with his words at times, unable to control his emotions. He wept.
And finally, he made what he called the hardest decision of his life.
One more year.
Advertisement - story continues below
Retirement needs to wait a little bit longer for Wade, who announced Sunday night in a video taped earlier in the day that he's returning for a 16th and final NBA season. He basically spent the entirety of the last four months weighing his options, and retirement — even just a few days ago — was an extremely real possibility in his mind.
"I've always did things my way," said Wade, who is expected to sign a $2.4 million, one-year deal later this week. "Whether they've good or whether they've been bad, I got here because I've done things the way that I feel is right for me and right for my family. And what I feel is right … I feel it's right to ask you guys to join me for one last dance, for one last season.
"This is it. I've given this game everything that I have, and I'm happy about that, and I'm going to give it for one last season, everything else I have left."
Wade is Miami's career leader in points, assists, steals and games played. His status was an enormous question mark this summer, especially now with the team a week away from going to training camp. Miami has signed 19 players for camp, one shy of the maximum preseason allotment, and it was never a question why they kept that last spot open.
Advertisement - story continues below
It's filled now, by the most accomplished Heat player ever. Yet it was no guarantee that Wade, a 22.5-point scorer for his career, would return.
His decision took longer than some expected, partly because he was deciding what he wanted to do, partly because he was dealing with some personal business and some family business, and partly because it took him and the Heat some time to figure out what made sense for both sides.
Can Wade win one more championship before retiring?
A person familiar with Wade's thinking told The Associated Press that the guard was strongly considering retirement until late last week, when Heat coach Erik Spoelstra and others made a late push to help him decide.
Whatever they said worked.
"Can I physically do it? Can I physically get out of bed every day to do this? Can I step with every step hurting in the morning? Can I deal with the travel? Can I be away from my family? Is it selfish for me to want to continue to be away from my family?" Wade said, reeling off a list of questions that he pondered when making the decision.
Advertisement - story continues below
He apparently found his answers.
"These things to you guys may seem small," Wade said. "But to me, they're real. I feel like my family has put me first for so many years, for good reasons. But there comes a point in time when we've all got to think about someone else, especially the ones around you that have supported you, supported your dreams, supported your journey like my family have."
Wade's return basically means that Miami will have the same team — a young, rising team it believes in many respects — this coming season as it had last season, when it went 44-38 and claimed the No. 6 seed in the Eastern Conference playoffs.
The plan going into this season will be to keep Wade in that reserve role like last season. While he likely won't be starting games, it's fairly certain that he'll be finishing them — Spoelstra utilized Wade as a closer last season, and Wade loves that role.
Advertisement - story continues below
Wade could have gotten a deal elsewhere this summer, though moving to another team again was never a consideration for him this time around. It was Miami or nowhere.
Miami won.
"Let's enjoy it," Wade said. "Let's have some joy through this last season. Let's push this young team over the hump and let's write our own story to the end of this career, together. Together."
The Western Journal has reviewed this Associated Press story and may have altered it prior to publication to ensure that it meets our editorial standards.
Conversation