Op-Ed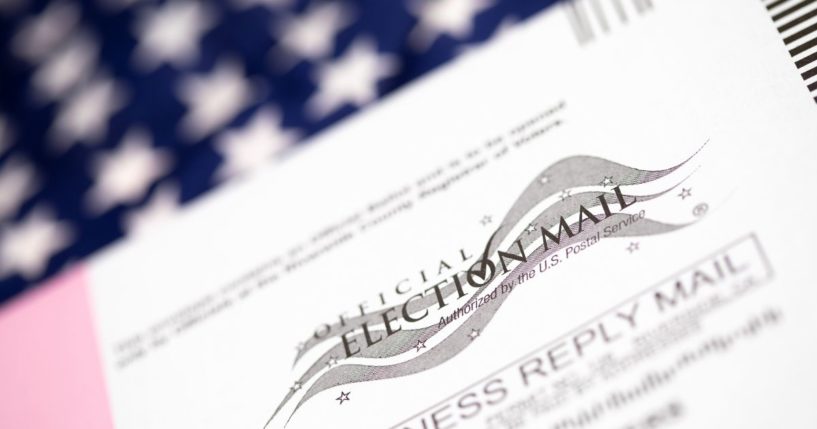 Op-Ed
Op-Ed: 4 Devastating Truths About 2020 Election Disputes and What to Do Before 2024
Our legislative and judicial standards are woefully inadequate in the modern era of mail-in ballots, which are often submitted without identification, save for a signature.
In the good old days, a person could not vote until he walked into a local precinct, identified himself, and wrote his signature in front of election staff. Disputes generally involved misconduct by election officials, faulty equipment, voter intimidation, illegal voting or false vote counts. In the courtroom, the plaintiff candidate was expected to identify specific illegal ballots and provide witnesses to any alleged misconduct.
In recent years, things have changed. Now, the easiest, safest and most effective way to cheat in an election is by means of a mail-in ballot — especially in states that don't require a hard form of identification.
Advertisement - story continues below
As we learned from the movie "2000 Mules" and from other sources, thousands of ballots can be harvested by people working for partisan political organizations. The harvester may be an anonymous mail carrier, nursing home worker, drug addict or homeless person, and he may use trickery, theft or bribery to acquire the ballots. After the partisan organization reviews (and possibly modifies) the ballots, they are given to paid mules for placement in unmonitored "drop boxes."
In the courtroom, the old methods of challenging election results will not be effective because it is very difficult to identify the specific people or ballots involved in these disgraceful and collusive harvesting operations. New methods are needed, and those methods involve statistics, analysis, door-to-door canvassing of voters, and signature testing — preferably by independent CPAs and other experts.
To understand why this new approach is necessary, consider some real-life election irregularities, how they are normally litigated, and how they might be argued with the addition of audit and statistical evidence.
Ballot rejection rate collapses in Georgia
Advertisement - story continues below
In 2016, the overall rejection rate for absentee ballots in Georgia was 6.42 percent. In 2020, that rate dropped to just 0.36 percent. In other words, it declined to about 1/18th of what it used to be. That drop was bigger than the decline in any other state, and it is very surprising when we consider that many Georgia voters had never used the absentee voting process before.
If the 2020 election had the same rejection rate as the 2016 election, it would have decreased the number of votes by 78,000 — easily enough to change a state election decided by just 11,800 votes.
The legal assessment: In response to a court challenge, lawyers for the election department would claim that the department became more efficient at "curing" (fixing) deficient ballots and/or ballot envelopes. The plaintiff candidate would probably be blocked from reviewing ballots and envelopes (because of supposed "privacy" concerns), deadlines would pass, and the judge would dismiss the case because no specific evidence was produced.
The CPA auditor assessment: Prior to the election, the auditor would assess the system of controls pertaining to the acceptance or rejection of ballots, and the degree of compliance with those controls. If they were very weak, the auditor might issue a "disclaimer of opinion," meaning that the winner of any close election might be indeterminable. This expert assessment could be submitted to the court — possibly before the election was even held.
The military loves Joe Biden!
Advertisement - story continues below
At an Arizona Senate committee hearing, audit assistant Paul Harris indicated that 95 percent of the 2020 Maricopa County overseas military vote was for Joe Biden. That was a virtually impossible percentage, given that the overall county-wide vote was split fairly evenly between Biden and Donald Trump. It gave Biden a net pickup of 8,000 votes in an election decided by 10,400 votes. (The military vote includes overseas family members.)
There was another disturbing fact about the military vote: The "ballots" were simply unsourced print-outs of (presumably) emails or faxes on standard copy paper. There were no chain-of-custody documents to indicate who processed the ballots or when.
The legal assessment: The elections department would claim that the lack of documentation was caused by unintentional clerical oversight, no invalid ballots had been specifically identified, and there was no time to investigate further.
The CPA auditor assessment: An auditor would consider the lack of source documentation a serious breakdown in election control. To resolve this matter, he would send out confirmation letters directly to overseas military voters to determine how ballots were completed, collected and transmitted. To gauge the reasonableness of the 95-to-5 percent vote differential, he would compare it to the differential in prior elections. If not given time to perform these tests, the auditor might conclude that a close election was not certifiable.
Advertisement - story continues below
Michigan's unlawful signature verification
The normal signature matching standard used in Michigan has been described by the National Conference of State Legislatures: "The signature on the absentee envelope is compared to the digitized signature in the qualified voter file or the registration record. If the signature on the envelope does not agree sufficiently with the signature on the record, the ballot is rejected."
Unfortunately, Michigan Secretary of State Jocelyn Benson told subordinates to "presume" signatures on absentee ballots matched the state records. Trump challenged this presumption in a lawsuit, asking that signatures be evaluated under the normal Michigan standards, and he requested an audit to determine the impact of Benson's changes on the election.
The legal assessment: Judge Christopher Murray found that Benson had acted unlawfully with respect to the guidance she gave subordinates. However, by the time he made that ruling (March 9, 2021), the election was certified, and for that reason, the judge ruled that Trump's challenge was moot. As for Trump's request for an audit to assess the impact of the signature change, the judge ruled that Michigan law gave that authority to the secretary of state — Benson. News flash! She decided that an audit was unnecessary.
Advertisement - story continues below
The CPA auditor assessment: An auditor would consider Benson's signature matching "presumption" a material and serious weakness in election control. For this reason, he would probably not recommend certification of the election until the impact of the presumption was assessed.
Pennsylvania election certified with 202,000 more ballots than voters
On Nov. 24, 2020, Pennsylvania Secretary of the Commonwealth Kathy Boockvar certified Pennsylvania's election. At that time there were 202,377 more ballots cast than the official number of people who voted (an undisputed fact). This is one of several reasons some Republican legislators wanted Vice President Mike Pence to delay counting the electoral votes on Jan. 6, 2021. They knew there was a 202,377-vote discrepancy, and they wanted time to resolve it.
The legal assessment: Boockvar asserted that this was just a timing issue. Her spokeswoman said that several counties had not yet updated their voter numbers, which would eventually reconcile with the number of ballots.
Advertisement - story continues below
The CPA auditor assessment: An auditor would assert that the election was not certifiable until this massive discrepancy was resolved. (By the way, there remains an unexplained discrepancy that is larger than Biden's winning margin. For this reason, it is not clear that Biden actually won the Pennsylvania election.)
Those are just a few examples from the 2020 election. If you haven't heard about them, it is due to the extreme censorship we now live under. For various reasons, these irregularities were largely ignored.
A new approach
Of course, the best improvements would be:
Advertisement - story continues below
Require voter identification
In-person voting wherever possible
Add time between the election and the certification to allow for legal contests
Meanwhile, here are the alternatives I recommend:
In advance of the election, while there is plenty of time available, contestants should use professional auditors to study the system of internal controls established in law, regulation and administrative manuals. In particular, the auditors should be looking for weaknesses in the handling of mail-in ballots. Some of the relevant controls would include:
Keeping registration lists current and accurate
Requiring that ballots be printed on paper that is uniform and not easily copied
Establishing standards for monitoring drop boxes
Restricting ballot harvesting
Allowing close partisan observation of ballot processing and signature matching
Secure storage of ballots and other records
Requiring chain-of-custody documents for all ballots and other important records
Advertisement - story continues below
If weaknesses are found, a lawsuit should be filed before the election.
After the election, time will be very limited. Carefully chosen and tightly limited audit procedures will be needed to determine that election controls were followed. Particular attention should be paid to the harvesting of illegal ballots. There are only two good ways to audit those illegal ballots:
1) Canvassing. Using county lists of qualified voters who voted via mail, survey a statistically significant representative of voters at their residences. They should be asked pertinent questions, including these:
Did you vote in the last election?
By what means did you vote — in-person or absentee?
Advertisement - story continues below
This should be done immediately after the election, while memories are still fresh. If there is a statistically significant number of exceptions, and if professional auditors conduct the survey, this could be powerful evidence in a lawsuit.
2) Signature testing. Request access to ballot envelopes so that a sample of signatures can be selected for testing. Expect a fight: Election departments will attempt to block your access, citing "privacy concerns."
In the courtroom, the CPA auditor will need to present his findings in a persuasive manner that convinces the skeptical judge that expanded audit work is essential. This will be a challenge because much of the work will be statistical in nature. However, if the information is credible and decisive, it should be sufficient to obtain permission for an expanded audit — or even a new election.
Summation
Advertisement - story continues below
In states that accept mail-in ballots without voter identification, it is important to greatly increase the role of CPA auditors in the resolution of election disputes.
The views expressed in this opinion article are those of their author and are not necessarily either shared or endorsed by the owners of this website. If you are interested in contributing an Op-Ed to The Western Journal, you can learn about our submission guidelines and process here.
Conversation