Op-Ed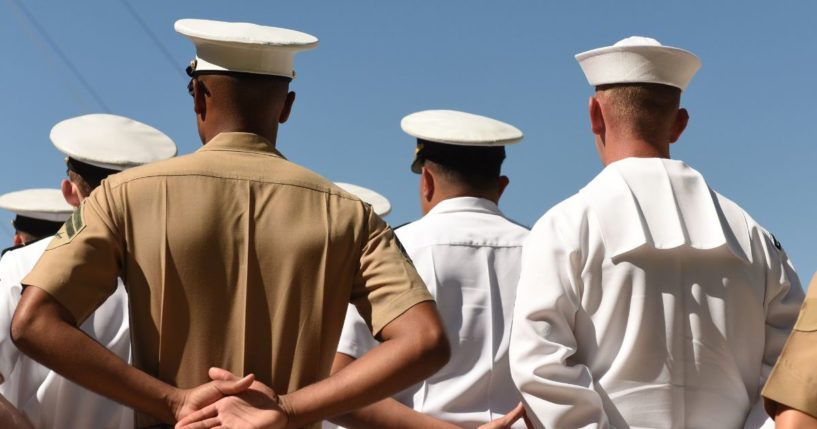 Op-Ed
Op-Ed: An Open Letter to My Representatives About the Navy's Drag Queen Disaster
Dear Madam and Sir,
I write as your humble servant, a North Carolina veteran of 32 years who enlisted in the Navy at 17 years of age and retired as an Army officer, the son of a World War II naval officer whose service in commanding a U.S. Merchant Marine ship's battle with German U-boats left him with injuries that took his life when I was only 5, and whose brother, my uncle, was also killed in that conflict.
I am the great-grandson of a Civil War veteran in the great trial of our people. His father fought in the War of 1812. His grandfather fought in the Revolutionary War.
Advertisement - story continues below
I don't recite my military lineage to boast (one who does his duty has nothing to boast in). I write these things for one reason: The Navy and Department of Defense under this democratic socialist administration have slapped me, my fathers, and our service brothers and fathers in the face.
Sir, the action of Navy recruiters promoting a petty officer dressed in a drag queen outfit as a so-called "Navy digital ambassador" is demeaning to our nation's women and girls and a national disgrace to the armed forces, our allies and the American people.
I appeal to you to do your best to remove these pretenders from the armed forces, and before their immediate resignation, advise the president, secretary of defense and secretary of the Navy to give a televised apology to our nation's veterans, widows and orphans.
Even if such an incredibly shameful gimmick worked — and it won't, for fine young American boys will turn away in disgust (I know we recruit females, but at the end of the day, we must have strong, dedicated young males who could defeat an enemy in hand-to-hand combat) — we will have displayed such unprofessionalism that our enemies will rejoice as our allies retreat.
Advertisement - story continues below
Sir, I am downcast (but not done). As I learned of this national sacrilege, I became physically ill. Nevertheless, our veterans, Gold Star mothers and widows will not see our military destroyed from within.
We are older now. We can no longer guard our nation and fight the enemy with the agility and strength of youth, but we do have an influence on those who can.
We will rear our children and grandchildren to stand in God's Word, strengthen themselves in spirit, mind and body, and stand tall for the "city on a hill." We will not give up our sacred institutions without a response. And, sir, our response is spiritual. For what the mush-minded recruiters did in encouraging this depravity is undeniably spiritual.
Congressman and senator, you are our voice. Please, let our cries echo in the halls of Congress. We have served God and country. So please serve with us. Stand tall. Be unmovable and undeterred on behalf of those with no voice. As you do, I pray the Lord to watch over you, your family and every precious member of your staff. And remember, the battle belongs to the Lord.
We don't wish ill on the delusional drag queen or any imbecilic bureaucrat. Rather, we love them and pray for healing. We are but sinners saved by grace. May God change their hearts to find the peace and purpose they surely lack. For there is a better way.
Advertisement - story continues below
I long to see a flotilla of changed lives, a nation of stalwart young men standing proud in the uniforms worn by Washington, Eisenhower, Nimitz, Roosevelt, Jimmy Stewart and Schwarzkopf, shoulder to shoulder, daring any oppressors to even threaten any American woman, child or elderly citizen.
In my mind, I see our young men in innumerable columns, singing in one resonant baritone voice, "Faith of our fathers, holy faith, we will be true to thee till death."
That, sir, is the kind of vision that will recruit.
Yours Faithfully,
Advertisement - story continues below
Michael A. Milton, Ph.D.
Colonel, U.S. Army Retired
North Carolina Order of the Longleaf Pine
University of North Carolina, Chapel Hill, alumnus
The views expressed in this opinion article are those of their author and are not necessarily either shared or endorsed by the owners of this website. If you are interested in contributing an Op-Ed to The Western Journal, you can learn about our submission guidelines and process here.
Conversation