Commentary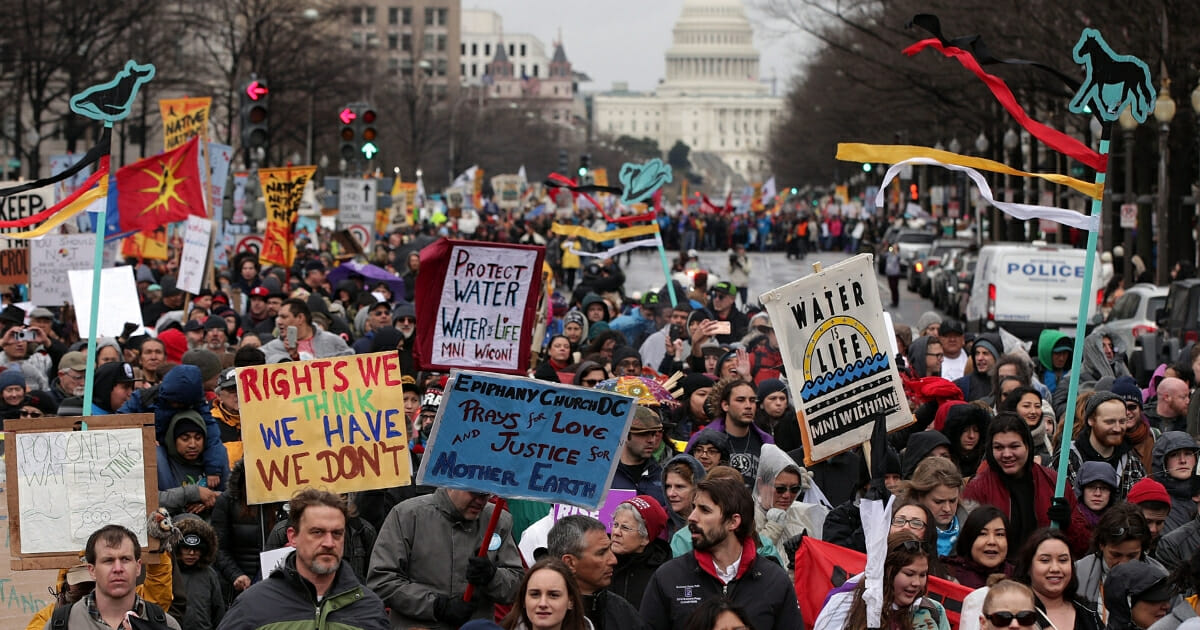 Remember This Group at Center of the Dakota Access Protest? They're Caught in a Massive Lawsuit
Far-left environmentalists are just more enlightened and moral than you and me — at least, that's certainly the impression they give off.
That kind of smug self-importance seemed to reach a peak during the 2016 and 2017 protests against the Dakota Access Pipeline. Claiming to hold the moral high ground, several groups took "sanctimonious" to a new level while torching buildings and sending plumes of black smoke into the air.
Now, one of the groups involved in that hypocritical protest is facing a major lawsuit, after being accused of covering up widespread sexual harassment.
Advertisement - story continues below
According to a lawsuit filed in Minnesota this week, the far-left environmentalist group Honor the Earth allegedly helped cover up the sexual abuse of young boys. The group is also accused of "failed to take these accusations seriously" and further harassing an employee named Margaret Campbell.
Embroiled in the controversy is leftist Winona LaDuke, who was twice the running mate of Green Party candidate Ralph Nader and founded Honor the Earth back in 1993.
"Founded to focus on Native American environmental issues, Honor the Earth is at the center of anti-fossil fuel activism. The group organizes tribal opposition to pipeline projects across the U.S. heartland, including the Dakota Access Pipeline," explained The Daily Caller.
Campbell, the woman who filed the lawsuit, says that during her time working with the environmental group, co-worker Michael Dahl sexually harassed her several times. When she went to LaDuke and Honor the Earth board members for help, they allegedly ignored her.
Advertisement - story continues below
The lawsuit details several incidents of sexually explicit comments and actions by Dahl against the female employee.
In response, one board member allegedly shrugged off the sexual harassment and suggested that it was fine because Dahl was gay.
"[Q]ueens will try to get away with that, you just have to learn to stand up for yourself," Campbell claims she was told.
But the accusations against Honor the Earth and Michael Dahl in particular get even more twisted. The lawsuit claims that the leftist was allowed to work with young volunteers even though he had been "credibly accused of using his status as a spiritual leader to commit sexual violence against Native boys."
The suit goes on to say that "Dahl's inappropriate sexual behavior towards boys became an open secret in the White Earth [Reservation] Community," and that these disturbing actions were tolerated and covered up by Honor the Earth leaders like LaDuke.
Advertisement - story continues below
We must point out that these are unproven claims at this point, and everybody is entitled to their day in court. More facts will come out soon enough, and justice will hopefully prevail.
With that said, these allegations are disturbing and must be treated seriously. They are yet more data points in the trend of liberal groups lecturing everyone else about what is right, while doing very questionable things behind the scenes.
We already saw that with Hollywood, which almost certainly knew about what people like Harvey Weinstein and Kevin Spacey were up to but kept quiet to save face.
And we saw similar claims swirl around Women's March activists, who acted as if they were the champions of feminism while harassment and antisemitism allegedly happened within the group.
Advertisement - story continues below
Self righteousness seems to be everywhere within liberalism, and with it comes hypocrisy.
There's nothing inherently wrong with being an environmentalist, but it is deeply disturbing when a zeal for activism allows the mistreatment of actual human beings to go ignored.
Conversation